We understand that org changes happen. When managers switch, it's easy to reflect these changes in your 15Five settings.
If you changed teams, please contact your
company admin
to make this switch for you.
If your company has an active review cycle, we recommend waiting to update any managers until after the cycle has been completed. This is
due to the implications of changing during the cycle
.
Note
f the person you are trying to assign as a reviewer does not appear in the drop-down, there is likely a reviewer loop restricting this change. Additionally, if you are at the top of the reporting hierarchy, you will not be able to select a reviewer. Since everyone reports to you either directly or down the line, this would cause a reviewer loop. Top level employees can have others follow them.
---
Change a reviewer(s)
1. Click on your avatar in the upper right corner of your page and then click 'Manage people'.
2. Locate the person whose reviewer you want to change by filtering by their current reviewer or group, or searching for them by name.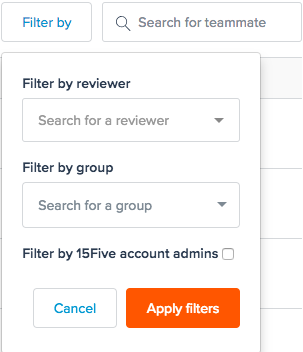 3. Select the user you want to change over to a new reviewer.
4. Scroll down to the user's Account Settings and click on 'Change' next to their current reviewer's name.

Is the new reviewer a first time manager in 15Five? Send them our help docs I'm a Reviewer to help them get started.
---
Assign people to a new reviewer in bulk
In addition to changing reviewers in bulk via Import, you can bulk change reviews from the Manage people page.
1. Click on your avatar in the upper right corner of your page and then click 'Manage people'.
2. Check the box on the left side of each person that you want to include in the bulk update.
Note
You can only select from the 50 people on the current page. If you have multiple pages of people to edit, select from the 1st 50, make the change, and then go to the next page and select those. Make the reviewer change on each page individually before moving forward.
3. Click on 'Bulk Actions' and then 'Change reviewer'.

4. In the pop-up window that appears, use the drop down to select the new reviewer.
5. Click the 'Change Reviewer' button to confirm the change(s).