To make sure your weekly tasks align week over week, you can link your priorities to long-term Objectives. These linked priorities will show up in your Objective activity feed.
If you are looking for more information on the Objectives feature, click here.
Note
If your company does not have the Objectives feature enabled, you will not be able to link your priority to an objective.
__________________________________________________________________________
Align a priority to an objective
1. Click on 'Features' from your left navigation.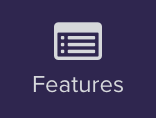 2. Click '15Fives' to expand the 15Fives drop-down menu.

3. Click on 'My 15Fives'.

4. Navigate to the unsubmitted check-in that contains the priority you want to link to an objective. Any priority that you can edit in the 'Mark priorities from your past 15Five as complete' section can be linked. Also, any new priority that you add in the 'What do you intend to accomplish between now and your next report?' section can be linked.
5. To the right of your priority, hover over the field to see the link icon. Priorities from your last 15Five and new priorities will have the link option.
6. Once you click the link icon, you will be asked to find the objective that you want to link your priority to. Only objectives that you own will appear in your options.
7. Once linked, you will see the title of the objective noted below the priority.
8. To unlink a priority, click on the trash icon to the right of the linked objective. You will see the link and the trash icon below the priority.
Note
Linked priorities will be shown on the objective's details page, right above the activity feed section: