With Aligned Objectives enabled, 15Five users can choose to align their objectives with a larger department or company objective; this creates a parent-child relationship. If "Enable automatic roll-up" is on, the status of a user's objective can directly impact the progress of the parent objective. Aligning objectives creates a cohesive effort to achieve a company goal. 
Guide 📖: The Ultimate Guide For Making OKRs Work At Your Company
How do I turn on Aligned Objectives for my team?
1. Click on your profile picture up in your top right corner.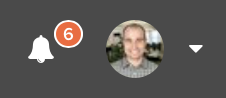 2. Select 'Manage Features'.

3. Scroll down to Objectives & Key Results (OKRs) and click on 'Configure'.

4. Under Aligning Objectives, toggle on Enable Aligned Objectives and/or Enable automatic roll-up.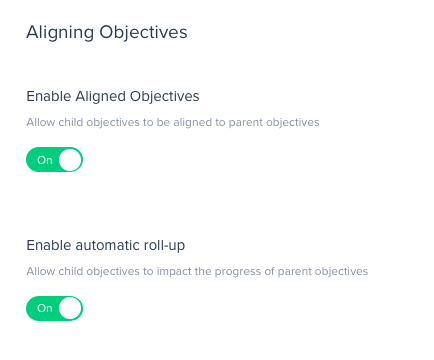 Success Center article 🗒: Set up aligned objectives
Success Center article 🗒: Manage objectives
NOTE ✏️ : How are the percentages of Child/Aligned Objectives calculated towards the company-wide Objective?  
Let's say you have one company-wide objective, with one key result, and four child objectives owned by various team members, impacting its progress. Each child objective/team member would contribute to 20% of the completion of the company-wide objective, and the key result itself would also contribute 20% to the total completion.