15Five takes the guesswork out of sending reminders to your team when 15Fives are past due; in fact we send out reminders for you. By default, reminders are sent out the day before a 15Five is due, the day the report is due, and the day after if a 15Five was never submitted. Keep your employees honest; "Engaged employees are 87% less likely to quit their jobs."
Note
You can manually send out a reminder if you are a Reviewer only after the 15Five has been late for a day.
Each manager will need to remind their own teams if reports have not been submitted. 15Five admins cannot send mass reminders.
__________________________________________________________________________
Send past due reminders to my team
1. Click on 'Features' from the left navigation.
2. Click on '15Fives' to expand the 15Five check-in options.
3. Next, click on 'Team 15Fives'.
4. There are two options from here.
You can click the 'Send reminder to # people' button at the top right of your page to send a reminder email to all people with past due check-ins.

OR to send reminder emails to each person individually, select the person you wish to remind, click on the '...' to the right of their name, and then click 'Send a reminder'.

5. From the pop-up window that appears, either send the default reminder email or include a personal message (optional).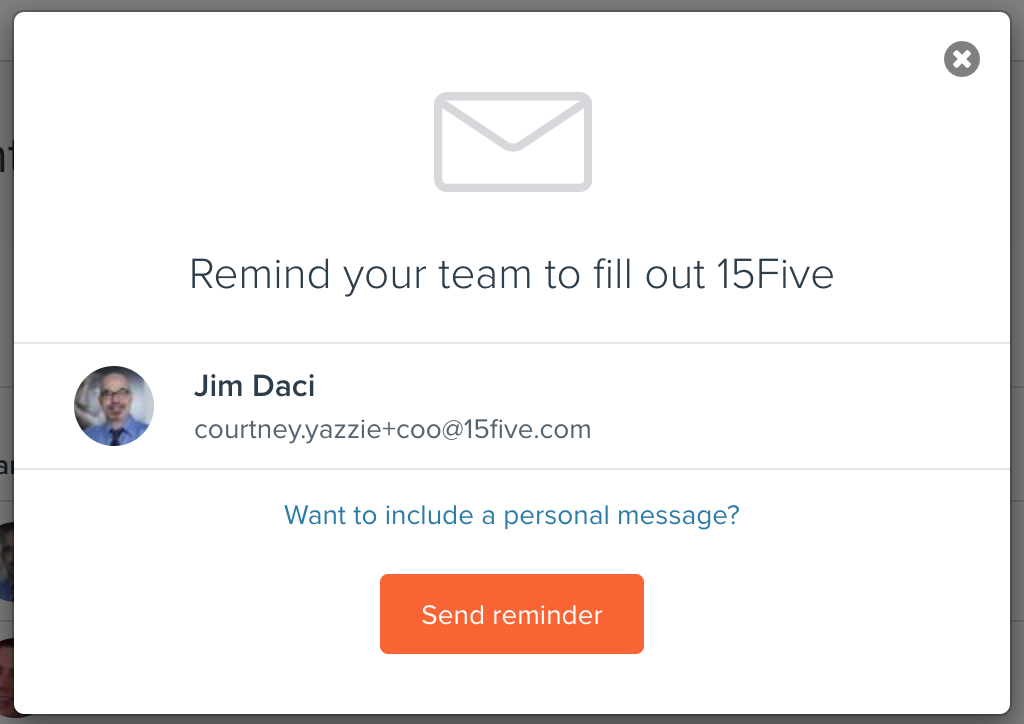 6. Send your reminder(s).

Blog Post 🗒: 4 Simple Ways To Engage Your Millennial Employees