If you would like to view and analyze review data for your own reviews, you can download or print the results from within your review page once they have been shared and finalized with you.
To download or print your final data
1. Go into your 'Reviews' tab in 15Five.

2. Click on the cycle that applies.

3. At the bottom of your Overview page, you will see a section called 'Review Progress'.
4. Click on the '...' to the right of your progress, and then click 'View'.
5. Once your results are shared and finalized, there will be a gear icon toward the top right of the page, across from your name. Click the gear icon and then 'Print'. You can save the review as a PDF by using the Download as a PDF function from your print menu.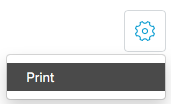 6. You can also access the results of your reviews through the 'My results' tab.

After all your reviews have been submitted and your manager shares and finalizes the summary, the 'My results' page will display all results from the review cycle including a summary, questions & answers, and your competency assessment (if included in your cycle).