Edit a manager review
Maybe you submitted your Manager Review for one of your team members and forgot to add some important feedback.  You can open your Manager Review back up to make the adjustments if you have not already shared results.  
Have you completed the final meeting with your employee and want to make additional notes about what was discussed? Put this additional insight in the Summary.
NOTE ✏️ : If reviews have already been shared or shared & finalized with the direct report, the review will not be editable.
To edit an already submitted manager review:
1. Go into your 'Reviews' tab in 15Five. 

2. Click on the active cycle that applies.
3. From the 'Overview' tab, you will see a menu with options 'Me', 'My team', 'My hierarchy', and 'Whole company'. Depending on your role and the visibility settings for the cycle, you may not see 'My hierarchy' and 'Whole company'.
4. Click the 'My team' option.
5. Scroll down to 'Review progress' for your team, click the '...' next to the employee whose manager review you want to complete, and then click 'View'.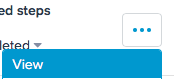 6. Make sure you are on the 'Manager' tab, and not the 'Self', 'Peer', 'Summary', etc tab.
7. Once you are looking at your previously submitted manager review, there is an 'Edit review' button on the left side navigation.
8. Make your edits and don't forget to 'Resubmit'!