If your time has passed to complete an objective and you no longer want it to appear as 'Past due', you can close your objective. You can also close an objective that is no longer relevant at a given time.
Closing an objective does not mark the objective as complete. It holds the last known status, including the overall %, and will show as 'Closed'. Closed objectives will still appear under the Current, Past, and Future Objectives pages.
1. Click on the 'Objectives' tab in your top navigation bar.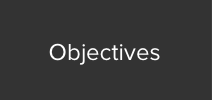 2. Click on the objective you want to edit.

3. Click on the gear icon.

4. Then click 'Close objective'.