As a reviewer, your direct report needs to edit their already submitted and, possibly, already reviewed check-in. They might have left off a comment that they meant to leave or maybe they simply need to edit an answer. How do you allow them access to edit their check-in? This article will walk you through the steps you should take to allow your direct report(s) editing access.
Reporters are responsible for requesting edit access from their reviewer—that's you. Once a reporter has requested to edit their 15Five check-in, you will be notified via email and in-app notification. As a reviewer, you can allow editing access by clicking on the Allow editing button to the right of the requested 15Five check-in.
__________________________________________________________________________
Allow a direct report to edit their 15Five
1. Click on Features from the left navigation.
2. Click on '15Fives' to expand the 15Five check-in options.
3. Next, click on 'Team 15Fives'.
4. Find the individual whose check-in needs to be reopened for editing and click to ... and View 15Five to view the 15Five check-in.

5. Click on the Allow editing button on the right side of the check-in.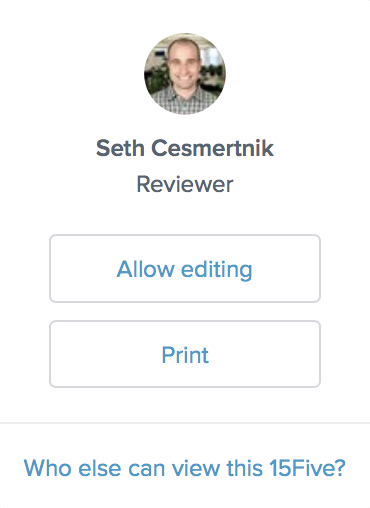 6. You're all done! A notification will be sent to your direct report notifying them that they can now edit their 15Five check-in. The 15Five check-in will not be visible to you again until the reporter resubmits.