Edit section titles within question templates for reviews
We might not be Burger King, but we get it ... you want it your way! That's why we're happy to introduce the ability to edit section titles for question templates within reviews.
These section titles in each question template default to Growth & development, Company values, and Manager expectations. That being said, we understand that you want reviews to reflect the values and tone of your company. Within each question template, review admins can edit the section titles to match their company's style. 👑
Check out the tool tips included next to each section title to ensure the new title aligns with the theme of that section.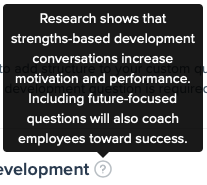 To learn more about the renaming section titles, see these articles:
Create a question template for reviews
Edit section titles for a question template
Print Preview for a review cycle
Though not a "release", we wanted to share some good news... the ability to print reviews is now working correctly again. This means you can print all self, peer, manager, upward reviews that have been submitted for a participant.
Definitely a frustrating bug that we're happy to have resolved for you!