Managers: If you are looking for a simple report to see what reviews have and haven't been submitted by your team or your hierarchy, this article is for you. 🙌🏽 The option to download a high level status report can be found within the Overview page.
NOTE ✏️ : Depending on your role in 15Five and your role in the review cycle, you may not see all filter options listed in the steps below.
Track submitted vs unsubmitted reviews for my team, my hierarchy, or whole company 
1. Click on your 'Reviews' tab.

2. Find the cycle that you would like to view, and click on it.

3. After clicking on the cycle name, you should automatically be taken to the Overview page for that review cycle.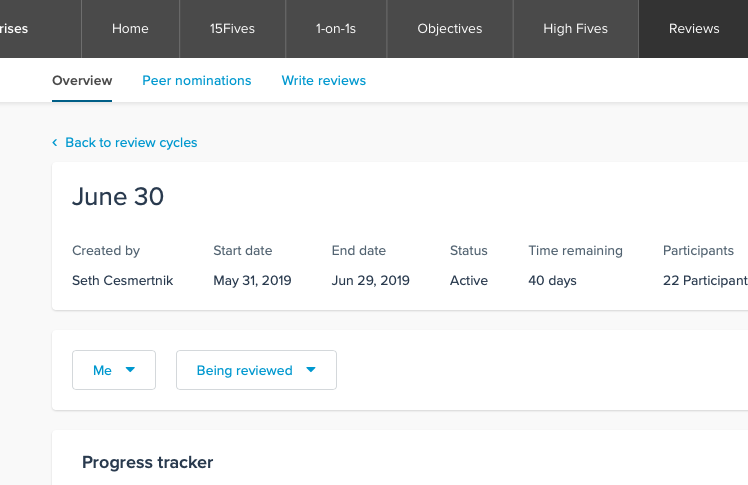 4. From the 'Overview' tab, you will see some filters labeled 'Me', 'My team', and 'My hierarchy'. Depending on your role, you may be missing some of these filters. You can also choose to look at reviews participants being reviewed or writing reviews.
Being reviewed= participant in question is having reviews written of them
Writing reviews= participant in question is writing the reviews of others

5. Choose your desired filter and check the results. Your download will contain data that matches the chosen filters.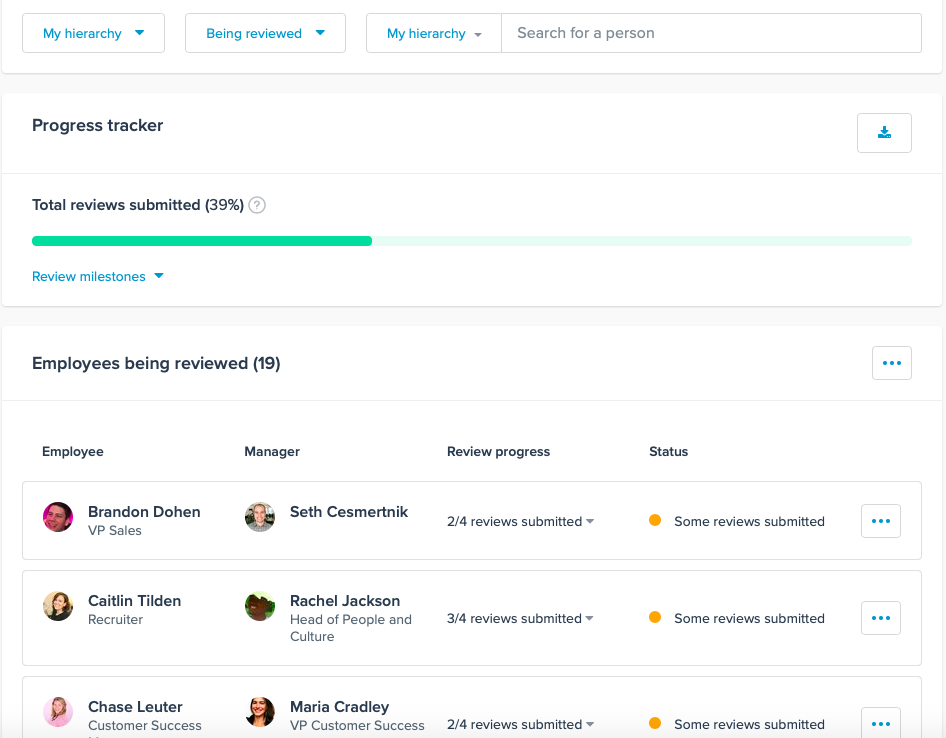 6. To download a simple submitted/not submitted report of the people matching your filter, use the download icon found in the top right of the Progress tracker section.
7. Included CSV columns are: First name, Last name, Email, Manager first name, Manager last name, Manager email, Group name, Review progress, Status, Unsubmitted Self reviews, Submitted Self reviews, Unsubmitted Peer reviews, Submitted Peer reviews, Unsubmitted Upward reviews, Submitted Upward reviews, Unsubmitted Manager reviews, Submitted Manager reviews, Share and finalize, Share date.