If the 1-on-1s with anyone feature is enabled for your company, the 'My 1-on-1s' list might get lengthy. In order to keep that page organized and make it easier to navigate, you can favorite/star your most important or most commonly held 1-on-1s. Favorited 1-on-1s will appear at the top of the 'My 1-on-1s' page, with yellow stars showing on the left side. You can also unfavorite/unstar 1-on-1s using the same method.
Note
1-on-1s with your manager or your direct report(s) are favorited/starred by default. Feel free to unstar them as needed.
__________________________________________________________________________
Favorite a 1-on-1
1. Click on 'Features' from your left navigation.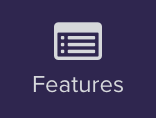 2. Click '1-on-1s'.

3. Find the person whose 1-on-1s you would like to favorite and click on the '...' to the far right of their name.

3. To favorite your 1-on-1s with that person, click on 'Star'. If the person is currently starred and you want to remove them from the starred/favorite section, click 'Unstar'.

Tip
You can also click the star icon on the left to star or unstar your 1-on-1s with that person. This is quick and easy!
Starred 1-on-1s will appear at the top of your 1-on-1 list: