We are sorry to see you go! Before canceling make sure to have the account owner export the company data, as you don't have access to it after you have canceled.
NOTE ✏️: Only company admin can cancel the company account. If you are not an admin, but feel you need to be one, please reach out to your current company admin.
To cancel plan:
1. Click on your avatar in the upper right corner. 

2. Go to 'Company settings'.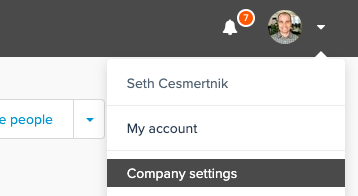 3. Click on 'Billing' in your left-hand navigation.

4. Click on 'Deactivate your account'. This will cancel your full company account. 

NOTE ✏️ : After cancelling your account, your company's data will remain in 15Five for 90 days before being sanitized and becoming encrypted. All data for your company account should be pulled prior to cancelling and will no longer be available at all after 90 days.