After attributes have been created, they may need to be edited, renamed, or deleted. If you need to manage people attributes for your company, this article will show you how to take various actions. If you are looking to update attributes, see this article. If your company is using our Public API, you can also manage, update, and delete attributes there.
Note
Default attributes cannot be renamed or deleted.
---
Manage people attributes
1. Click on the Settings menu at the upper right corner of your 15Five account and then click People.
2. Once on the 'People' page, click on the 'Attributes' tab.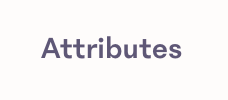 3. Find the attribute that needs to be edited or deleted and click the ... to the right of it.
4. To update the attribute, click Edit. To remove the attribute, click Delete.
Deleting an attribute will remove the attribute field from all profiles, including those profiles that already contained data for that attribute.
5. If editing, update the name, description, format, and/or settings of the attribute and click Save changes.
Note
The permission 'Everyone' means that everyone who can see the person's account settings page, will see the attribute. It does not mean that everyone in the company will see the attribute.
6. The change will be reflected in all account settings pages.