As an account admin, it is important to be aware of the notifications that people in your company receive and be able to enable/disable each of those notifications. We hope this helps you minimize the distractions that your teams experience at work and protect people's time and attention. A good rule of thumb is, if the email/notification is being triggered by a human, it is worthwhile to keep on. If the email/notification is triggered by a machine, those notifications can be kept to a minimum.
Nested under 'Settings'>>>'Company', there is an option titled 'Notifications' that allows you to view the details of each 15Five email notification, enable/disable the notification for all, as well as the reason for the email- activity updates, reminders, feature information. If your company does not have a feature enabled, the emails for that feature will not appear on your 'Company-wide notifications' page. In the future, if the feature becomes enabled, the emails will then surface.
---
Enable/disable all company-wide 15Five notifications
1. Click on the Settings menu at the upper right corner of your 15Five account.

2. Select Company settings from the dropdown menu.

3. Click 'Notifications' in the top navigation bar of the Company settings page.

4. The notifications are outlined first by feature (Check-ins, 1-on-1s, etc) and then by type of email (activity updates, reminders, feature information). Use the arrows to expand the notification lists.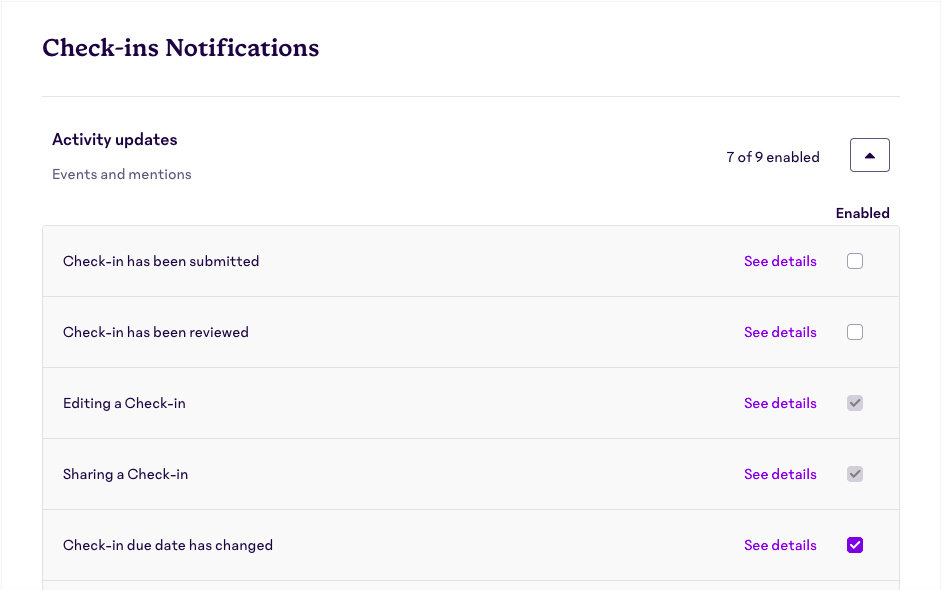 5. Enable or disable an email company-wide by checking or unchecking the box to the right of the notification.

6. Click 'See details' to the right of any notification to load a preview of the email.

Note
For emails where different roles (reporter, reviewer, admin) receive slightly different versions of the same email, we will show one preview that covers the subject and content of the email.
Tip
Account admins can also manage any individual's notifications by going to 'Manage people', navigating to the person's account page, and then clicking on the 'Notifications' tab.