Understanding how your people are doing has proven to be especially important this year. 15Five is all about understanding your people and we want to make results and reporting throughout our product more available and more digestible. This release does just that- x2!
Private Manager Assessment Reporting
Private manager assessments are part of manager reviews in a Best-Self Review® cycle. Managers are responsible for answering the private manager assessment questions about their direct reports. As a manager, you want to be able to report on these key questions from your manager review(s). As a review admin, you will want to report on these private manager assessment questions to help you understand performance at your company. Viewing private manager assessments hasn't been a problem, but actually reporting on the answers and understanding what the results mean was proving to be difficult.
Use the initial Private Manager Assessment dashboard to quickly understand how your company or team is performing according to the private manager assessment results.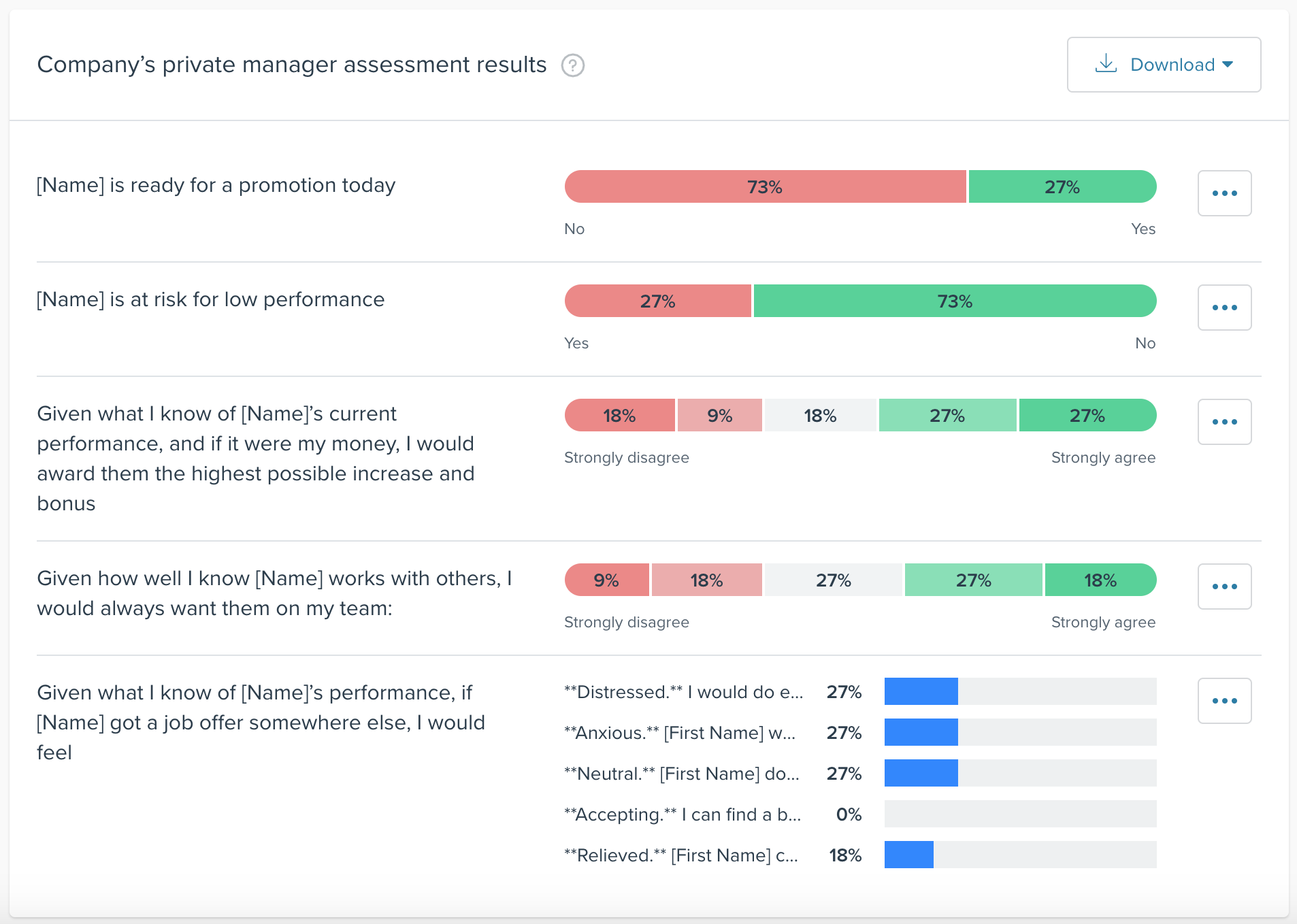 Download a summary of the private manager assessment questions or take it a step further by viewing the answers to a specific question. Use the '...' to the right of any question to be taken to the 'Question details' page and view the 'Answer distribution' and 'Compare groups' tabs.
Answer distribution
The 'Answer distribution' tab allows you to search for groups, include multiple review cycles, and/or filter by answers. You can view all participants below the chart in list form. There are also a couple download options, allowing you to download a summary of the answers for the specific question OR a list of all participants and how their managers answered the specific question.
Compare groups
The 'Compare groups' tab helps you break down private manager assessment answers written about users in a certain group(s), how groups compare to other groups, and how groups compare to all participants. Ultimately, the 'Compare groups' tab allows you surface which groups are falling behind or leading the pack in regards to each private manager assessment question.
Best-Self Kickoff
15Five's Best-Self Kickoff is a strategically-guided meeting that aims to uncover what an employee needs to do their best work and how managers can support them in their career path. The Best-Self Kickoff aims to create psychological safety in organizations by using a strategic, evidence-based approach to employee onboarding by accelerating the 'get to know you' process. This meeting is ideally held at the very beginning of the manager/employee relationship, but could also take place after a promotion, role change, or to reset with existing direct reports.
Best-Self Kickoff is comprised of two parts: role clarity and relationship building (individual and interpersonal expectations). The evidence-based, two part meeting facilitates a conversation about work style, feedback (how to give/receive it), and other general questions about both people, leading to a stronger and more successful relationship between manager and employee.
Blog post 🗒:
The Best-Self Kickoff begins by each person filling out their answers to the series of questions prior to the meeting, which is used as a guide for the discussion. The About page questions and answers set the tone for a successful and mutually beneficial relationship between manager and direct report.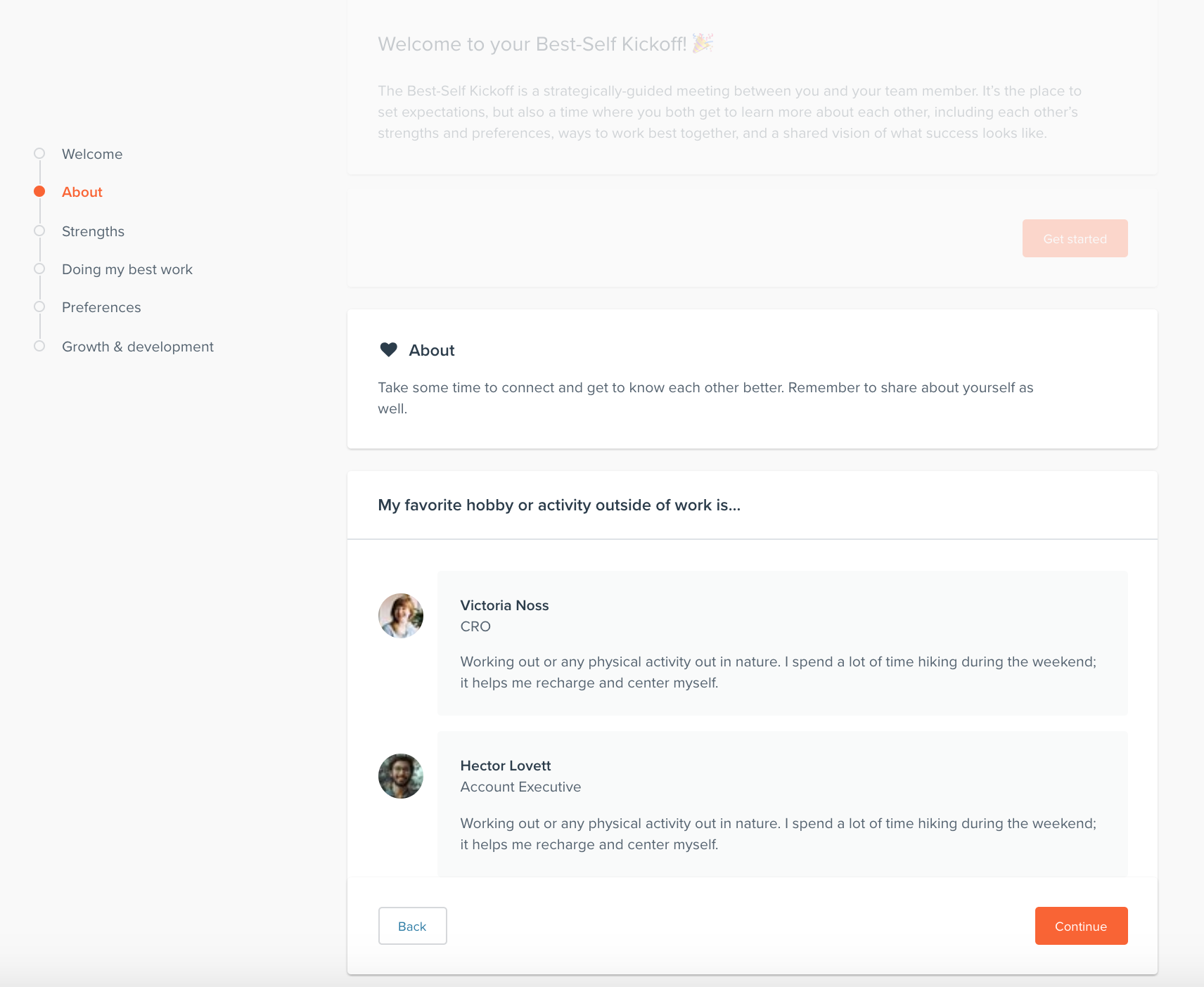 What's next? After completing the About page questions and holding a Best-Self Kickoff meeting, it is time to move into a role clarity conversation. Check out this PDF for more information on next steps!
For more information about these two releases, see these articles:
Private manager assessment reporting for my company
Private manager assessment reporting for my team
Hold a Best-Self Kickoff meeting