Most people have recurring 1-on-1 meetings on their calendars, usually with their manager or a teammate. It is important that you both have quick access to the 1-on-1 agenda from that calendar invite. Static 1-on-1 links allow you to copy a link from 15Five, paste it into your 1-on-1 calendar invite, and in one click be taken to your current 1-on-1 agenda. Repeat this process for all of your 1-on-1s to make accessing agendas from your calendar a breeze.
---
Add a static 1-on-1 link to your calendar invite
1. Click on 1-on-1s from the left navigation.

2. From your My 1-on-1s list, click the ... to the right of the person whose 1-on-1 link you want to copy and then click Copy link to 1-on-1.

3. You can also access and copy the link from any current 1-on-1 agenda. Look in the 'Details for this 1-on-1' box on the right and the Copy link to 1-on-1 button.

4. A window will appear prompting you to copy the 1-on-1 link.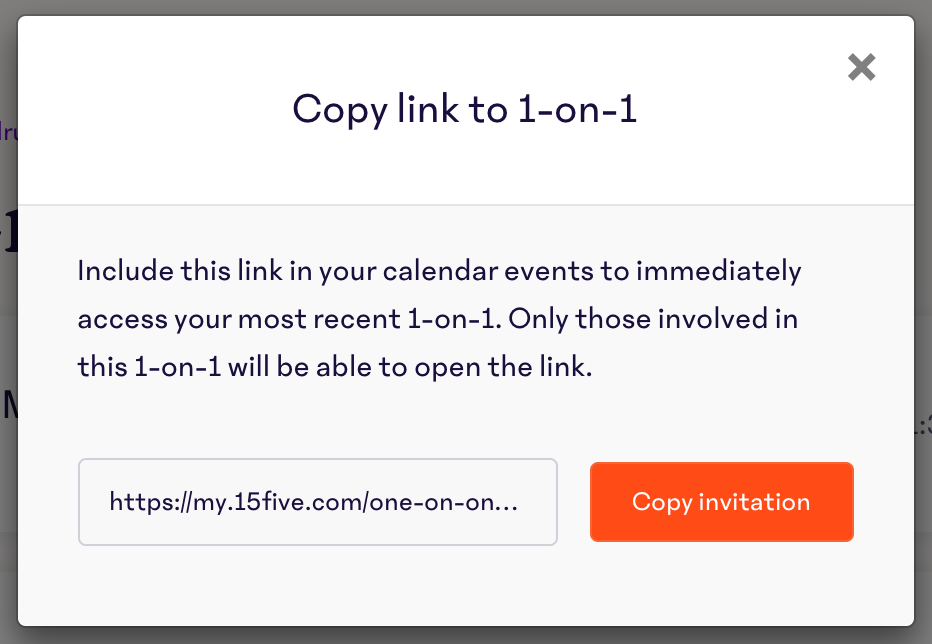 Note
This link will never change and will always take you to your current 1-on-1 with that person. So you can paste it once, and then forget it! Let your calendar do the heavy lifting. Also, the link is always private to the two people in the 1-on-1. If anyone else tries to access it, they will receive an error.
5. Click on Copy invitation. Your link is now copied! Head over to your recurring calendar invite and paste the link.

6. Now anytime you or the other person clicks the 1-on-1 link from the calendar invite, you'll be taken to the current 1-on-1 agenda with each other. One-click wonder!