This article walks through the basics of 15Five's Coaching Hub feature, including the 'why' behind the feature and a feature overview.
In this article, you will learn...
---
What is Coaching Hub?
Coaching Hub is a feature that allows organizations to manage, assign, schedule, and record coaching sessions their organization has purchased from 15Five's Transform Team. This feature is hosted in Engage (rather than inside of 15Five).
The three main features included in Coaching Hub are...
The HR Dashboard, which allows HR leaders to manage and assign coaching sessions for their organization. This may also be referred to as the Coaching Activity Report.
The Personal Coaching Dashboard, which allows coaching participants to schedule sessions and view follow-ups from their coach.
Email reminders, sent out automatically to coaching participants, that remind them to schedule and attend sessions.
---
What problems does Coaching Hub solve for?
We built Coaching Hub because we know that coaching programs can be hard to manage— coordinating schedules, holding everyone accountable, and keeping track of progress can be a full-time job! With Coaching Hub, HR leaders can spend less time chasing people and schedules and more time on coaching outcomes.
Coaching Hub helps with...
Managing schedules. Finding time on people's calendars and negotiating schedules can soak up hours of valuable time. Coaching Hub takes the manual work out of this with automated email reminders.
Lack of accountability. Following up with coachees can easily dominate your schedule. The Personal Coaching Dashboard allows coachees to easily access coaching session notes, and automatic email notifications drive coachees to complete action items and make progress.
Losing track of progress. Without proper tracking, you can't know if coaching sessions are happening on schedule and supporting your company's goals. The HR Dashboard allows HR leaders to see the progress of all their company's coaching sessions in one central place. Leaders can also measure the impact that coaching has on their team's engagement using 15Five reporting- like our heatmap reporting!
---
Feature overview
HR Dashboard
The HR Dashboard, also known as the Coaching Activity Report, is where leaders get real-time updates on the status of each coaching session in their organization. They can also assign coaching sessions to individuals and groups in their organization from the HR Dashboard.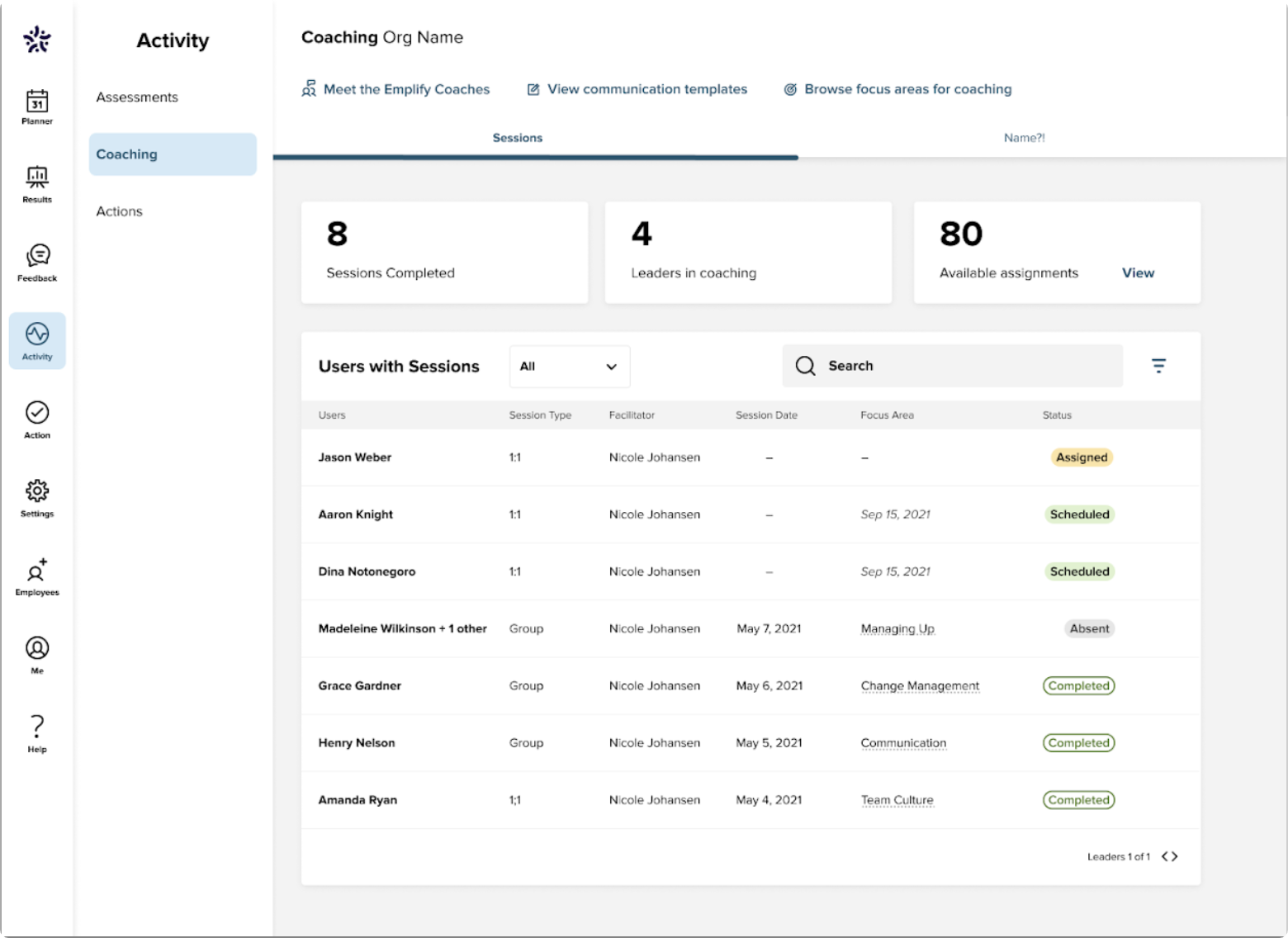 Once a session is complete, HR Leaders are able to see the main focus area/theme from the session in this field. Having access to this information allows them to see if there are common themes around what's being discussed in coaching sessions across the organization.
Email notifications
Once a session is assigned, coaching participant(s) will automatically receive an email notification letting them know they have a session to schedule. Follow-up reminders are sent one, two, and three weeks after the session is assigned if it is still in an 'Assigned' status— no more manual follow-up emails!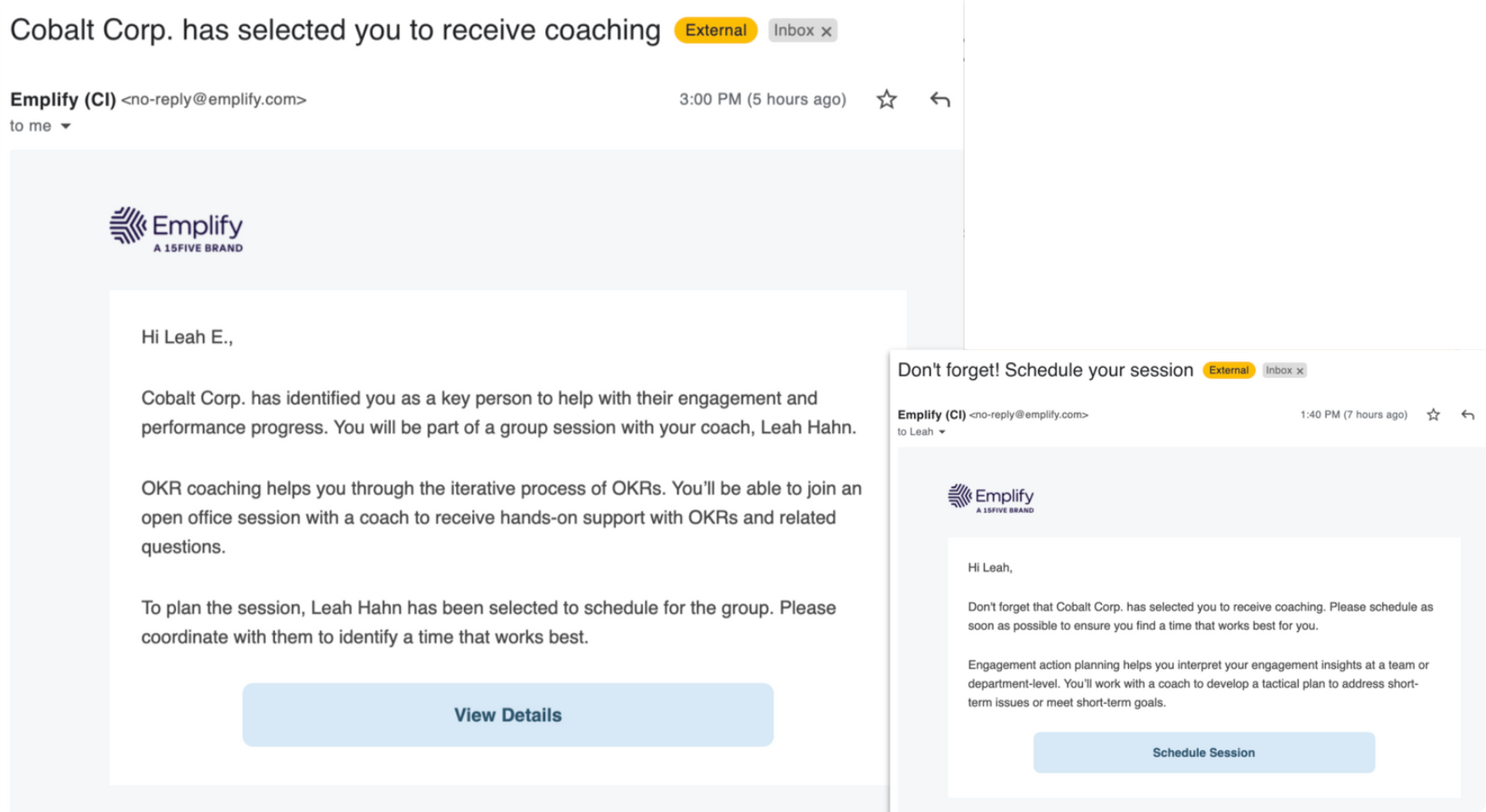 Personal Coaching Dashboard
Coaching participants have access to a simple dashboard that allows them to keep track of their assigned sessions, notes from each session, and a link to schedule future sessions. All assigned sessions will appear on an individual's Personal Coaching Dashboard, and they can schedule a session directly from the dashboard.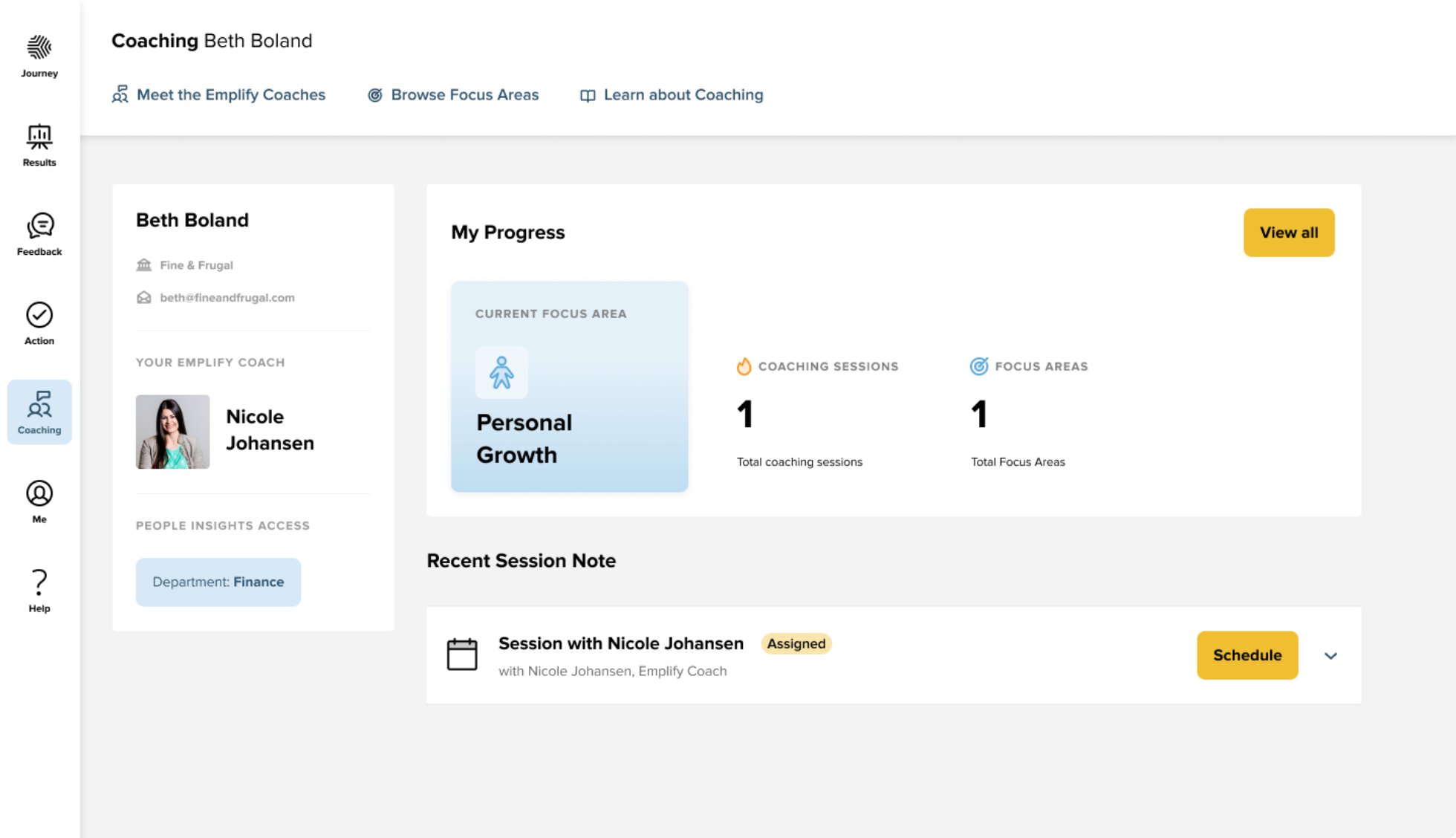 After scheduling a session, the coaching participant(s) will meet with their coach at the assigned date/time. Following the session they can view coaching notes on their Personal Coaching Dashboard.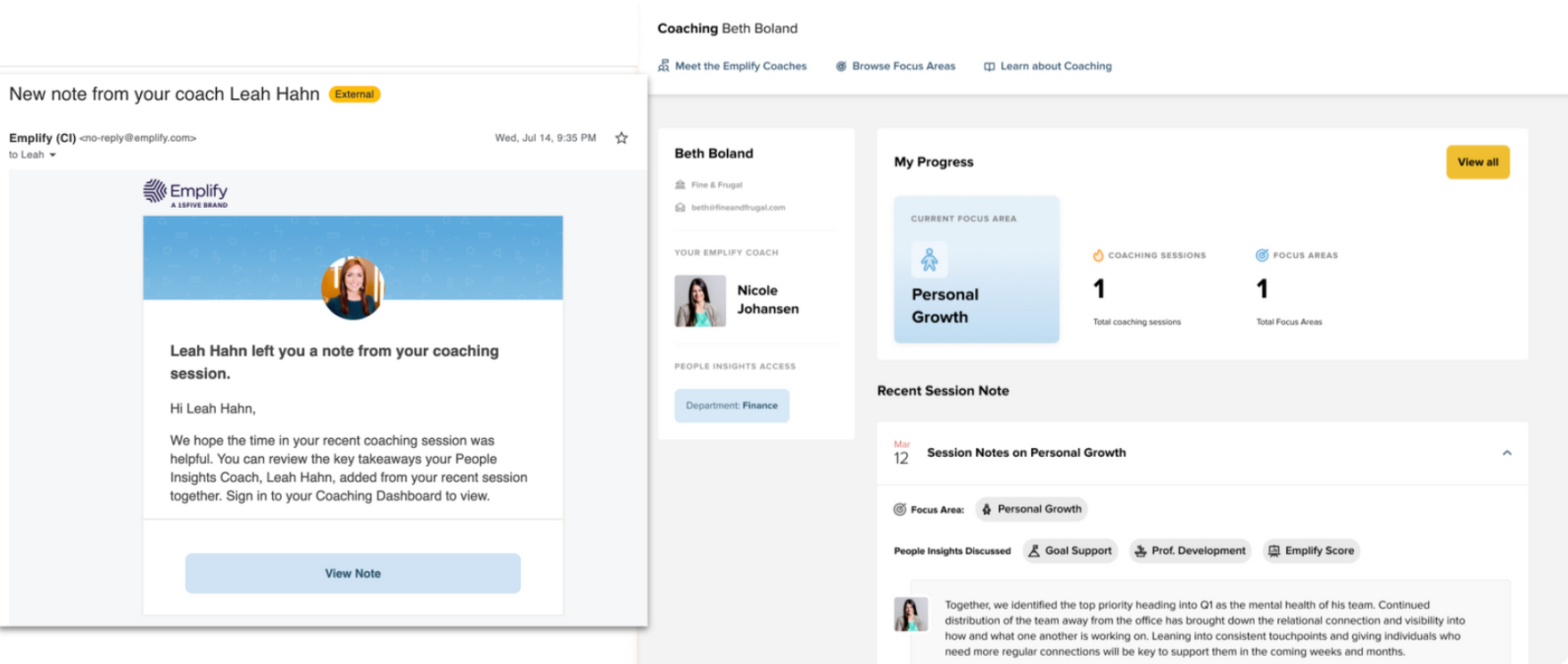 Measure lifts in engagement and performance
HR leaders can measure the impact that coaching has on their team's engagement using the 15Five platform! Check
heatmap reporting
for groups in your organization before and after coaching sessions to see the impact that coaching had.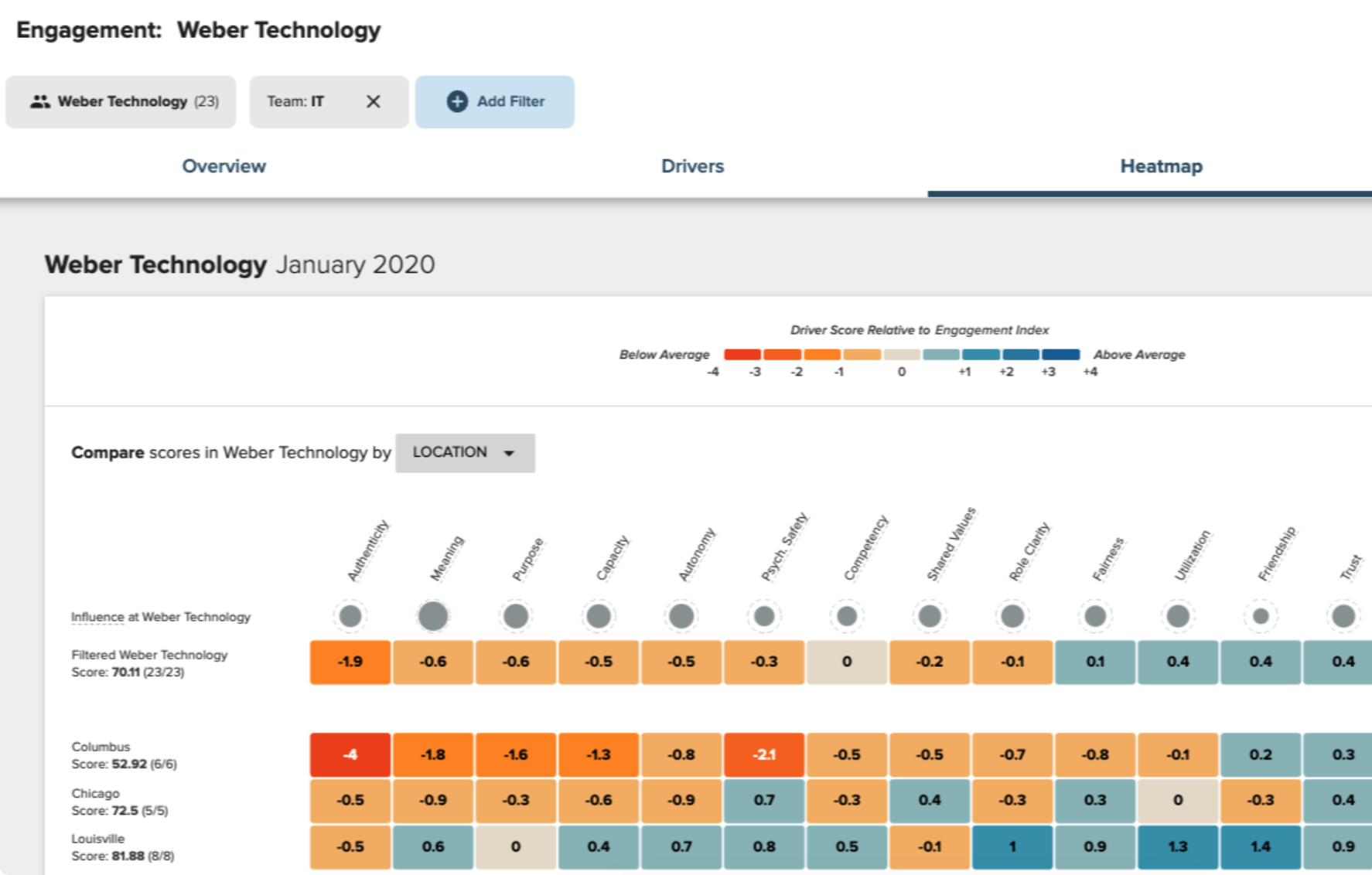 ---
For more information about Coaching Hub, check out these additional resources ⬇️