In this article, you will learn...
---
How the benchmark score is determined
Organizations within the same industry are identified in our system. We use the Emplify Scores from all the assessments each of these organizations have completed and determine the average. The Emplify Score from your most recent engagement assessment is compared against this average.
---
Available industry benchmarks
Construction
Education
Finance
Food & Beverages
Healthcare
Leisure & Hospitality
Manufacturing
Other
Real Estate
Retail
Services
Software Development & Design
Software & Media
Utilities
---
Select an industry benchmark
The Engagement Admin and Organization Admins for your organization can add an Industry Benchmark to your data. To set this up, go to Settings > Organization Details and select your organization's industry.
---
View the industry benchmark
When viewing the organization's Emplify Score, you can now see how the score compares to other organizations in the same industry.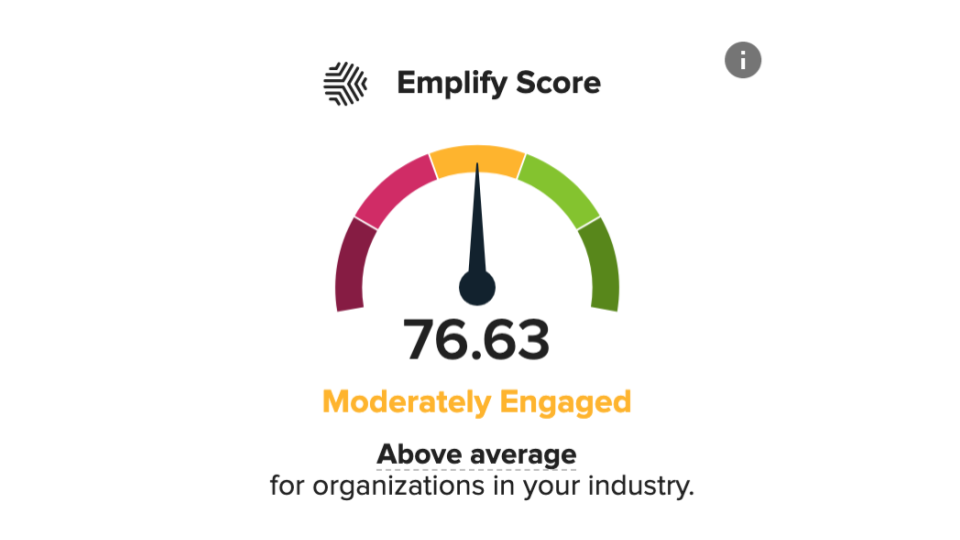 Below the organization's Emplify Score meter, a description of how the score compares to other organizations in the industry will display. Hover on the dotted line to see more information about the Industry Benchmark.