👥 Engagement Admins and Organization Admins with Manage Coaching permissions can track coaching sessions.
Once a coaching session has been assigned to participants, you can access session information using the 'Manage sessions' page in 15Five's Engage platform.
In this article, you will learn...
---
Access the 'Manage sessions' page in Coaching Hub
Click on Training & Coaching in 15Five's main, left-hand navigation and then select Coaching Hub from the dropdown options.

You'll be taken to the 'Manage Sessions' page in the Engage portal.
---
Track coaching sessions
On the 'Manage Sessions' page, admins can see information for all coaching sessions in their organization, including...
Subscription Type: The type of coaching session or series.
Session Date: The day the coaching session is scheduled for.
Facilitator: The name of the 15Five Facilitator charged with running the session.
Participant(s)/Cohort: The names of all coaching participants or the cohort assigned to the coaching session.
Focus Area: Once a session is complete, HR Leaders are able to see the main focus area/theme from the session in this field.
Status: The status of a coaching session— namely, 'Assigned', 'Scheduled', or 'Completed'.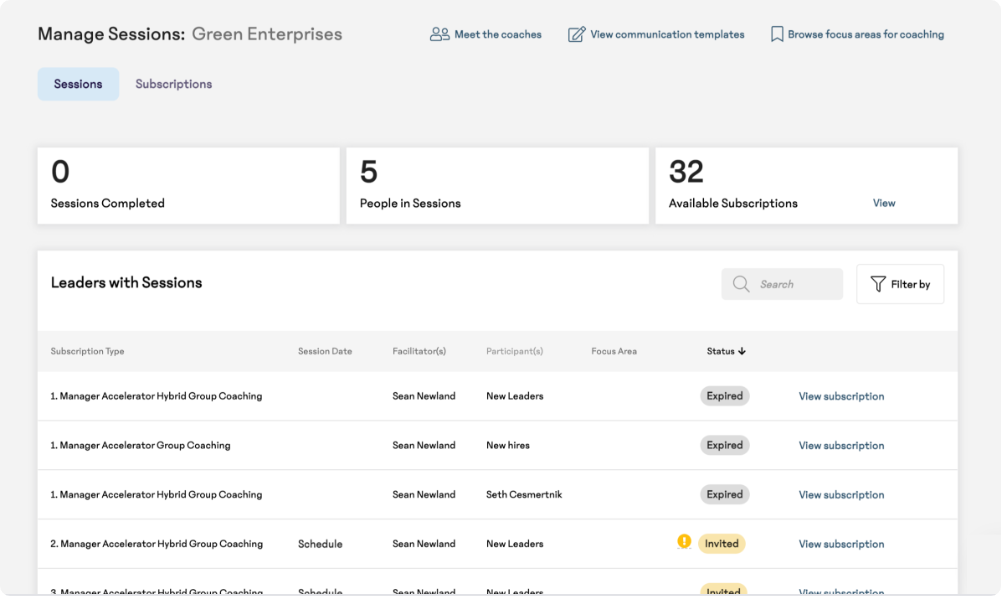 At the top of the page you'll see three metric boxes: Sessions Completed, Leaders in Coaching, and Available Subscriptions.
Sessions Completed lists the number of coaching sessions that your organization has completed.
People in Sessions lists the number of participants that are part of active coaching subscriptions.
Available Subscriptions lists the number of unredeemed sessions (i.e. coaching sessions that your organization has paid for but not yet assigned) in your company account. Click View to access the 'Subscriptions' tab of the HR Dashboard, covered in more detail in the next section of this article.
---
Review completed coaching sessions
Once a session has been completed, the status will update on the coaching dashboard. Account Owners and full access users will also be able to see the Focus Area that was covered in the session. This is a great way to understand themes that are being covered in coaching sessions.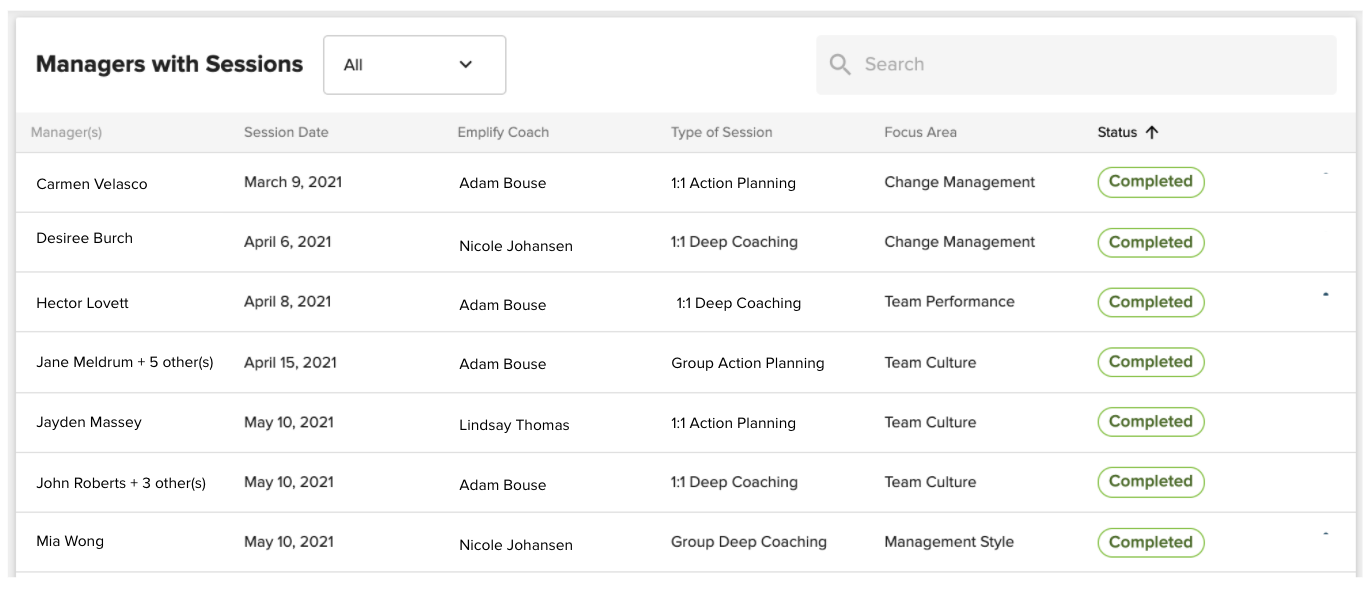 If participant(s) missed their scheduled session, the status will show that they didn't attend the session.