---
Set a maximum user limit
1. Click on the Settings menu at the upper right corner of your 15Five account.

2. Select Company settings from the dropdown menu.

3. Scroll down to the 'Maximum number of people' section of company settings.

4. Click the button next to 'Limited' and enter the desired number you'd like to cap paid user count at.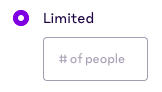 5. Save your changes.