Note
Account administrators can see all pulse answers, but all pulse comments are not visible to account administrators by default. Pulse comment visibility is based on whose Check-ins you have permission to view.
Reviewers can see pulse answers and comments from their direct reports, any drill-downs reporters, group peer-viewers, or people they follow.
Video 🎥: Quick Win- Get To The Heart Of Matters
---
Pull reports from your Pulse dashboard
1. Click on Reporting from the left navigation.
2. Click on 'Check-ins'.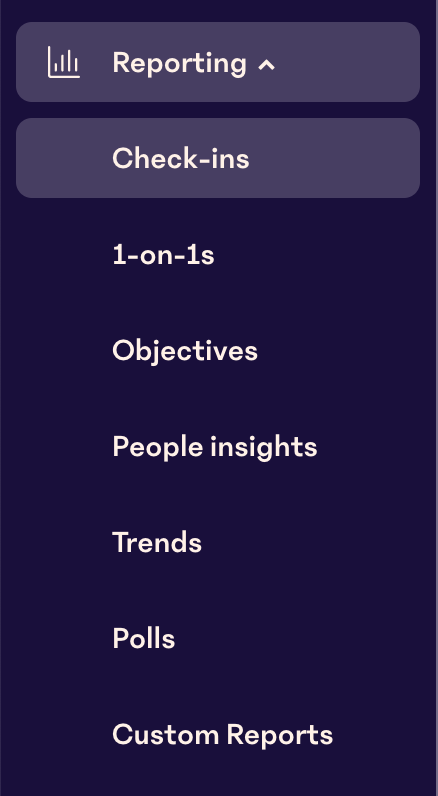 3. Then click the 'Pulse' tab.
4. Use the filters at the top of the Pulse dashboard to select what you would like to see a report on: People, Reporting frequency, Time frame.

5. Below the filters: Decide if you want to include submitted Check-ins for the current period in your report. If you do, check the 'Include active Check-in data' checkbox. This will not pull in draft Check-in information; only submitted Check-ins.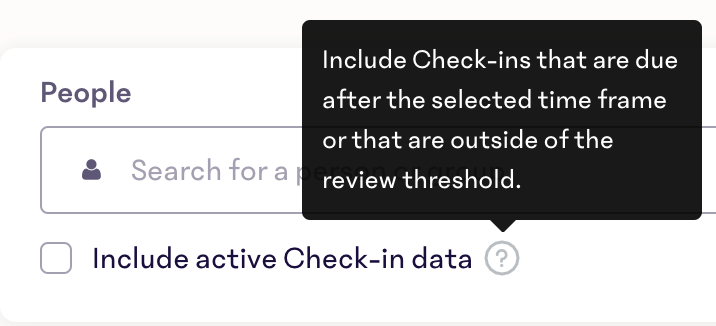 6. Your first section is an 'Average Pulse' report. The 'Average Pulse' report helps you understand the trend of your company's Pulse over time.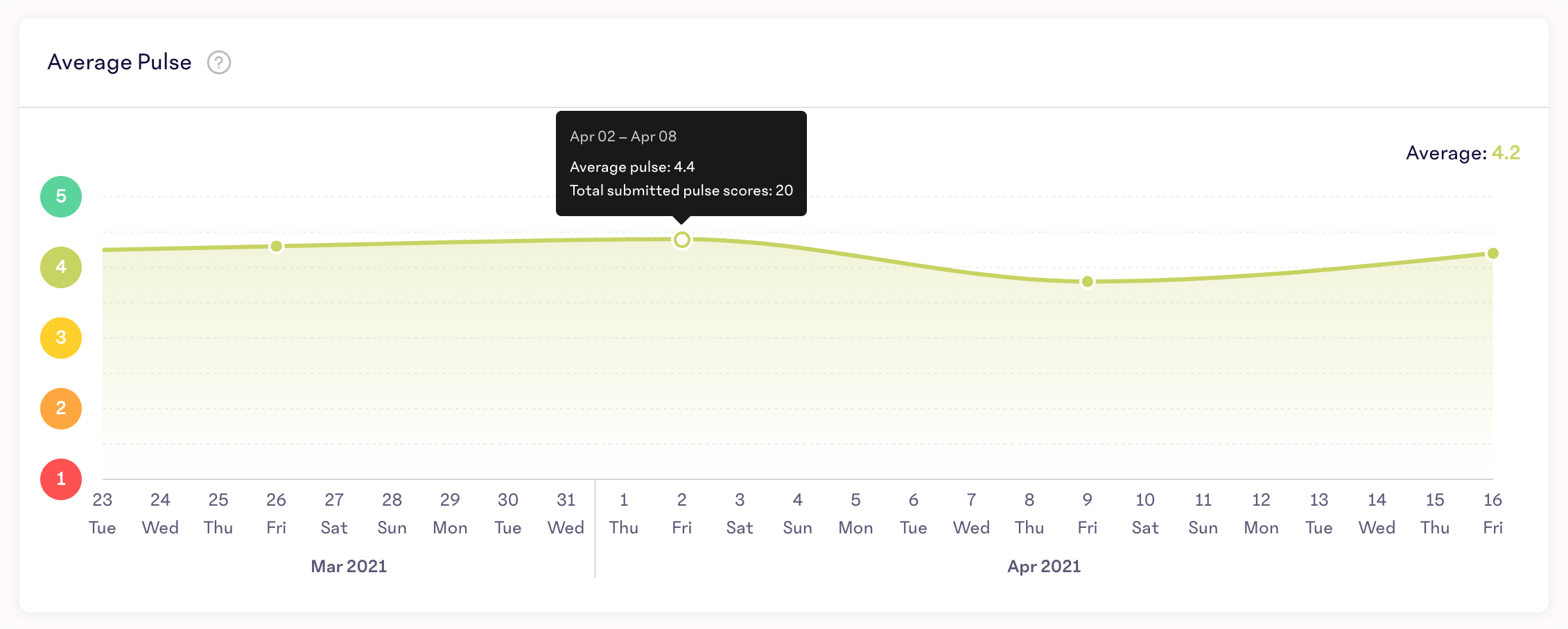 7. The next section is a 'Pulse Answers' report. This section of the dashboard breaks down Pulse answers from 1-5 to give you more of a bucketed approach on how your employees are feeling.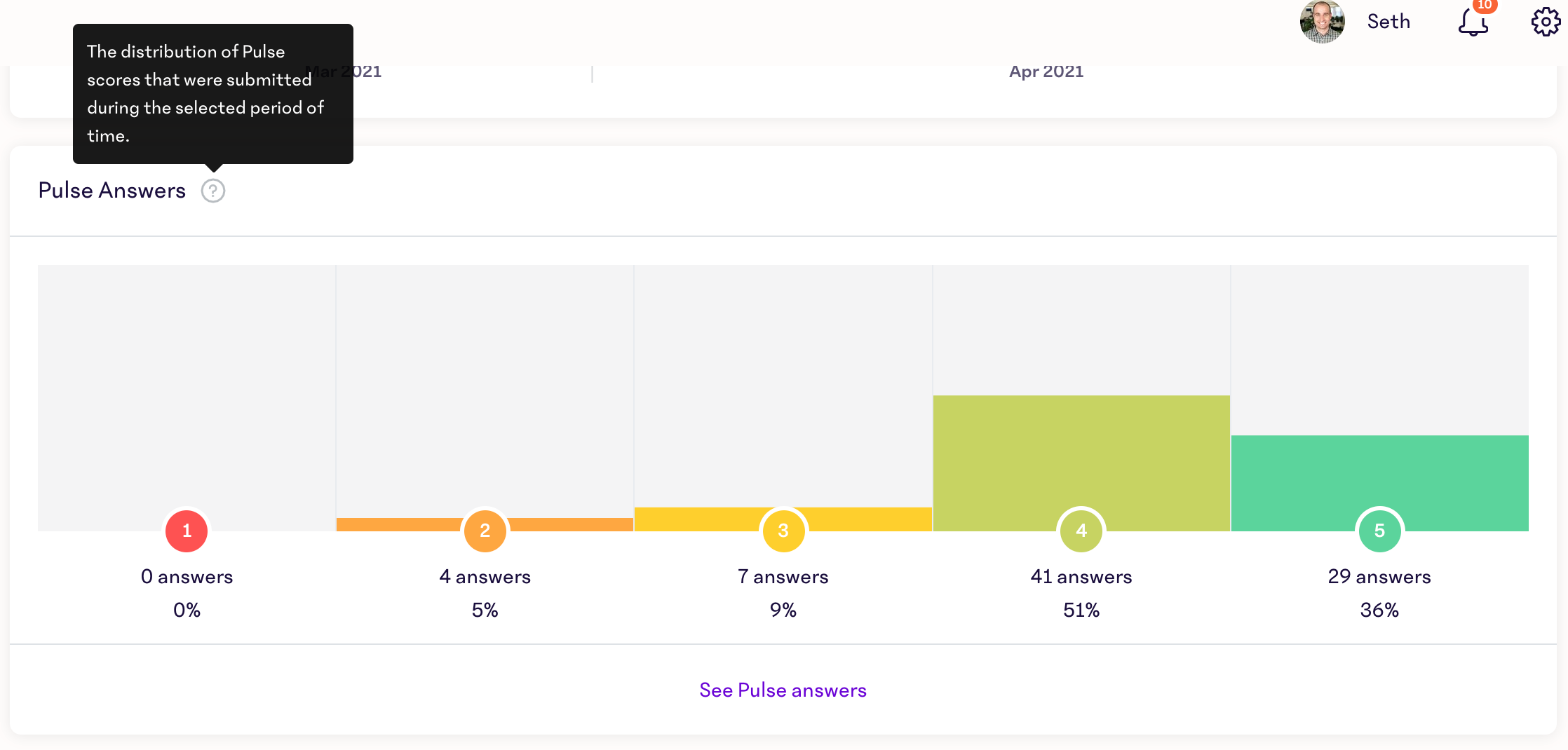 8. If you want to see the Pulse scores AND the contextual answer behind each score, click the See Pulse answers link.
Note
The contextual answers will only appear if you have visibility into that person's Check-ins.
9. You will see two reports within after clicking on See Pulse answers.
Pulse report: Answers- Includes ability to filter by Pulse score, in addition to Name, Reporting period, Pulse score, and Pulse answer.
Pulse report: Metrics- Includes Name, Reviewer, Avg pulse, Last pulse, Check-ins submitted, Check-ins reviewed, Due day, Check-in frequency, Last seen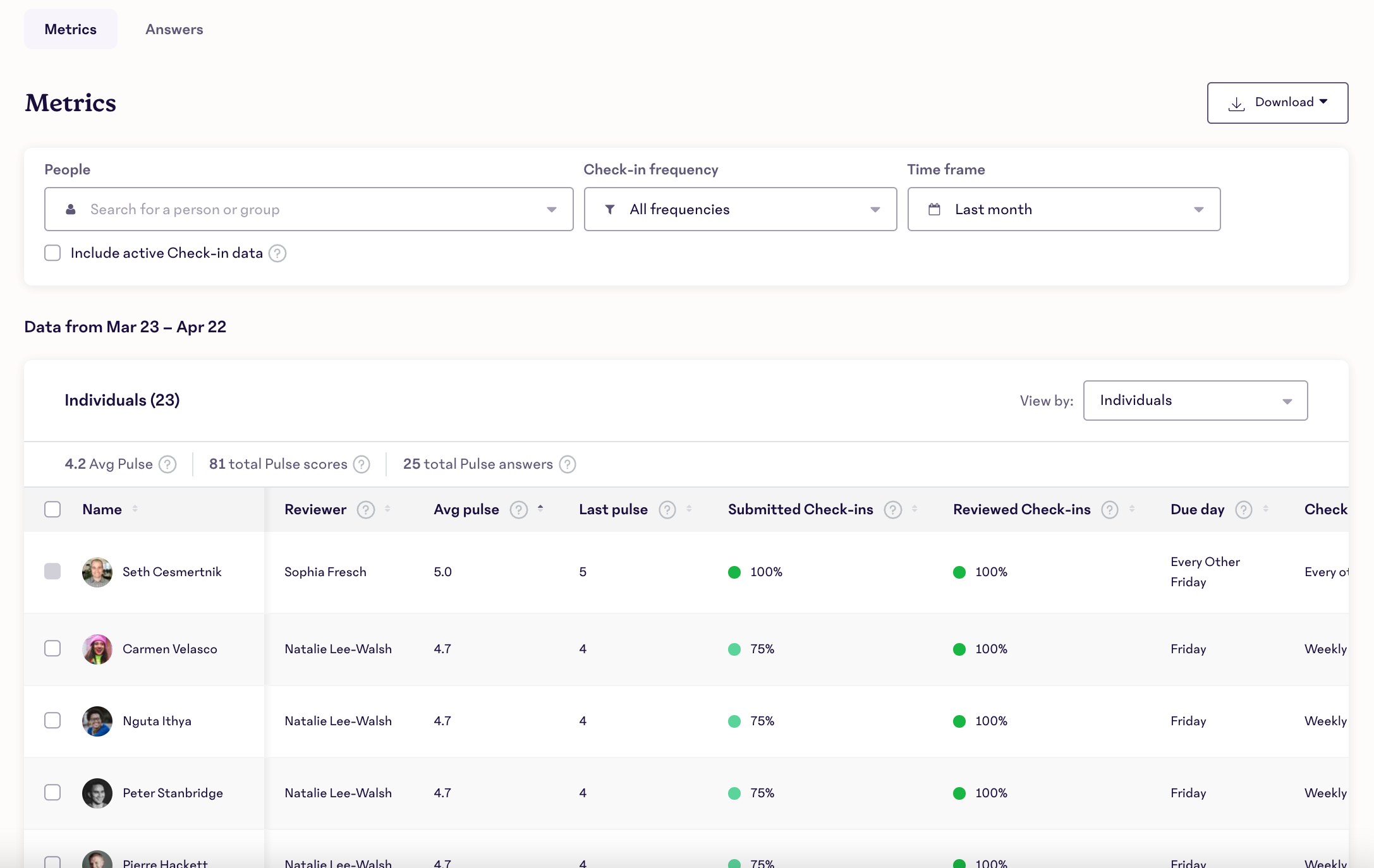 10. Another way to get to the Pulse Report: Metrics page is from the main Pulse dashboard. At the bottom of the Pulse dashboard you will see the 'Individual Metrics' table, which displays the highest and lowest average pulses per person and the 'Group Metrics' table, which displays the highest and lowest average pulses based on all members of the group.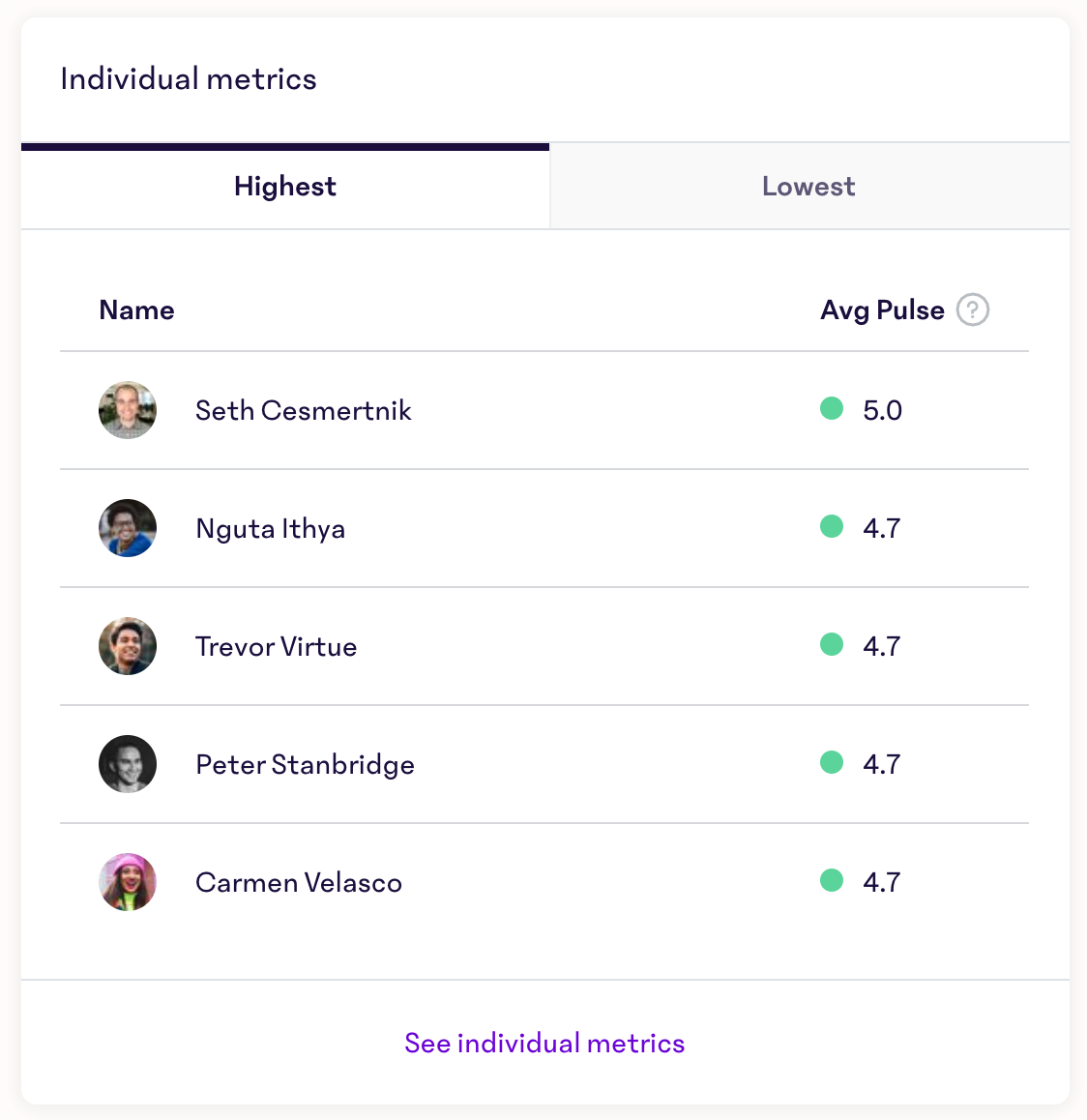 OR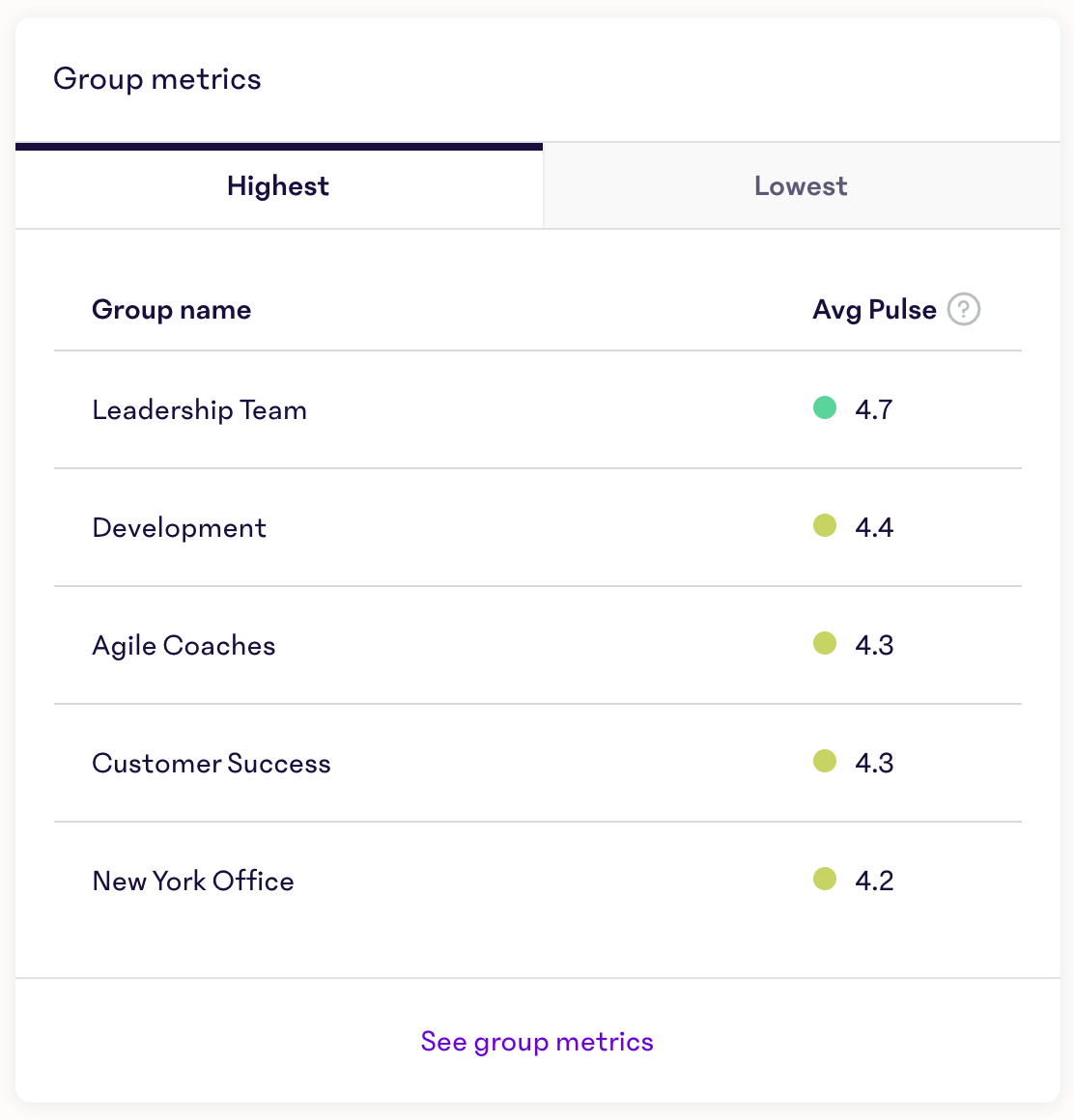 Tip
To see additional data surrounding these Pulse answers, click the See Pulse metrics link. That link will take you to the new Pulse report: Metrics.
11. From within any of these reports, click Download answers to export the information you see in your report. You can also click on Download at the top right and select your download format.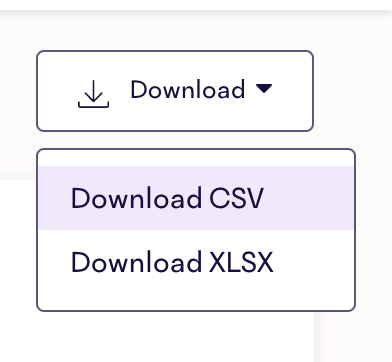 12. The optional download fields will appear in a pop-up window, like this. Choose the fields that you want to include in your download.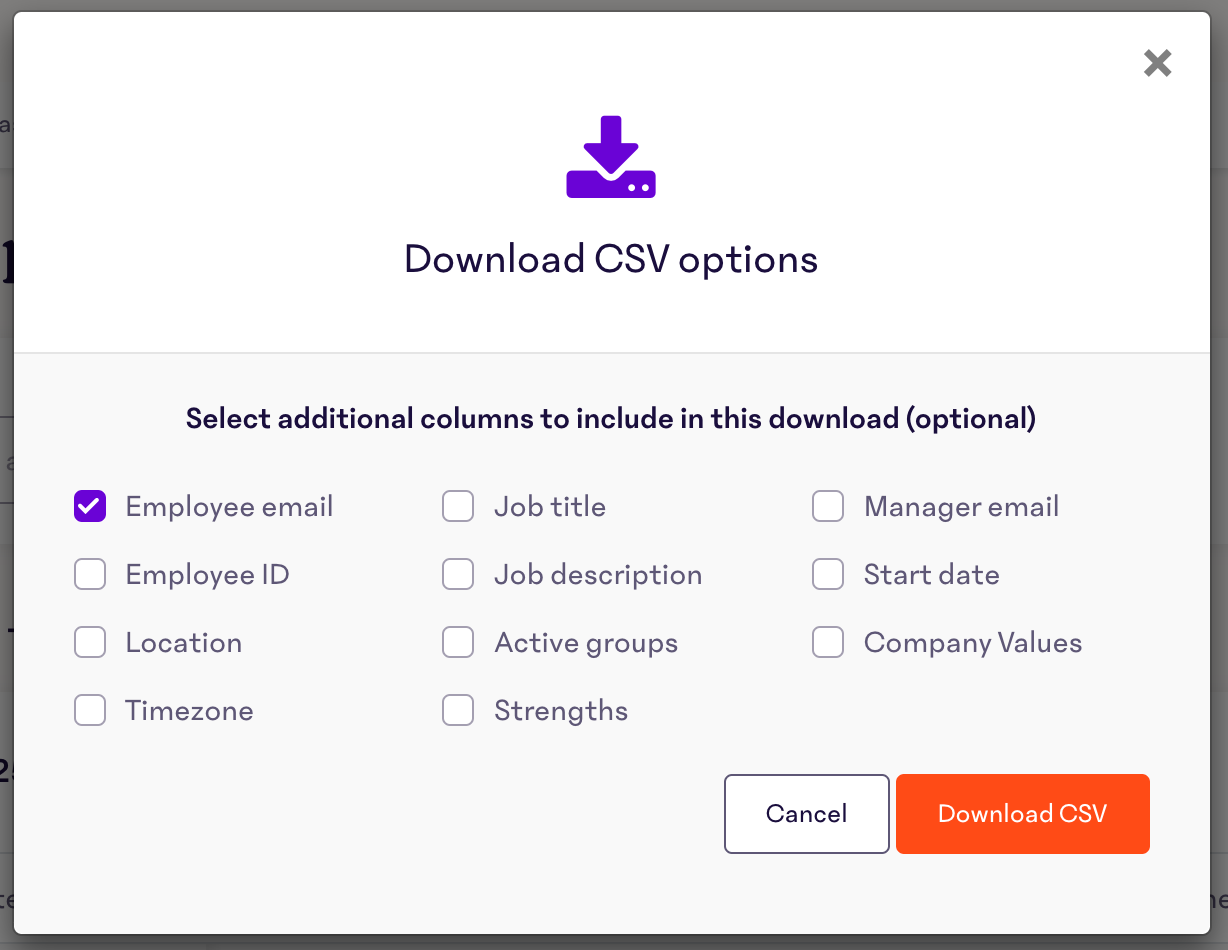 13. Click Download CSV or XLSX.


---
Why a pulse check?
We've included this prompt because identifying feelings are helpful for managers and employees; first professionally, but also personally.
Research shows it's important to become aware when we're happy at work so we can clearly identify the type of work that makes us feel great, which is usually work that builds on strengths. This is why on Check-ins we start with assessing how we feel and then drill down into wins. Conversely, it's important to be aware of times employees are less happy, and identify the work and/or roadblocks employees are facing. This is why we start with assessing feelings and then drill down into challenges.
There's also really great research that shows how identifying emotions can decrease stress, so we can think more clearly and make it easier to find constructive solutions. Self-awareness and feeling awareness is also the first step in building Emotional Intelligence, a key leadership skill. Researcher Daniel Goleman shows that 2/3 of the effectiveness of business leaders comes from EI rather than IQ.
Feelings can reflect both professional and personal sentiments. This is in line with research from Culture Amp (an employee engagement platform) that shows the most engaged employees feel their manager cares about them both personally and professionally, so it's important to cover both during 1:1's or when completing the Check-in.