If you are the account creator for your company, you can do a full company data export of all 15Five questions and answers.
Are you a company admin and want to pull answers for your team?
Report 📊: Pull a custom report on a question
1. Click on your avatar/profile picture in the top right of the page.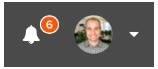 2. Select 'Company settings'.

3. Select 'Export company data' from the left hand side navigation.

4. Click 'Start export'.

NOTE ✏️ : The account creator can access this functionality.
Your data export will show when it is complete and expire within 24 hours from the time of creation.  If you do not see your report, make sure you refresh your page to see the updated status.