This article walks through how to edit an objective in 15Five. For information about who has permission to edit objectives, check out our "Permissions for managing objectives" Help Center article. If you are looking to edit a key result, please refer to our "Edit a key result" Help Center article.
Science
Objectives should be flexible enough so people can freely adjust, revise, or even abandon what they're doing as their work evolves and as priorities change. Research from Kuvass, Buch, & Dysvik, all academics in the field of organizational psychology, demonstrated a link between lower work performance and people seeing their goals as unmovable and non-negotiable.
---
Edit an objective
1. Click on Objectives from the left navigation.


2. You will land on the 'All objectives' page. From here, use the keyword search or filters to locate the objective you want to edit. The 'Quick-filters' section at the top may prove helpful as you work to find the appropriate objective.


3. Click the name of the objective to open it.


4. Click on the gear icon on the objective page, then select 'Edit objective' from the dropdown menu.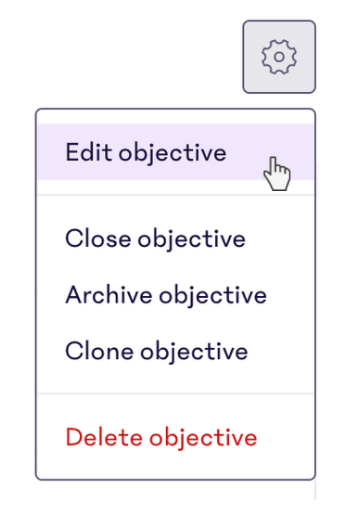 5. Edit the necessary objective details, then click Save objective.


Note
If you are trying to edit the dates of an aligned objective, the dates must coincide with the parent or child objectives. You can either expand the parent objective dates to allow child objective date changes (great if you are looking to extend an objective from 6 months to a year), or you can clone the parent objective and start with completely new dates (great if you are wanting to start fresh with completely new dates).
Guide 📖: 15Five's Ultimate Guide To Making OKRs Work At Your Company