You can see the security options available to you on your account.  If your team has Single Sign-on enabled some of the options may not be available to you.  If you want some of these features enabled you can reach out to
your company administrators
.
1. Click on your avatar picture in your upper right-hand corner.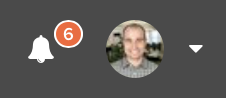 2. Select 'My account'.

3. Then click on (your left-hand side under 'My Account'>) 'Security'.

You can enable Two-step authentication: Add an extra layer of security to your account.  Sign in with your password and a code sent to your cell phone. NOTE: You cannot enable Two-step authentication if you are using Single Sign-on. 
Sign in with Google:  You can use your Google work login to save time and login
Single Sign-on:  If you see a notice that Single Sign-on is enabled for your team, that means that you are only able to use your corporate login and password.
Your password: You can reset your 15Five password here if your team is not using SSO.