We are integrated with Slack! You can manage your Slack settings if you are a 15Five account administrator AND a Slack administrator.
NOTE ✏️ : Private answers and private High Fives will not be posted to Slack.
The basic features of this integration:
Enable report submitted notifications to be posted in Slack.
Reviewers can share an answer on Slack to a designated channel.
You can mark any question so that all answers will get pushed into a designated channel.
You can push Priorities to a designated Slack channel.
You can push High Fives to a designated Slack channel.
You can give High Fives from within Slack that will appear in 15Five.
You can push Group High Fives to a designated Slack channel.
You can receive your 15Five notifications through Slack instead of through email.
By default, the 15Five app can currently access all shared channels in your workspace. Once the bot has been invited to your Slack instance, just @mention the 15Five bot using @15five_bot. In order to use private channels (Slack calls them groups), you have to specifically invite the 15Five bot to that channel. 
If you would like 15Five to post to a public shared channel then the flow is:
1. Invite 15Five to the regular/public channel.
2. Convert that channel to a shared channel.
NOTE ✏️ : In order to use 15Five's Slack integration with private channels, a Slack workspace admin must invite the 15Five bot to the private channel. 
We do plan to implement "15Five check-in due" individual Slack notification soon.

Authorize Slack integration
1. Click on Add to Slack button.
2. You will be redirected to your Slack account.
3. Authorize 15Five on your Slack account and then return to your Slack settings in 15Five.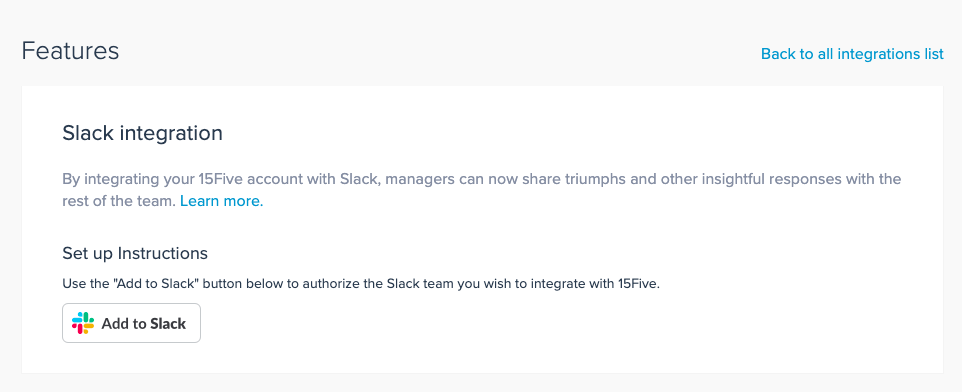 Sharing settings for Slack
1. Click on 'Company settings' in your upper right-hand corner.
2. Click on 'Integrations', then 'Slack', 'Edit Settings'.
3. Select 'Sharing Settings' and customize your options.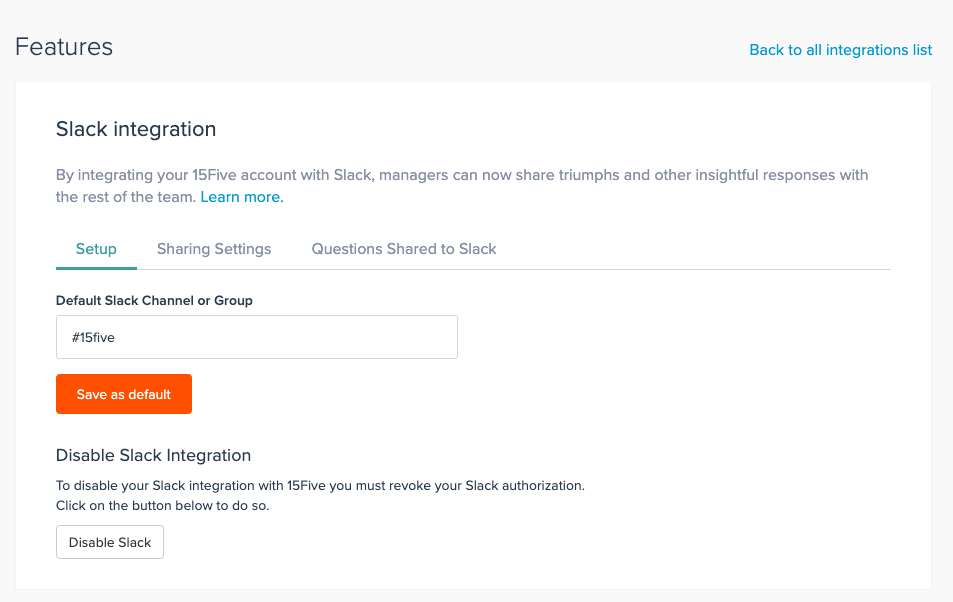 NOTE ✏️ : If a team member edits their report and resubmits the report any Slack comments will be updated and reposted to the same channel.

Automate notifications 

Enable share functions for Reporters or Reviewers
You can enable the sharing of answers by Reporters or Reviewers.
Share answers to specific questions
Click on your profile picture in your top right-hand corner.
Click on 'Manage Questions'.
Click on 'Ask a new question'.
Toggle on 'Share answers on Slack' and specify a public channel.
Share Priorities
You can enable the sharing of Priorities.

1. Go to a submitted report that has the priority you want to add to Slack.
2. Click on the '...' to the right of the priority.
3. Select 'Share on Slack'.
High Fives + Slack
Share High Fives to specific channels
Send High Fives to specific Slack channels. This works out great having a channel that is just made for team appreciation.
Group-specific Slack channels for High Fives
Group-specific channels allow you to push High Fives to certain Slack channels depending on the High Five recipient. This is particularly useful if you have a large team and Slack feels a little noisy at times.

For example, you could configure any High Fives received by members of the Engineering group to be pushed directly to a #dev-lounge Slack channel. Neat right?
NOTE ✏️ : Currently, High Fives cannot be shared to a private Slack channel. Private answers or High Fives will not be posted to Slack.
How it works:
As a 15Five admin, head over to the Slack integrations settings page.
Navigate to 'Sharing Settings' and scroll down to Group-specific High Fives.
Select the Group High Fives you want to map over to a specific Slack channel.
Give a High-Five directly from Slack
Now, you can give a High Five right from Slack! Just click on any channel and type the command:  /highfive (followed by your High Five comments)
NOTE ✏️ : For people who installed the Slack integration prior to February 14th, 2018, you will need to resinstall Slack. You will end up with two 15Five apps integrated with Slack.
The workaround for this is shown below:

To enable the Slack /highfive command:
1. Go to https://YOURSLACKSUBDOMAIN.slack.com/apps/manage
2. Remove the 15Five app.
3. Go to https://my.15five.com/slack/manage
4. Click 'Disable Slack'.
5, Click 'Add Slack' and confirm the permissions.