15Five's meeting agenda allows you to enhance and streamline your one on one meetings and record the most important learnings all in one place. This vital element of work-week helps you build relationships and re-align with the team and individual goals.
NOTE: 1-on-1 content is only viewable by the Reviewer and Reporter regardless of Group Permission settings or Following permissions.
Reviewer Tip: You can add your team's 15Five answers to a 1-on-1 agenda. To get the most out of the 1-on-1 feature we recommend you ask a company-wide question "What do you want to discuss in our next 1:1? Nothing's too big or small." Read Best Practices for 1-on-1s .  Both Reviewers & Reporters can collaborate on a 1-on-1.
Reviewers
To begin:
Select the '1-on-1s' tab in your top navigation bar.
Locate the employee you want to start the 1-on-1 agenda with.
Select 'Create a new 1-on-1'.
Add answers from a 15Five to 1-on-1
Go to your 'Team 15Fives' tab.  You will see a list of team members you review, be able to go through their reports, and add answers to the team member's 1-on-1 agenda.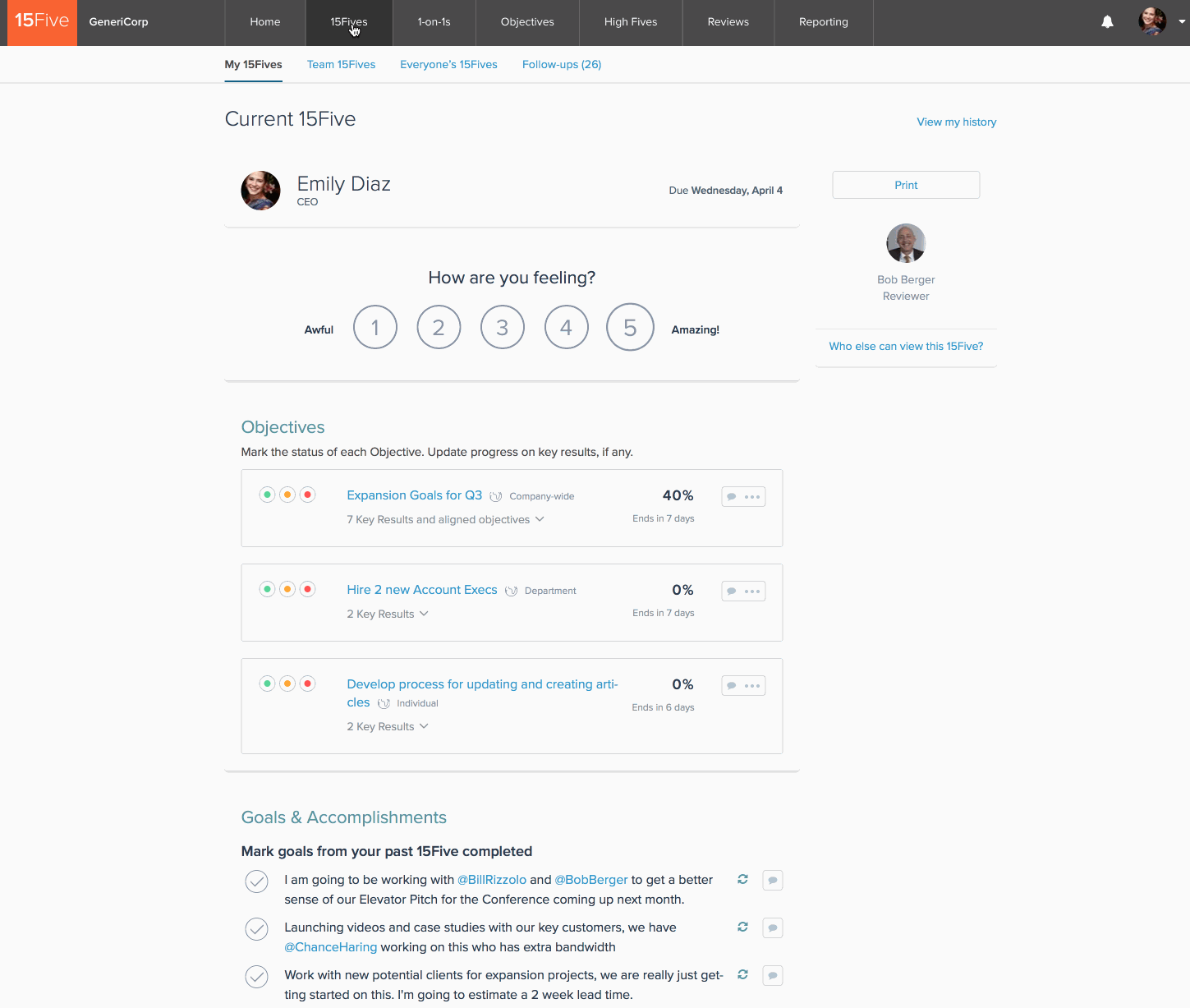 Talking points, action items & notes
Talking points, action items, and notes can be added directly to the 1-on-1 agenda at any time while before the meeting is ended. 


NOTE: Private items will only be visible to you.
End Meeting
Click "End 1-on-1" for a new agenda to show for a team member. After your 1-on-1 meeting is complete, a summary email is sent to your team member with any notes or action items.
Reporters
You will be able to collaborate and add talking points for your next meeting.  
To begin:
Click on the '1-on-1s' tab, and then '1-on-1s with my Reviewer'.
NOTE: Your reviewer must start and end the meeting. 15Five is working on 
When your Reviewer ends your 1-on-1 (after you meet), you will receive an email stating that the meeting has ended. The email summary of action points looks like this.