Classic research shows again and again that goals/objectives are extremely effective at increasing performance and engagement. When individuals set Objectives, they consciously decide on the goals they want to accomplish and within what timeframe, which steers behavior, energizes, and directs an individual's attention. Furthermore, OKRs are most effective when they are flexible and can adjust during the quarter to match business needs. All of this objective setting leads to greater effort, which improves performance.
Objectives are what the organization or individual wants to accomplish, and are typically qualitative or subjective, ambitious, and time-bound. Key Results are concrete, specific, and measurable.
Science 🔬: Get scientific about Objectives!
Success Center article 🗒: Measure Objectives metrics and targets
---
Create an objective
1. Click on Objectives from the left navigation.

2. You will land on the 'All objectives' page.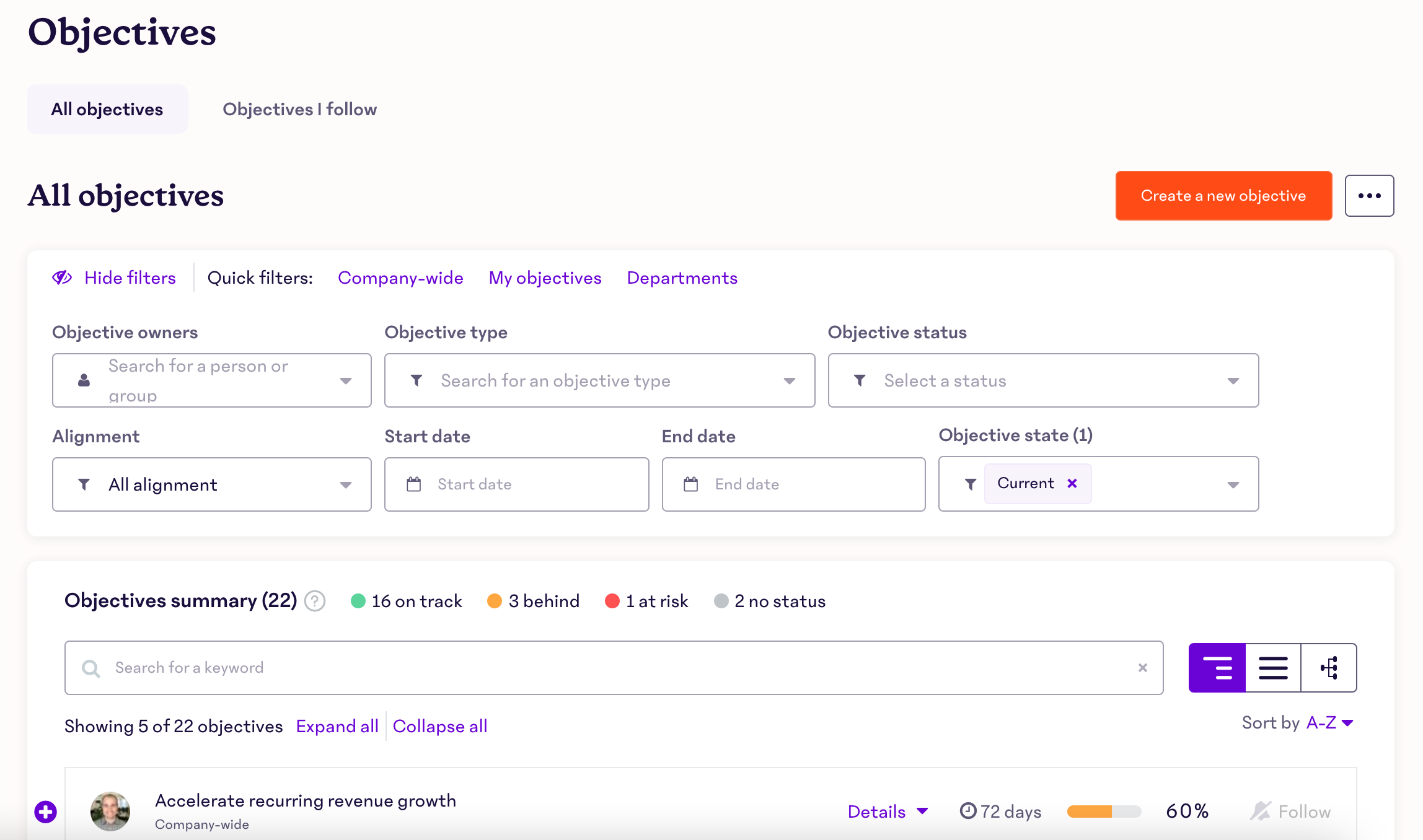 3. Click on the Create a new objective button.

4. Name your objective.

5. Choose who the owner of the objective should be. The people included in this drop-down menu will vary based on your company's permissions for Objectives.

6. Decide who the objective is for: A person, A group, The whole company

7. Select the type of objective you are trying to create based on who the objective is for.
If you are creating a group objective, choose the group/department/team/etc that the objective is for.
8. If aligned objectives is enabled for your company, you will see the option to align this objective with a parent objective.

If aligned, decide whether you want the objective to impact the progress of the parent objective or not.

9. If Objectives tags are enabled for your company, you will see the option to add a tag or tags to your objective. If you are unsure what to tag your objective, it is best to leave the tags blank and either allow an account administrator to add the tag for you OR add in the tag by editing at a later date.

10. Create key results to measure your objective. Key results can be measured in percentage, dollar, number, or completed/not completed.
If your company has the Jira integration enabled, you can link your key result(s) to Jira issues using the 'Link to' option at the bottom right of your key result field. For more information, see this article.

For additional currency values, click ..., Other currency, and use the drop-down to choose the currency that applies.
Note
Make sure to give your key results a title or else your objective will not save.
11. Add in the objective's start and end dates. If aligned and impacting progress, the dates must be the same as or fall within the parent objective's dates.

12. You may see a question titled "Who can update and edit this objective?" This option, if enabled, allows you to add groups or people as editors for the objective. Adding people in this section will allow the selected people and/or groups to edit, manage, update, and delete your objective.
If you are allowing people to update and edit this objective, they will be automatically added as viewers of the objective, even if 15Five permissions or Specific people is selected. Use cases for this option: team objectives being worked on by a group, objectives being worked on cross collaterally, objectives managed by two teammates.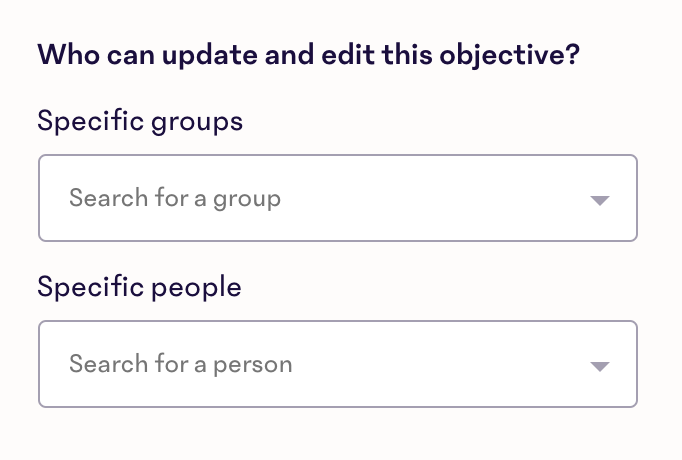 Note
Objectives that you have been given access to edit will not appear on your Check-in. You will not receive a notification that you have been added as an editor. The objectives you are able to edit will need to be accessed through the 'All objectives' page. The same goes for giving access to other people/groups.
13. Add your privacy settings; Public, 15Five permissions, or Specific people (you + your manager always, and anyone else you choose to include). For more information on these settings, see this article.

14. Finish your objective by clicking the Create objective button.

Guide 📖: Objective and Key Results (OKR)
Guide 📖: How To Launch, Track, and Achieve Your Objectives and Key Results
Video 🎥: Create an objective
---
Measurement options for key results
You can adjust your key results to be in a percentage, revenue-based format, or another metric number that your team tracks. Make sure to click ... in order to see all metric options.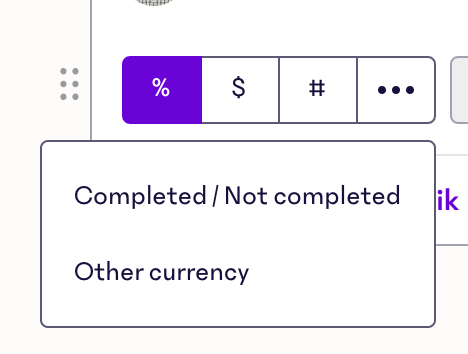 Note
All key results contribute equally to the overall completion of the objective. If the objective also has child objectives, the child objectives and key results will each contribute equally. For example: if an objective has three key results, each key result will contribute 33% towards objective completion. If an objective has three key results and two child objectives, each item will contribute 20% towards the objective completion.
To update any details of a key result after it has been saved, see this article.