As a participant, you will be asked questions about your development, because research shows sharing your feelings and ideas greatly affects perceived fairness and motivates improved performance. Your self review should be completed before the self review deadline. This deadline will be listed in the 'Overview' tab of the review cycle. You can click on the link from your kick-off email to go directly to your self review. If you are already in app or aren't in your email, you can follow the steps below.
If you are not a participant in a review cycle, you will not be asked to complete a self review. 
Why is my self review so important? Check out the science behind Best-Self Review™
To complete your self review
1. Click on your 'Reviews' tab.

2. Click on the name of the cycle you need to work on. It will be under the 'Active review cycles' section.

3. Under 'Your review to-dos', you should see a 'Write self review' button. Click on this button to begin your self review.

4. Fill out your review (note there are resources for you at the bottom of your review) and 'Submit'.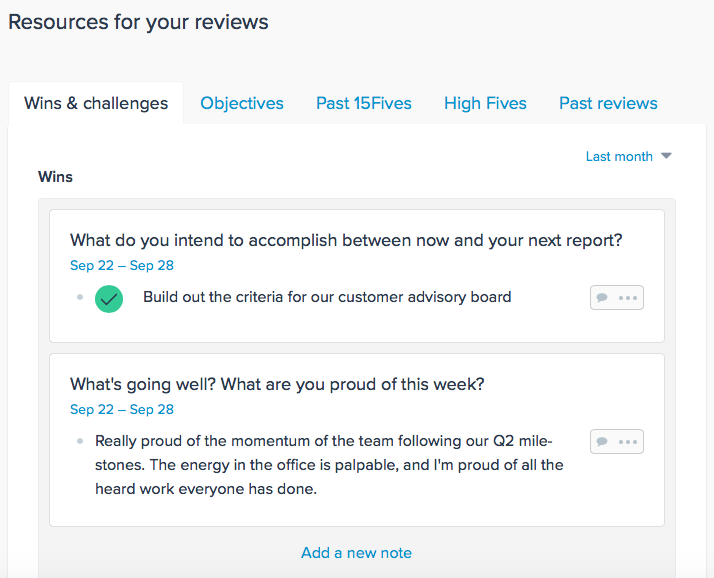 NOTE ✏️ : Your manager will be able to see your self review as soon as you submit it.
Success Center article🗒: When do reviews become visible to others?
Success Center article🗒: Edit my self review
Success Center article 🗒: Complete upward review of my manager (if upward reviews are included in your cycle AND your manager is a participant)
Success Center article 🗒: Complete peer reviews of my teammates (if peer reviews are included in your cycle AND you have accepted a peer nomination)