15Five's Best-Self Review® is a modern performance review that helps companies achieve high performance while bringing out the best in their people. Using research-backed question templates and the ability to aggregate an individual's wins, challenges, and progress on key objectives, Best-Self Review® eliminates bias and steers the conversion toward growth and forward-looking performance. This article walks through the basics of our Best-Self Review® feature and provides best practices and resources to get started.
In this article, you will learn...
Access and availability
⛔️ Required access to Best-Self Review®.
👥 This article is relevant to all roles.
📦 This feature is available in the Perform and Total Platform pricing packages.
---
What is Best-Self Review®?
Best-Self Review® is 15Five's performance review feature, designed to enable organizations to fairly and accurately measure employee performance in a way that empowers accountability, buy-in, and career growth. It's built around positive psychology and the principles of effective communication and creates space for participants and review writers to reflect, give feedback, and celebrate wins and growth.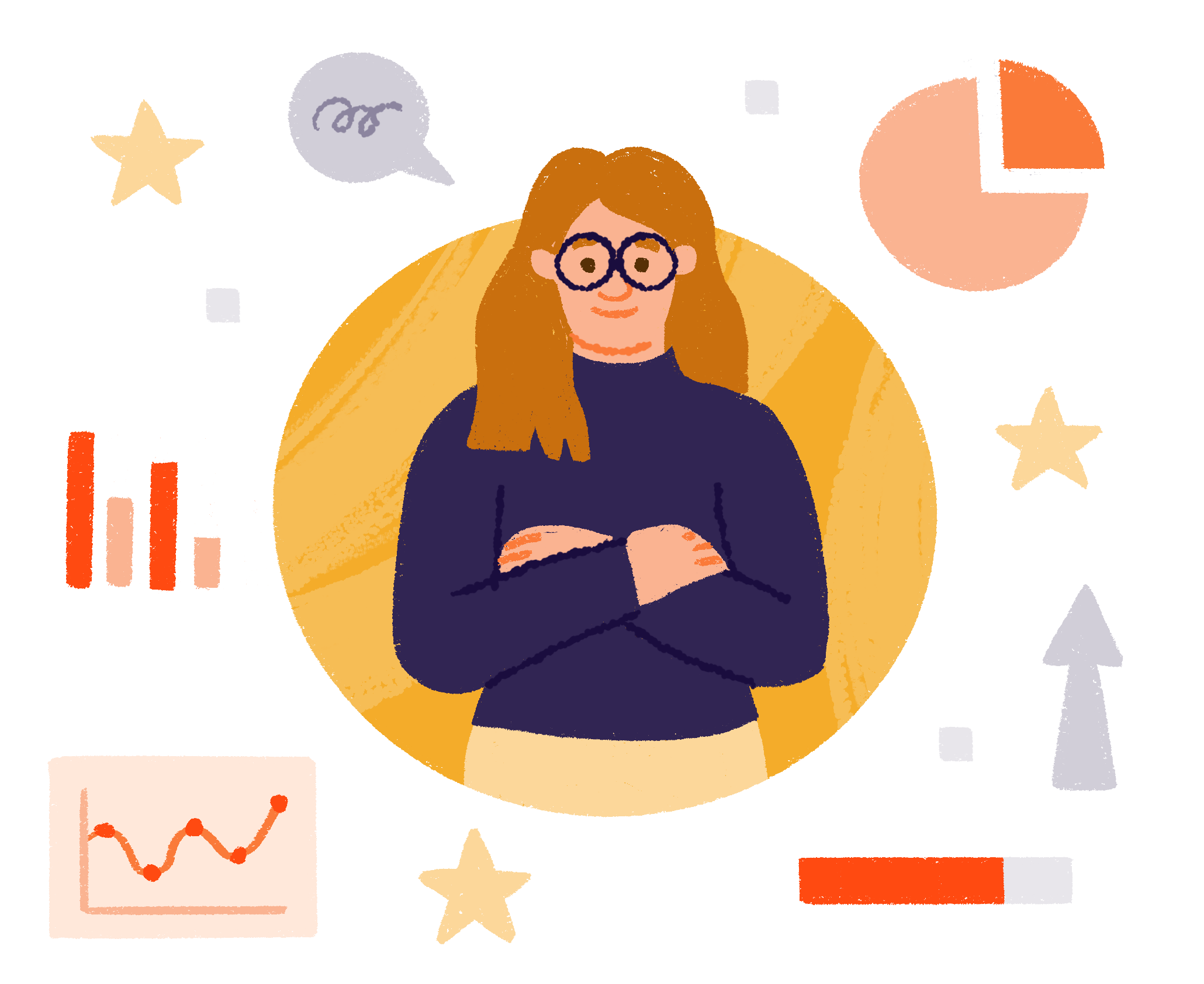 With options to include self, manager, peer, and upward reviews in a review cycle, Best-Self Review® paints a robust picture of employee performance. Built-in tools like performance ratings, calibrations, and talent matrix make it easy to reveal top talent, identify actionable areas for improvement, and assess performance in the context of role, department, and demographics to improve decisions and accountability.
---
How it works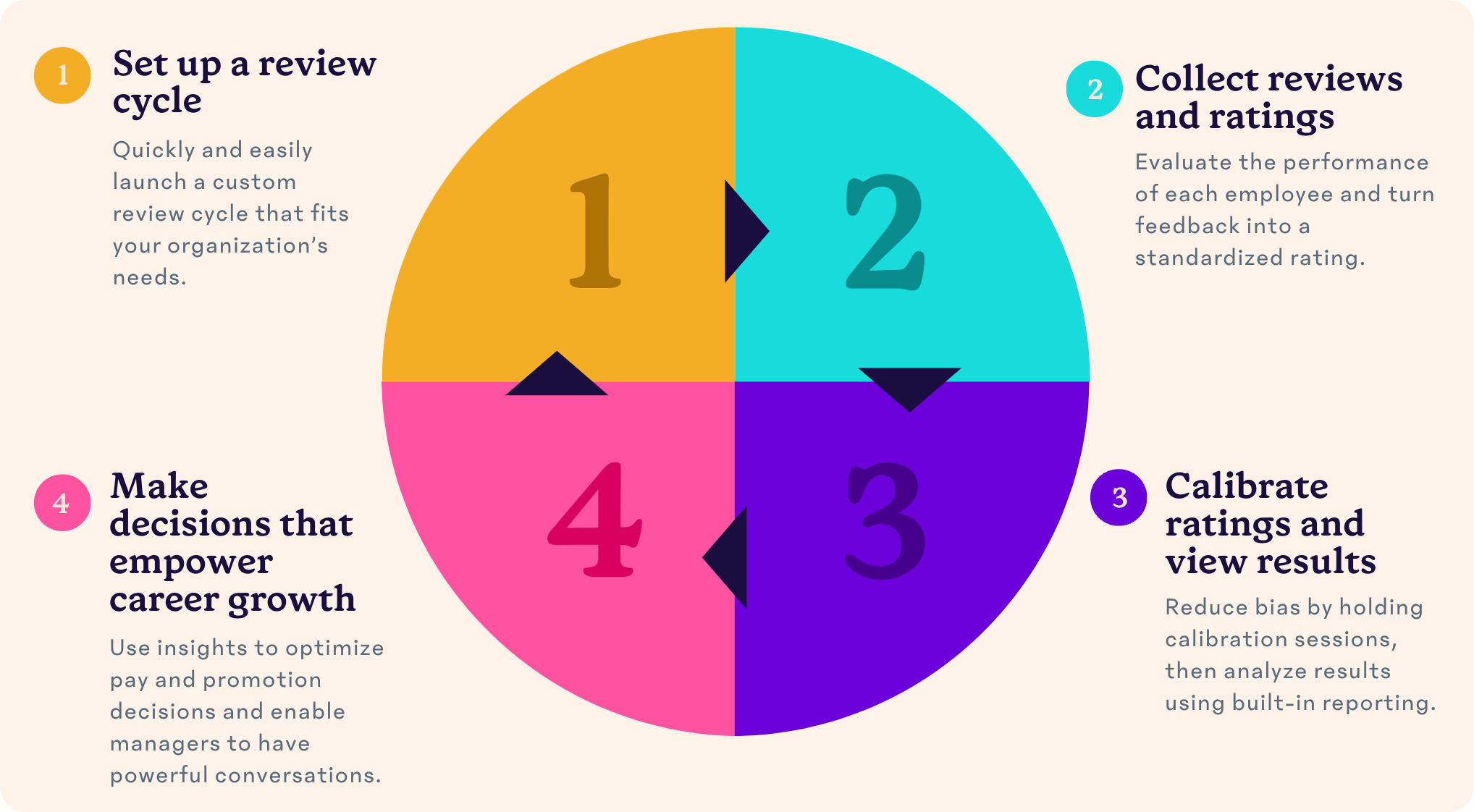 Set up a review cycle in as little as 15 minutes. Quickly create and launch a custom review cycle that fits your organization's needs.
Collect performance reviews and ratings. Evaluate the performance of each employee using a holistic approach that promotes fairness. Easily turn feedback into a standardized rating to make pay and promotion decisions equitably.
Calibrate ratings and view reports. Reduce bias through 15Five's proprietary calibrations algorithm, which creates a consistent measure of performance for each employee. Easy-to-use reporting ensures that HR teams can evaluate performance ratings by demographics, departments, role competencies, and more.
Make decisions that empower career growth. Help leaders optimize pay and promotion decisions, and enable managers to have performance conversations that drive retention and career development.
---
How Best-Self Review impacts HR outcomes
Most companies have an annual or semi-annual performance review process where managers provide structured feedback to their employees. While good in theory, this irregular system for improving employee performance can seem like token efforts that yield few tangible results or overall organizational communication. These processes stifle top employees — these are the individuals who yearn to make a tangible impact and contribute to work objectives daily. High-performers understand that there is constant room for improving work efficiency and they thrive when given the opportunity to give and receive constructive feedback. If managers are not talking with them on a consistent basis, they'll leave to pursue 'greener pastures' where they feel they'll be heard and valued.
The top reason employees quit their jobs between April 2021 to April 2022 was a lack of career development and growth. Providing employees with feedback on their performance and helping them identify areas for development can increase job satisfaction and lead to increased retention.
85% of professionals surveyed said they would at least consider leaving their company over an unfair performance review.
Other benefits
Holistic: Easily run review cycles with an intuitive platform that reveals top talent and actionable areas for growth and development.
Flexible: Tailor reviews to your company culture by seamlessly integrating 15Five with your HR strategy, company culture, and tech stack.
Insights-driven: Assess performance in the context of role, department, and demographics to improve decisions and accountability.
Constructive: Easily gather feedback and ensure direct reports continue to grow and develop.
Supportive: Discover team members who are struggling and need additional support. Identify growth opportunities to focus on.
---
Key components
Custom review cycles
Performance reviews in 15Five are a breeze to set up with easy-to-use settings and customizations, enabling HR leaders to create an experience tailor-made for their culture and employees.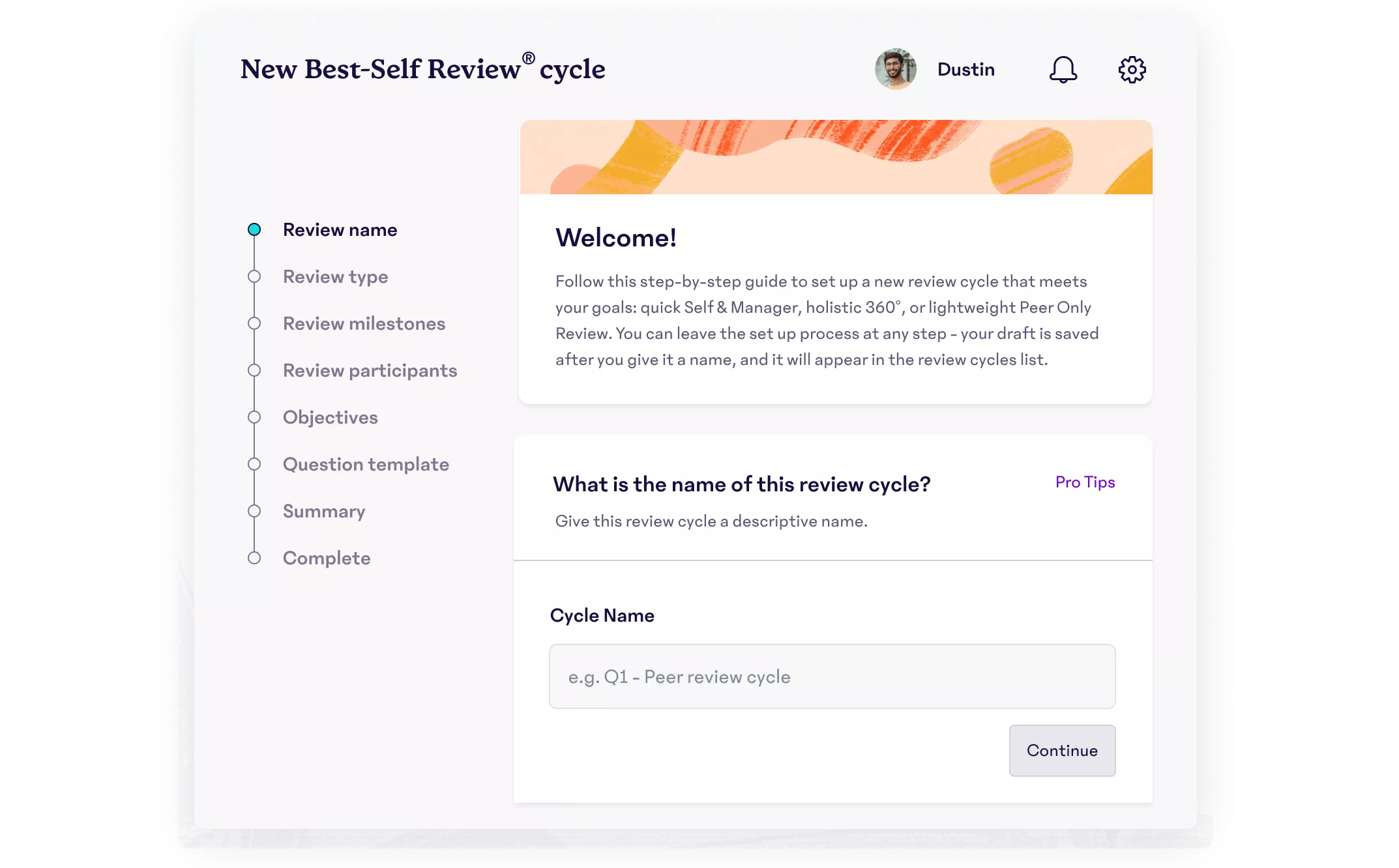 Develop a holistic measure of performance that's right for your culture by including any combination of Self, Manager, Peer, and/or Upward reviews in your cycle. Ensure equity across groups while making it easy for managers, employees, and peers to provide objective feedback.
Customizable question templates
Question templates allow you to determine what values, competencies, or assessments of performance will be measured. You can easily add questions to your review cycle using 15Five's pre-built performance review templates, or by creating your own based on your company's needs.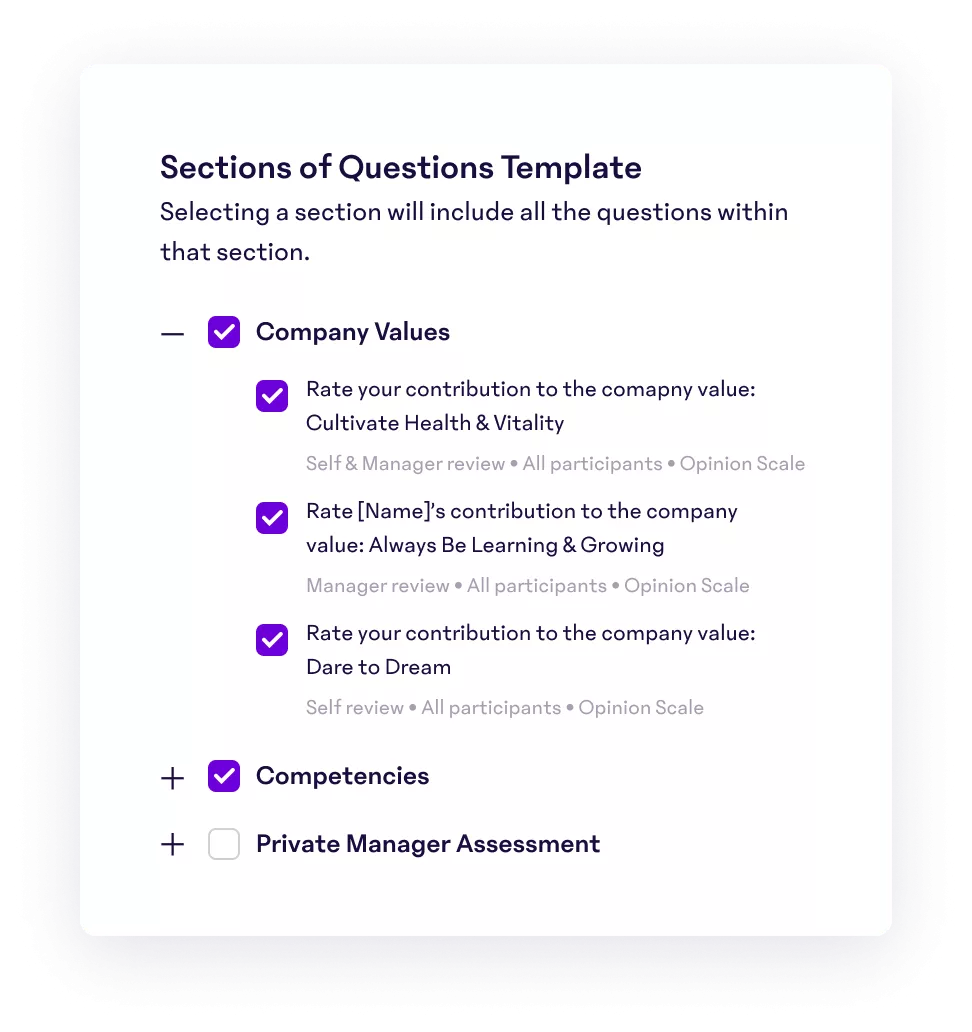 Question templates can contain the following sections:
Growth & development: Reflect on your accomplishments and opportunities for growth that relate to the progress of your work goals. Instead of simply grading past performance, this section aligns employee efforts with company objectives. Managers can focus on wins, since research shows that strengths-based development conversations increase motivation and improve performance.
Company values: How you achieve a goal is as important as what you achieved. The Company Values assessment allows employees to reflect on how they contributed to the core company values and mission. This process keeps values top of mind for employees and guides the everyday decisions they make.
Competency assessment: Our competency assessment is a research-backed approach to gauge an individual's skills and behaviors that drive performance. It gives employees and managers the ability to objectively and more holistically measure performance over time, identify skills and perception gaps, and enhances transparency in the review process.
Objectives: These questions are focused around objective and key result performance. Goal setting is one of the most powerful and evidence-based interventions for enhancing performance. The impact is even more positive when goal setting is combined with performance feedback or progress monitoring.
Private manager assessment: Research shows that it's important to separate salary and development conversations, however, performance needs to be assessed throughout the year. The Private Manager Assessment includes five future-focused questions on employee promotion readiness and eligibility for compensation increase or bonus award.
Best-Self Review® Dashboard
HR teams often struggle the most at review time, because coordinating, tracking, and cataloging reviews can be cumbersome. Reviews can all be easily managed and tracked from one beautifully designed dashboard. HR can see company-wide progress and drill down in every review. The Dashboard that people see depends on their roles: managers can use their review dashboard to see their team's progress, and employees can use their's to see the progress of their personal review cycle.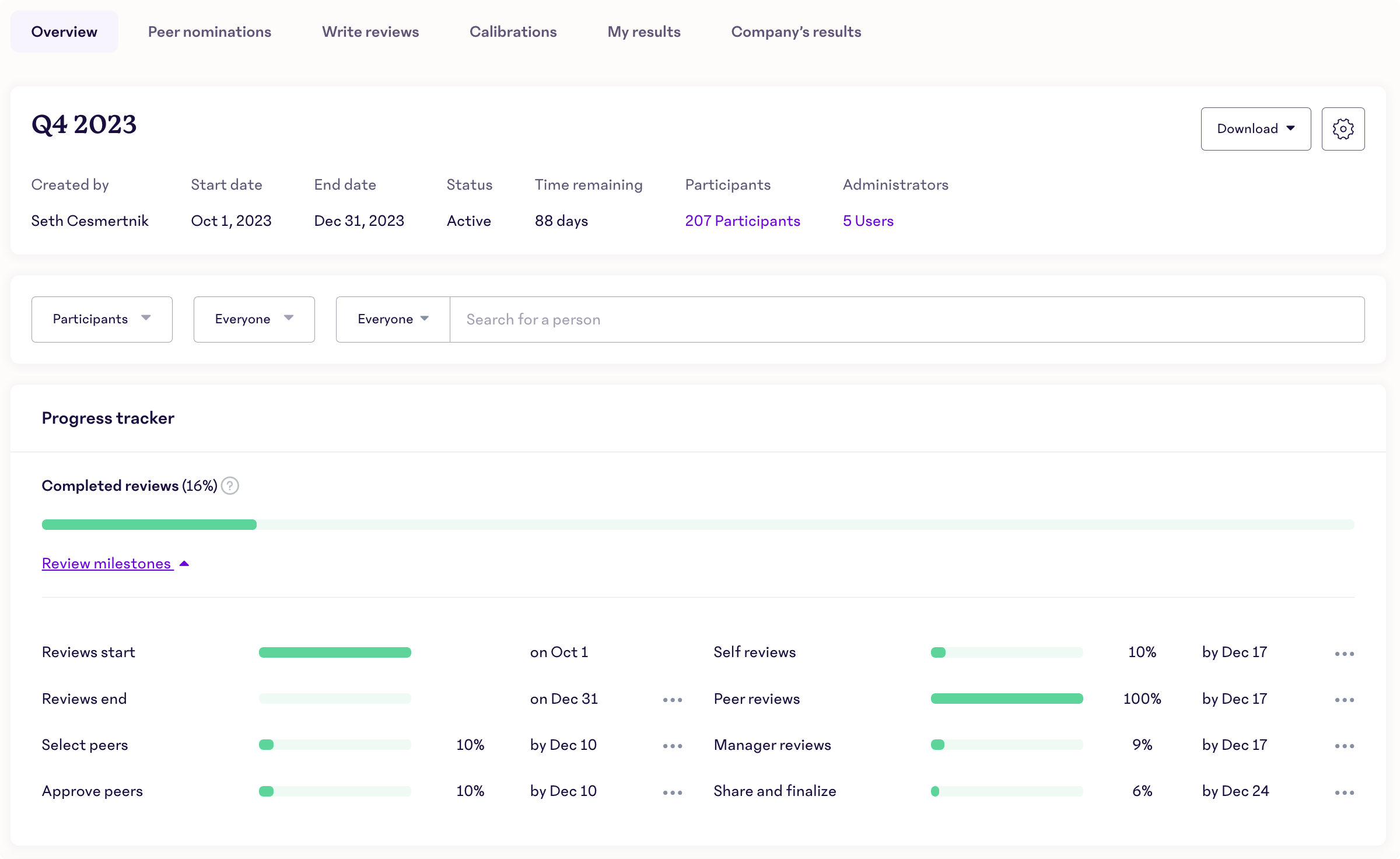 Resources for your review
Review writers have access to a "Resources for your reviews" section that includes information about the person they're reviewing, including High Fives, Wins & challenges, Past Check-ins, Past reviews, Feedback, and Career path.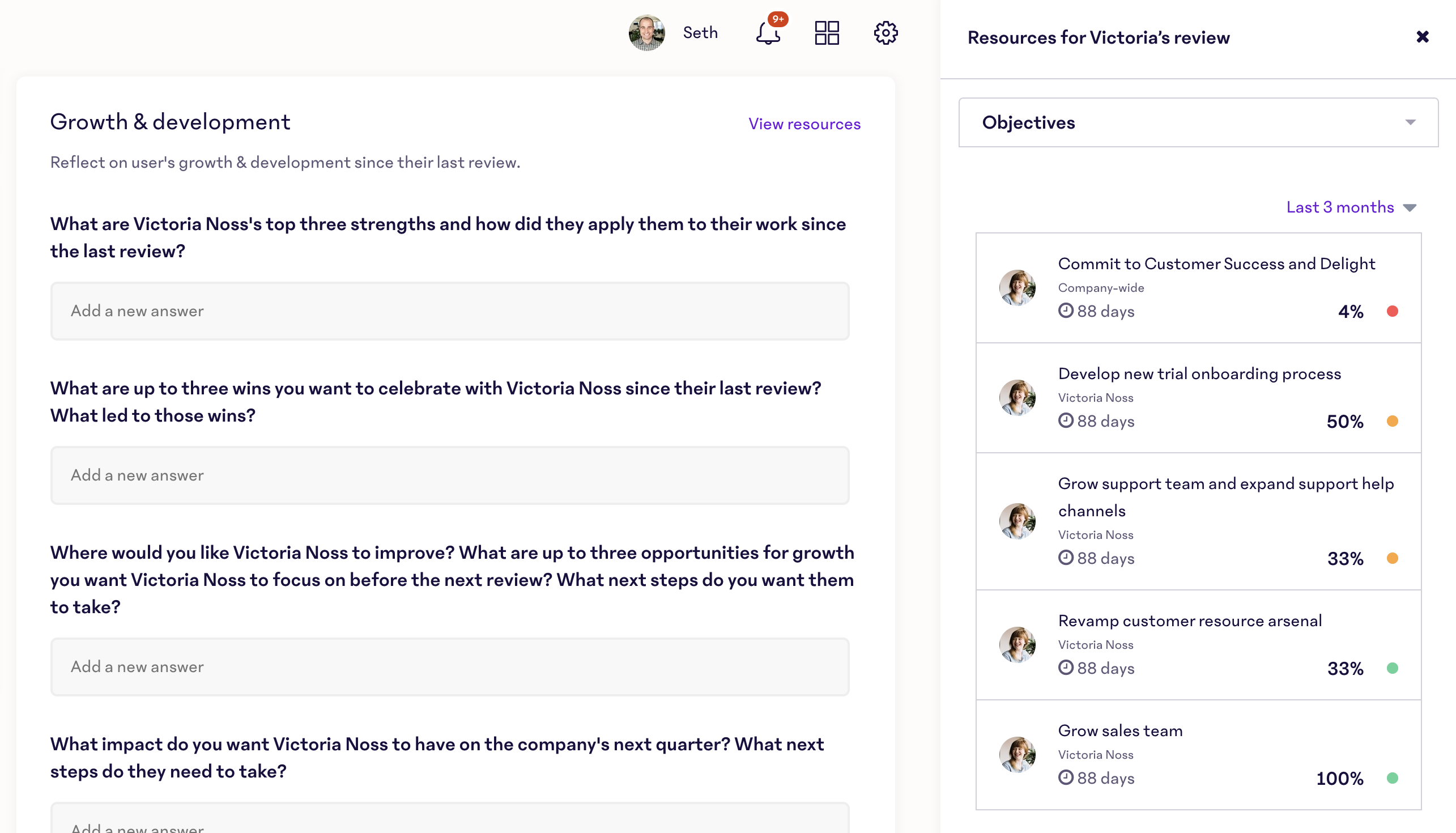 According to Gallup, only 29% of employees strongly agree that the performance reviews they receive are fair, and only 26% strongly agree they are accurate. Allowing review writers to access information about the person they're reviewing reduces recency bias and ensures a more objective and fair assessment of performance and feedback.
Competency reporting
Further reduce personal bias by relying on 15Five's research-backed competency assessment that shines a light on skills and behavior critical for high performance.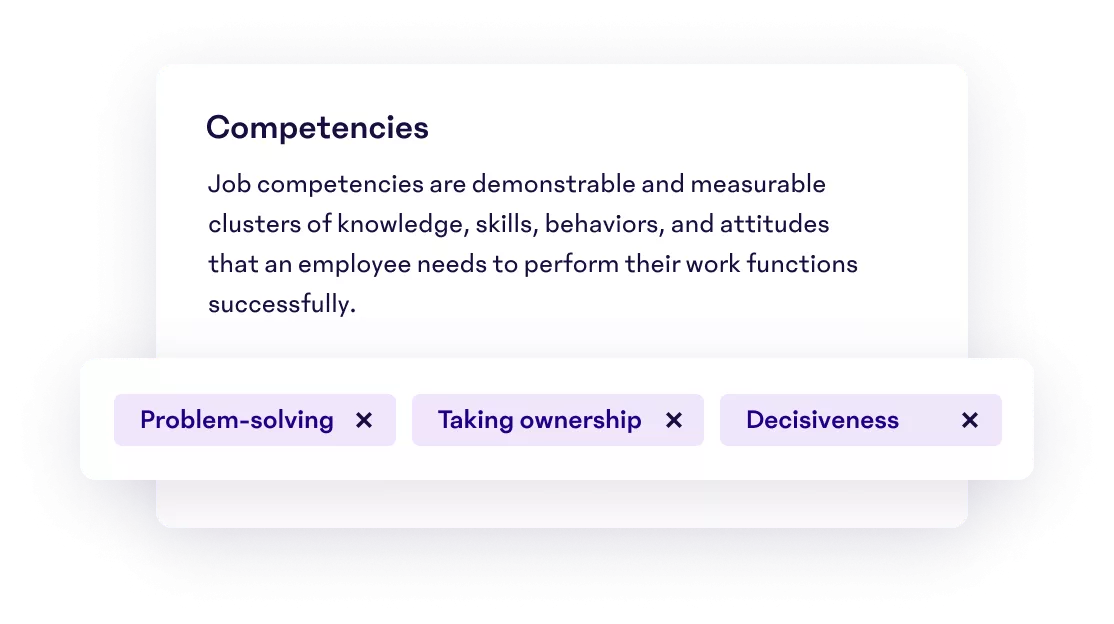 Once results are in, use competency reporting to visualize competency performance across your organization. Focus your company on competencies that drive success and are essential for business growth, and identify strong vs. weak areas to inform your talent and L&D strategy.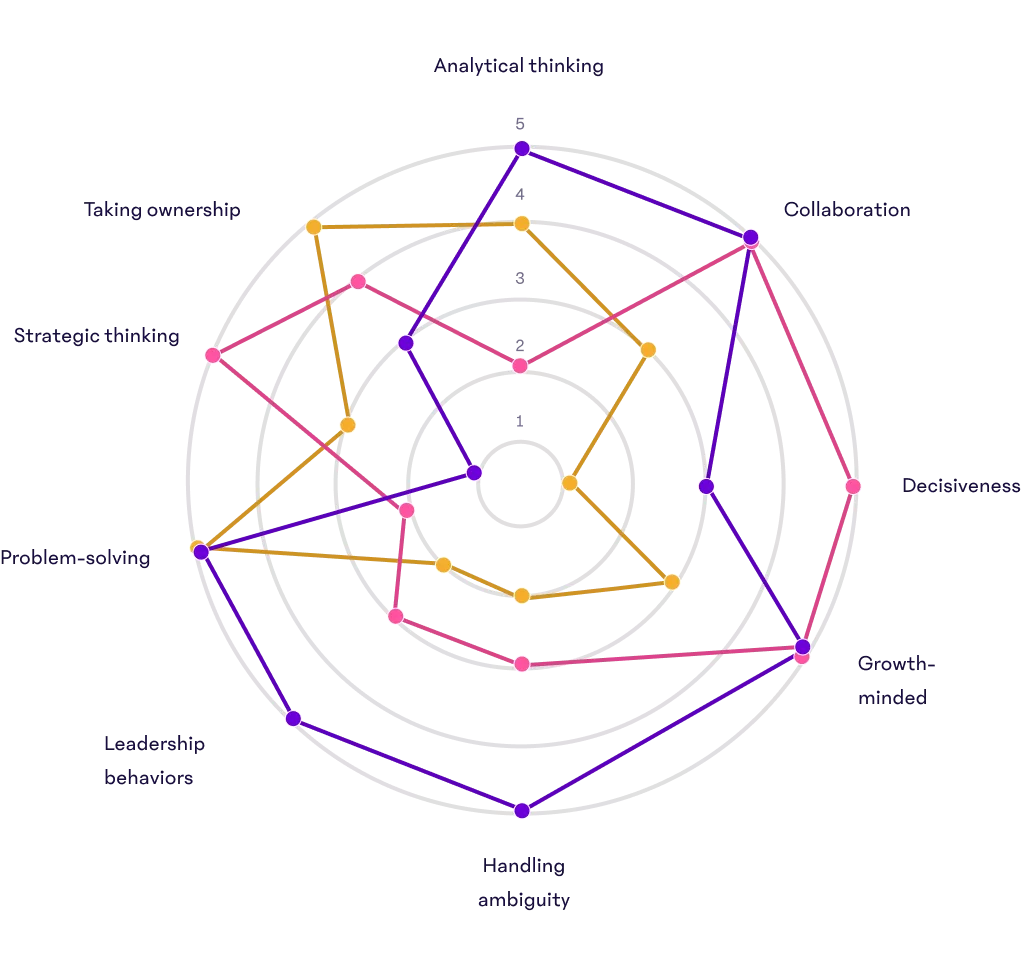 Manager Effectiveness Assessment
The Manager Effectiveness Assessment allows you to accurately assess the skills and behaviors exhibited by your managers that are driving performance and is included in 15Five's default Self & manager, Upward questions, and Manager Effectiveness question templates. This assessment can be pulled into Manager Effectiveness Indicator configuration to measure manager effectiveness in your organization. Data can be collected through a stand-alone manager effectiveness review cycle, or added to a larger review cycle.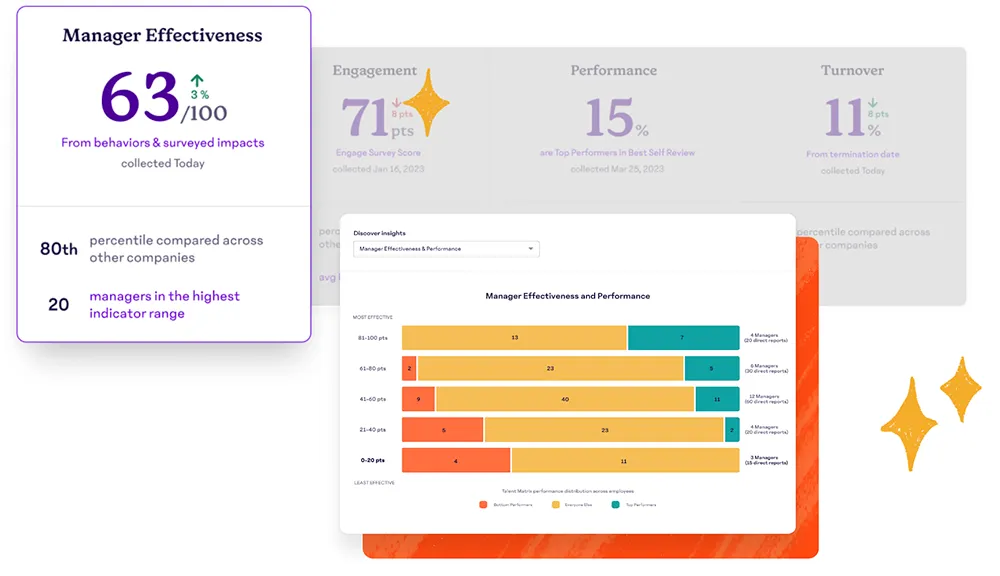 Performance Ratings+
Performance Ratings+ allows leaders to assess performance using a multi-dimensional approach and quickly analyze results to make performance-based decisions. Develop a rubric that defines different levels of performance, then account for the unique differences in Self or Manager review questions and determine the value across all sections of a review.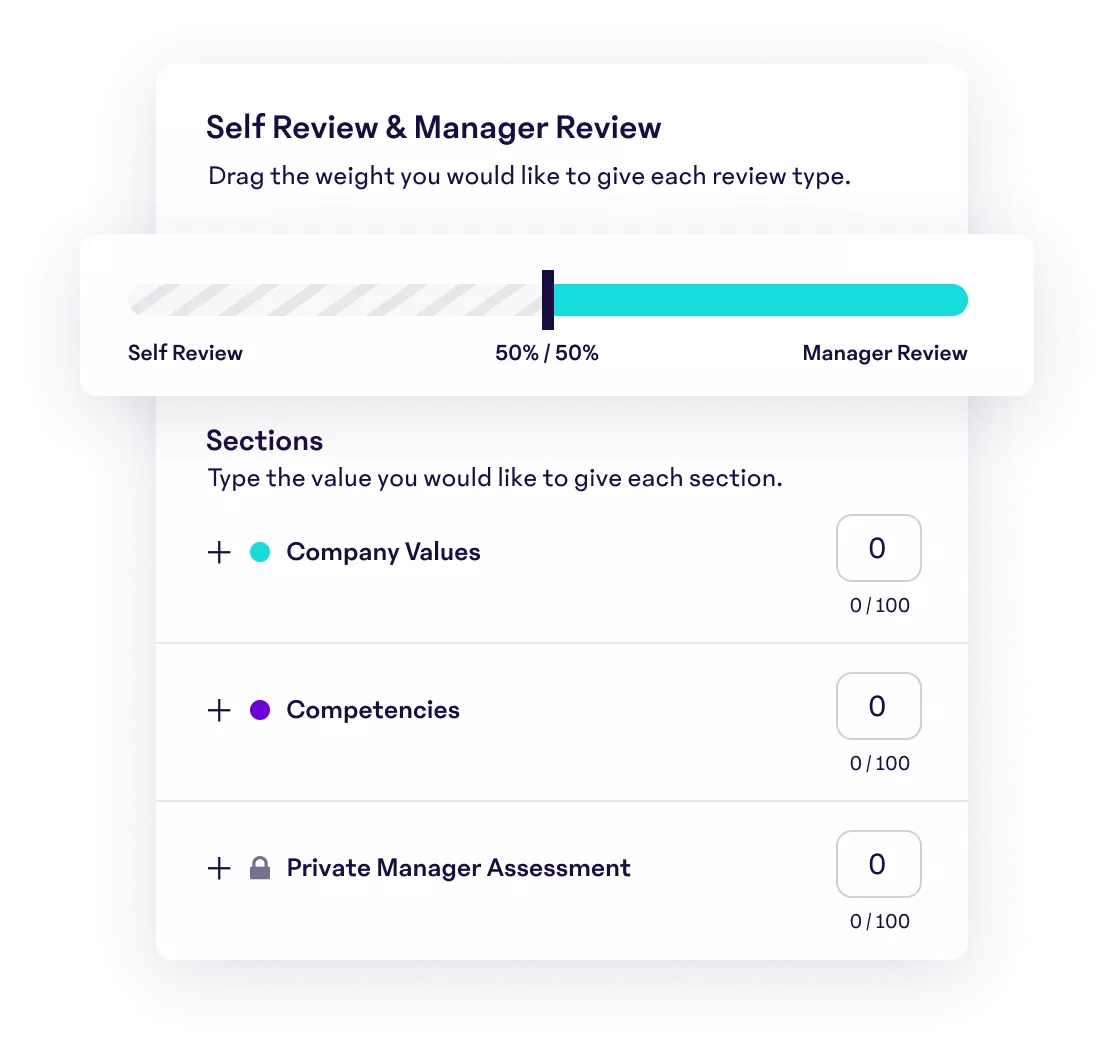 Upon review completion, all participants will be assigned a performance rating based on your organization's rubric and their individual results. Avoid using spreadsheets and other manual systems to calculate performance ratings across teams and departments— let 15Five's research-backed algorithms standardize performance criteria to produce actionable ratings!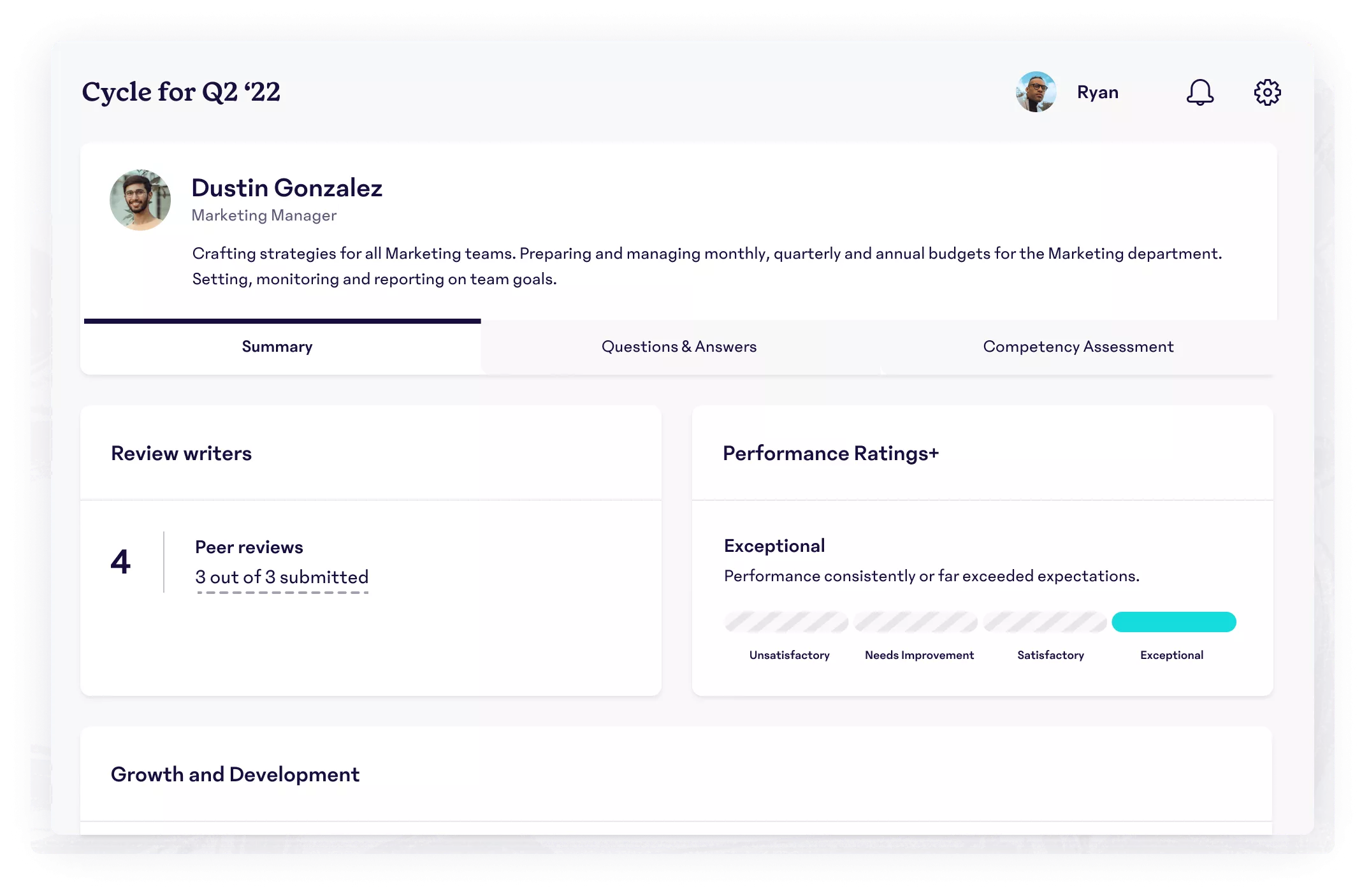 Use Performance Ratings reporting to track progress and learn from insights throughout the performance cycle and access the insights you need to quickly and confidently act on factors influencing engagement, performance, and retention.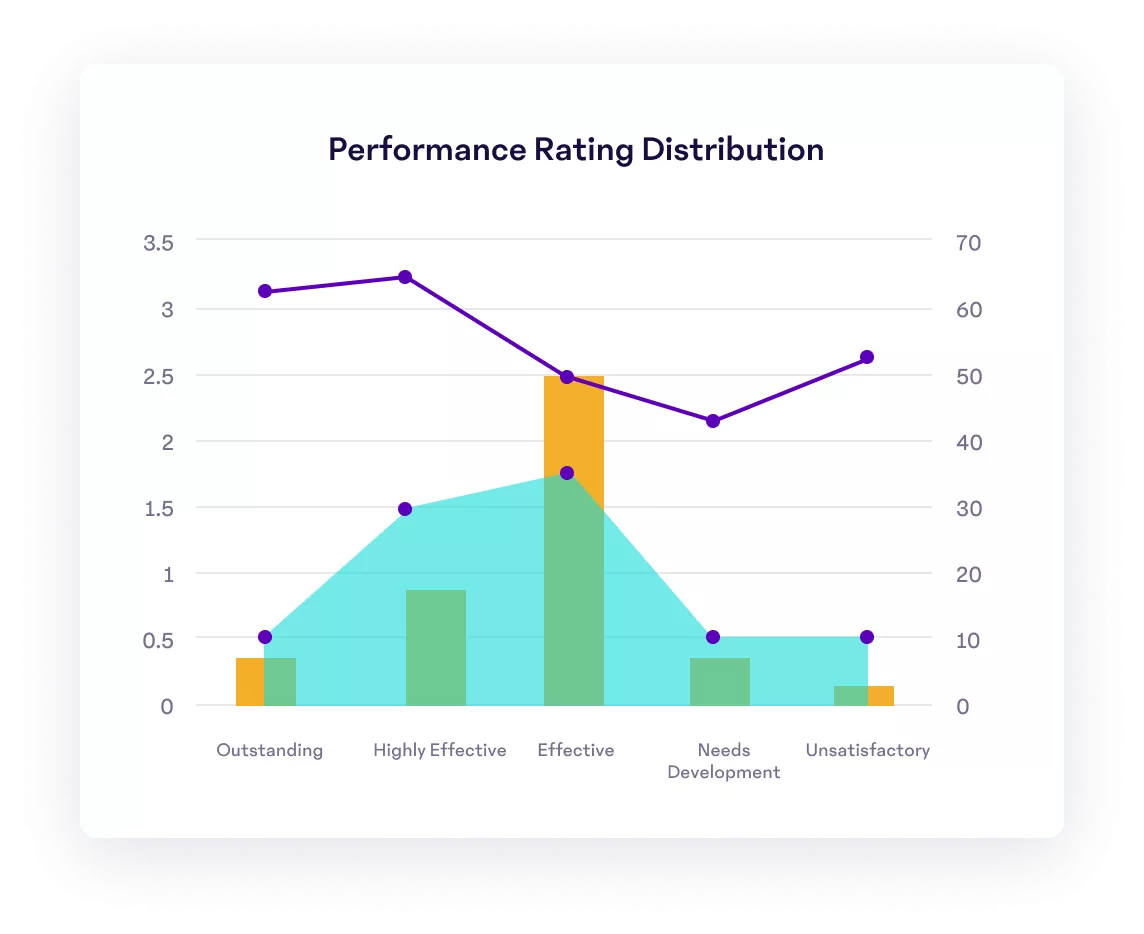 Calibrations
Once reviews are submitted, use calibrations to transparently and equitably assess how team members were rated. The Talent Matrix allows you to visualize the distribution of Private Manager Assessment answers and Performance Ratings so you can adjust scores in real-time using the same standard of performance across every team. Maintain momentum and protect psychological safety by flagging employees for further discussion or remove them from a session on the fly.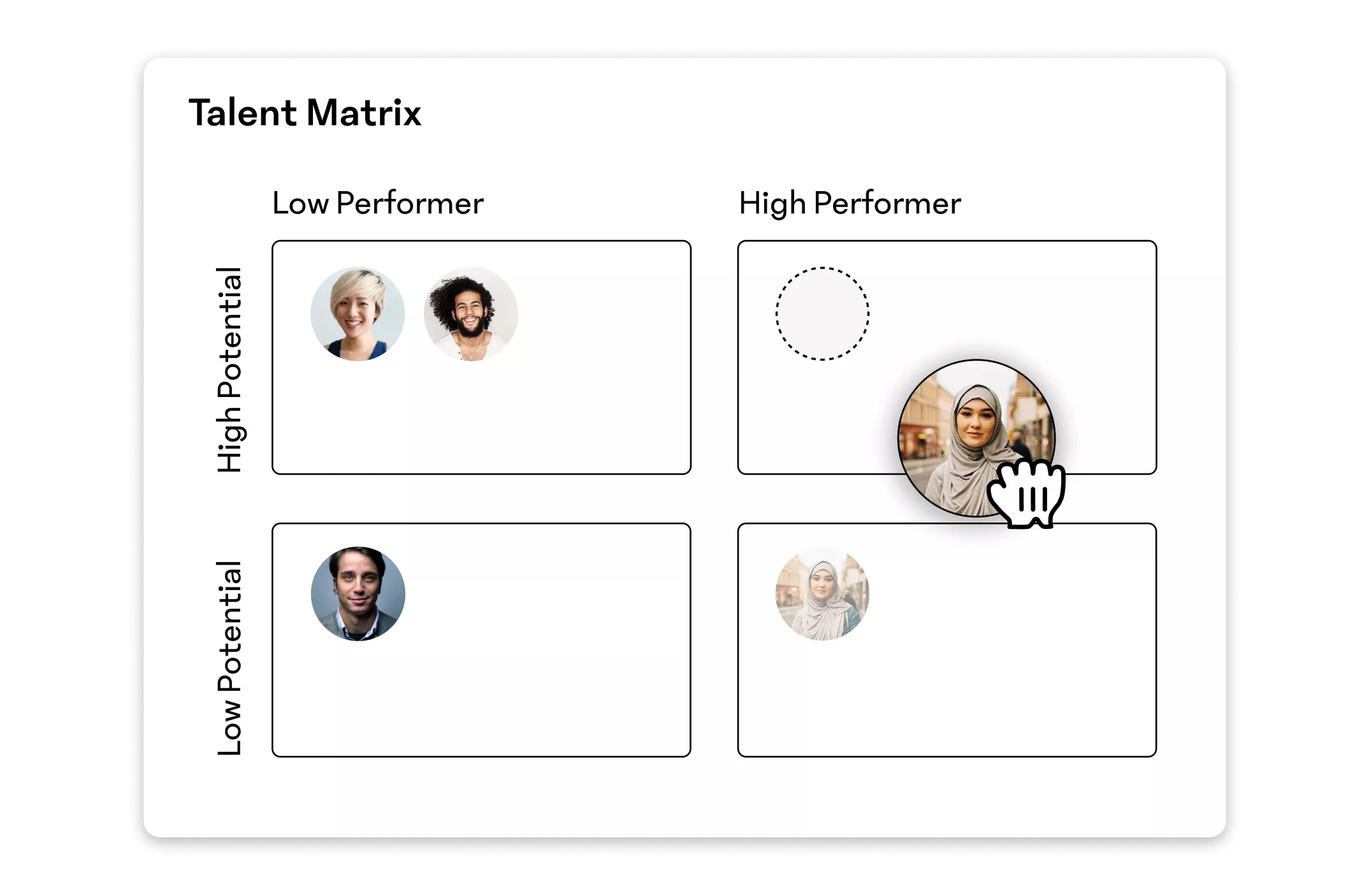 Talent Matrix (9-box)
15Five's Talent Matrix is a flexible performance framework that enables HR leaders and managers at companies of any size to better understand their talent. HR leaders can now easily identify top and at-risk performers and make more fair and objective talent-based decisions at scale.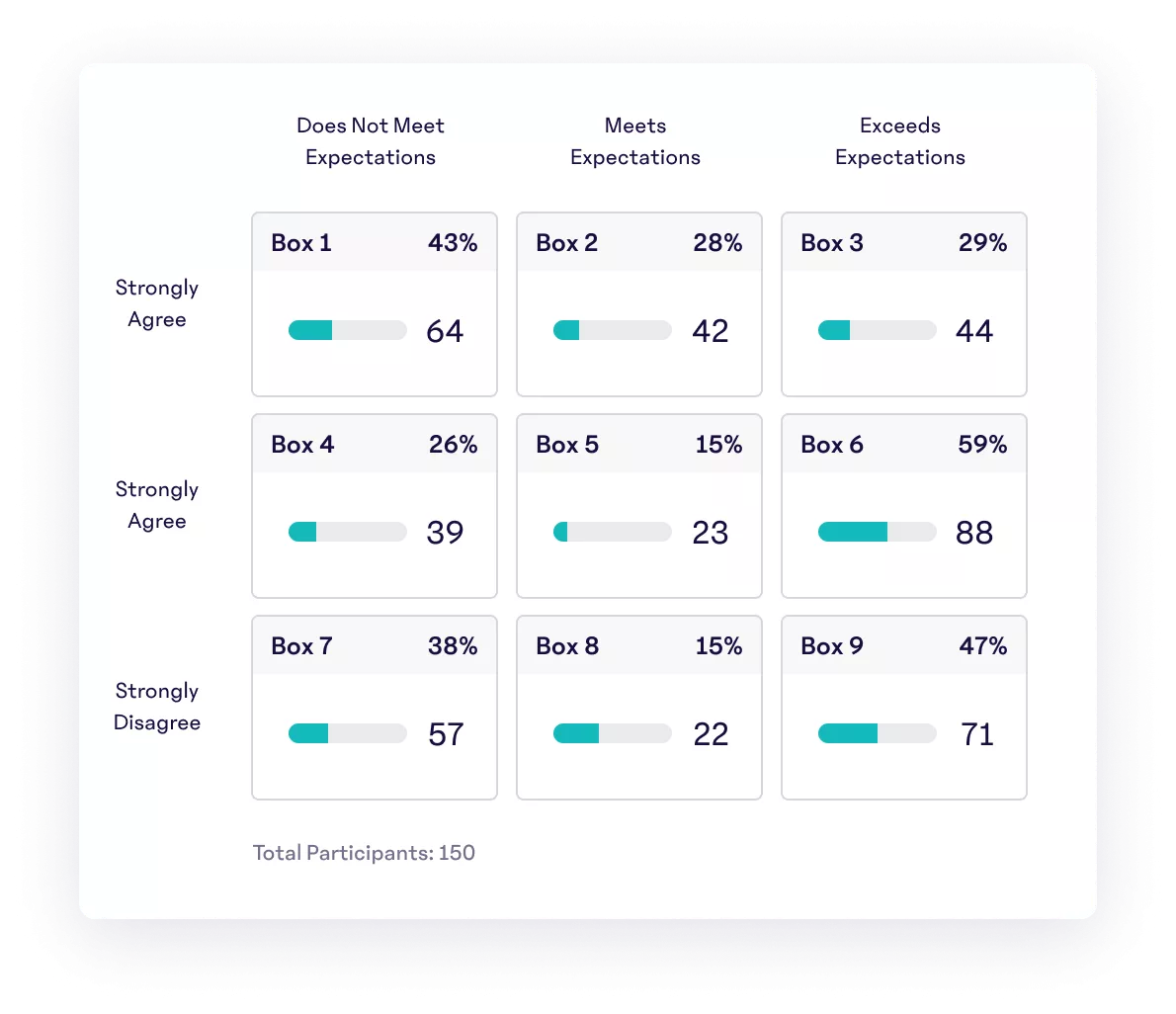 ---
Roles and visibility
Role permissions
Review admins, managers, and employees have differing permissions when it comes to reviews. Please refer to our "Roles in a Best-Self Review® cycle" Help Center article for an overview of role-based permissions.
Visibility
Read about visibility in the following articles:
---
Use cases and Best practices
Use the resources below to explore use cases and best practices for 15Five's Best-Self Review® feature.
---
Additional resources
---