Peer nomination

 
As a manager, the first interaction you will have with your employees is during the peer nomination window. 
Your employees have nominated their peers. You can also nominate peers on your employee's behalf.
Once peers have been nominated, you (the manager) will receive an email letting you know the ball is in your court. The next step is for you to approve or deny the nominations. We recommend only approving nominations who work closely with the employee.
Depending on the review settings, if nominations are not approved or denied by the 'Manager approval deadline', all nominations will be automatically approved. A review admin can update these settings to prevent auto-approval, as long as the setting is changed before the manager approval deadline.
To approve peer nominations for your team:
1. Click on your 'Reviews' tab.

2. Click on the name of the cycle you need to work on. It will be under the 'Active review cycles' section.

3. Click on the 'Peer nominations' tab.
4. Scroll to the 'Peers for your team' section. Find the employee you would like to add nominations for, and click 'Approve all' or 'Manage peers' to the right of their name. If you do not need to make any changes to the nominated peers, choose 'Approve all'. If you would like to edit the nominations, keep reading.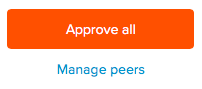 5. Use 'Manage peers' to remove any nominated peer(s) that you do not want to approve, add additional nominations, or approve peers as is.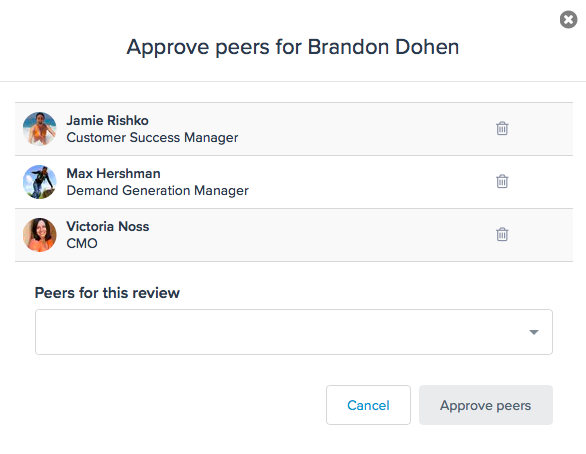 6. The trash can icon allows you to remove any nominations that you do not want to approve. 
7. Remove all unwanted nominations first. After the list is as desired, click 'Approve peers' to approve the remaining peers. 

NOTE ✏️ : Peers who have been nominated more than 5 times will have a yellow ! icon next to their name. Peers who have been approved by you and have accepted the nomination themselves will have have a green check mark icon next to their name.