Peer reviews are where one employee will be asked questions about another employee's development, which leads to increased performance, goal orientation, and the growth mindset! It is a win-win to recognize and be recognized. If you as a manager need to approve/deny nominations that your direct report has made, this article will walk you through how to do that.
Note
If participant initiated peer reviews are the route your company is taking for a review cycle, this article is for you. For an outline of the difference between participant initiated and peer initiated reviews, see this article.
__________________________________________________________________________
Peer nomination approval: process overview
Only your direct reports that are participants in the review cycle can have peer reviews written of them.
As a manager, it is likely that the first interaction you will have with your direct reports in a review cycle is during the peer nomination window.
Your employees have nominated their peers. You can also nominate peers on your employee's behalf.
Once peers have been nominated, you (the manager) will receive an email letting you know the ball is in your court. The next step is for you to approve or deny the nominations. We recommend only approving nominations who work closely with the employee.
Depending on the review settings, if nominations are not approved or denied by the 'Manager approval deadline', all nominations will be automatically approved. A review admin can update these settings to prevent auto-approval, as long as the setting is changed before the manager approval deadline.
You can monitor peer nominations for your team by clicking on the 'Peer nominations' tab for the cycle and then find the section 'My team'.
Peer nominations can be removed up until the peer accepts/declines the nomination.
__________________________________________________________________________
Manage peer nominations for your team (including approve/deny)
1. Click on 'Features' from the left navigation.
2. Click on 'Best-Self Review'.

3. Click on the name or the '...' and then 'View review cycle' of the cycle that needs to be managed. It will be under the 'Active review cycles' section.
4. Click on the 'Peer nominations' tab.
5. Click on the 'My team' tab.
6. Find the participant you would like to manage nominations for and click the blue arrow to the far right of their name. This will expand a list of all peers and statuses, including options to approve/deny peer nomination.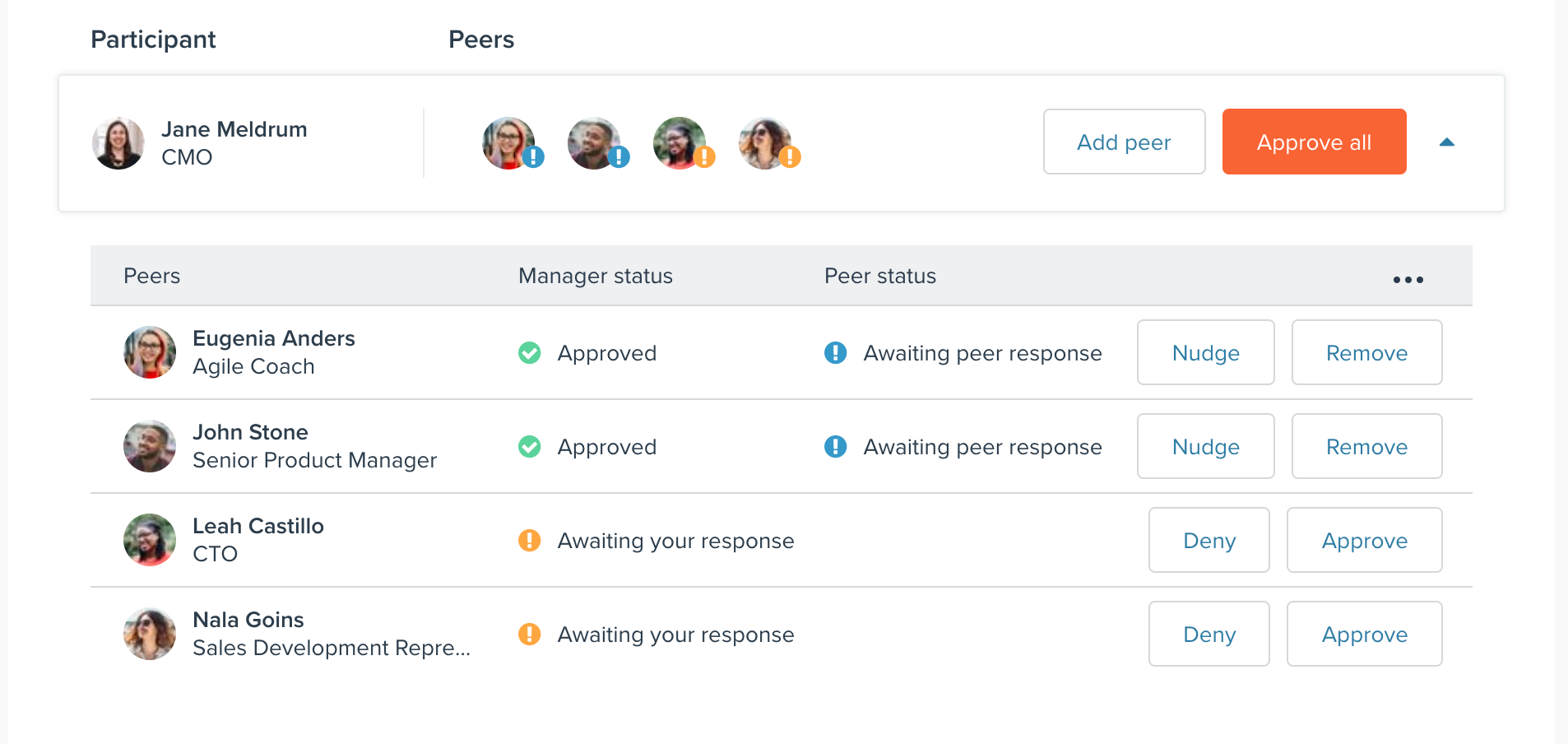 Tip
Peers that are waiting on approval/denial will have a yellow ! mark and 'Awaiting your response' under Manager status.
8. Use the 'Deny' or 'Approve' options to manage peers for your direct reports.

9. If you do not need to make any changes to the nominated peers and would like to bulk approve all pending nominations, click the orange 'Approve all' button.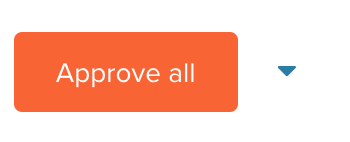 Note
Peers for your team can be removed up until the peer has accepted/declined the nomination. After the peer has taken action, you will no longer be able to manage that peer in app and need to reach out to support@15five.com.