Managers will be asked questions about their direct report's development because research shows manager feedback improves performance. A manager review is completed for each of your direct reports, assuming they are all participants in the cycle. You will be asked the same questions in the manager review that your direct report was asked on their self review. Asking both direct report and manager the same questions reduces bias and creates a fair performance review environment.
Science 🔬: Best-Self Review™
__________________________________________________________________________
Manager review process overview
After your direct report has submitted their self review or after the self review window has passed, you will be able to submit your manager review of them.
You can draft up your manager review before you are able to submit it. However, you cannot submit your manager review before your direct report submits their self review or the deadline for self reviews has passed.
Manager reviews become visible to the direct report once the manager decides to 'Share results'. Manager reviews become visible to review admins (and the direct report's hierarchy if the visibility setting is hierarchy) once submitted by the manager.
Following the manager review, you should begin scheduling final meetings. These meetings are where you will complete the Summary portion of the review.
__________________________________________________________________________
Complete manager reviews for your team
1. Click on 'Features' from the left navigation.
2. Click on 'Best-Self Review'.

3. Click on the active cycle that applies.

4. There are a few different ways to get to your manager reviews from here:
Option #1 from the Overview page, you can click on the 'Write reviews' tab.

From your left side navigation, find the manager review you would like to complete.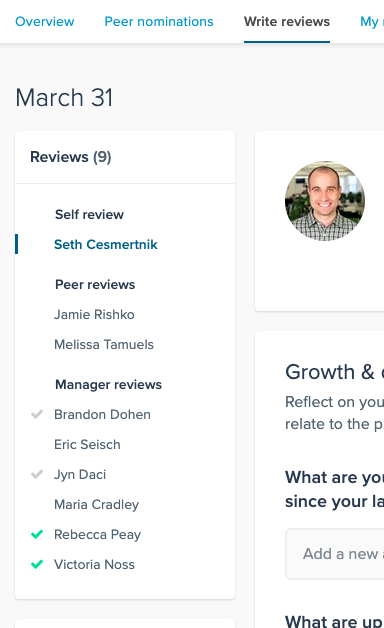 Option #2 from the Overview page, you will see a menu with options 'Me', 'My team', 'My hierarchy', and 'Whole company'. Depending on your role and the visibility settings for the cycle, you may not see 'My hierarchy' and 'Whole company'.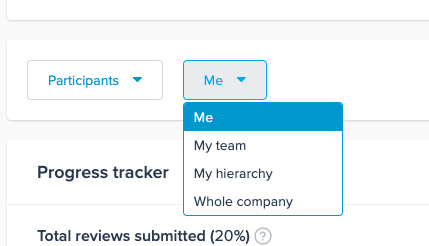 Click the 'My team' option.
Scroll down to 'Review progress' for your team, click the '...' next to the employee whose manager review you want to complete, and then click 'View'.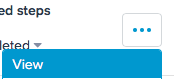 There will be a 'Manager' tab after the 'Peer' tab.

Option #3 from the Overview page, you can also get to your manager review(s) under the to-dos section. Click the 'Write manager review' button.

Blog post 🗒: Everything You Always Wanted To Know About Employee Feedback But Were Literally Afraid To Ask.
Private manager assessment
Also included in manager reviews is the 'Private manager assessment'. This section of the manager review is denoted by a pink background. The 'Private manager assessment' piece of Manager reviews is only visible to the manager who completed the review and the review admins. Additionally, the 'Private manager assessment' includes future focused questions inspired by research from Deloitte and highlighted in the April 2015 HBR article, Reinventing Performance Management, by Marcus Buckingham and Ashley Goodall. Questions 1 - 3 are taken directly from Deloitte, question 4 has been adjusted and Question 5 is 15Five's addition.
Questions for the 'Private manager assessment' are managed by your review admins from within the review question templates.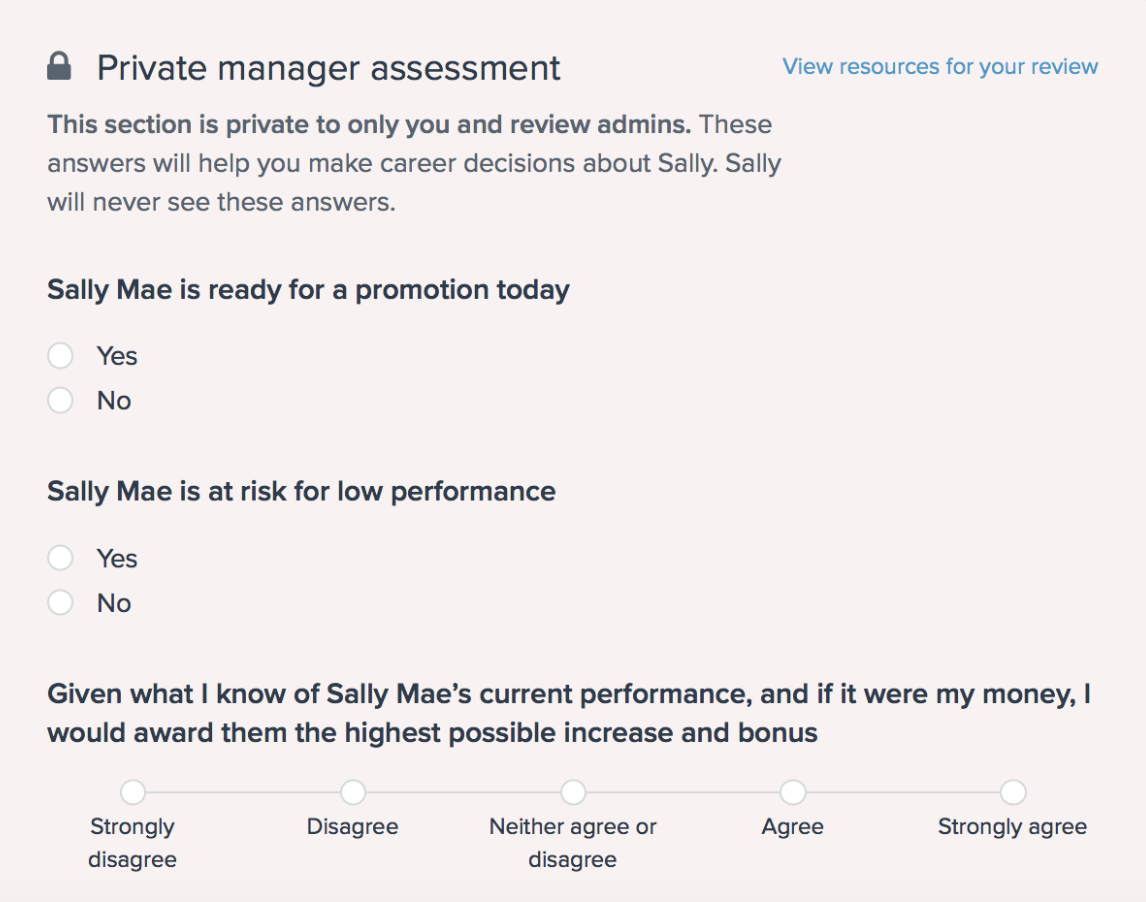 Note
The private manager assessment is only visible to you and review admins. Additionally, the private manager assessment can be edited up until the summary has been finalized.
__________________________________________________________________________
I submitted my manager reviews...what's next?
Share results with participant using 'Share results' button
Hold final meeting with direct reports to discuss review results