Manage participants during an active cycle
NOTE ✏️ : Only administrators or review admins have access to review settings. Participants can be added or removed up until the cycle is locked. 
We understand that you make changes to personnel often; Adding this functionality allows administrators more management power, and keeps the review cycle aligned with your current staff. Review admins can now add and remove participants from an active review cycle. Use the 'Manage participants' link in your review 'Overview' page.
Assuming that you have not excluded users or groups from your global review settings or from your specific cycle, any person that is active in 15Five before the start date will automatically be added to the review participants.
Review cycle participants can also be managed through the Review cycle settings page. This page can be found from the cycle overview page by clicking on the gear icon, and then clicking on 'Edit review cycle'.
How do I add a user to an active review cycle or remove a user from an active cycle?
1. Click on the 'Reviews' tab from your 15Five account. 

2. Click on the active review cycle. (You can also click on the three dots to the right of the cycle name, and then 'View review cycle'.)

3. From the 'Overview' tab, click on the gear icon and then 'Manage participants'. (You can also click on the 'X Participants' link to edit.)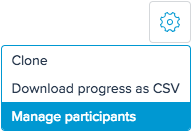 4. Add a filter to find participants vs non-participant.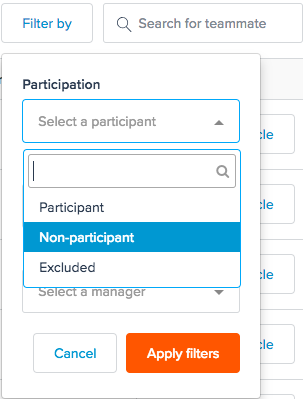 5. Manage your participants by clicking 'Add to cycle' or 'Remove from cycle'.

6. Once the participant has been removed or added, you should see a banner appear in the top right of your screen confirming the action.

NOTE ✏️ : When removing a participant from an active cycle, all activity and answers for this person's review will be deleted. This action cannot be undone.