Want to give your whole team a break for the holiday? Or just have a week where you want the team to not have to complete their Check-in? Use our company-wide vacation setting.
Note
Only account admins can create company-wide vacations.
Need to do this just for one employee? Add a vacation for your direct report.
---
Set a company-wide vacation
1. Click on 'Settings' from the left navigation.
2. Click on 'Company' to expand the company settings.

3. Click on 'Company settings'.

4. Click on the 'Company-wide vacations' tab.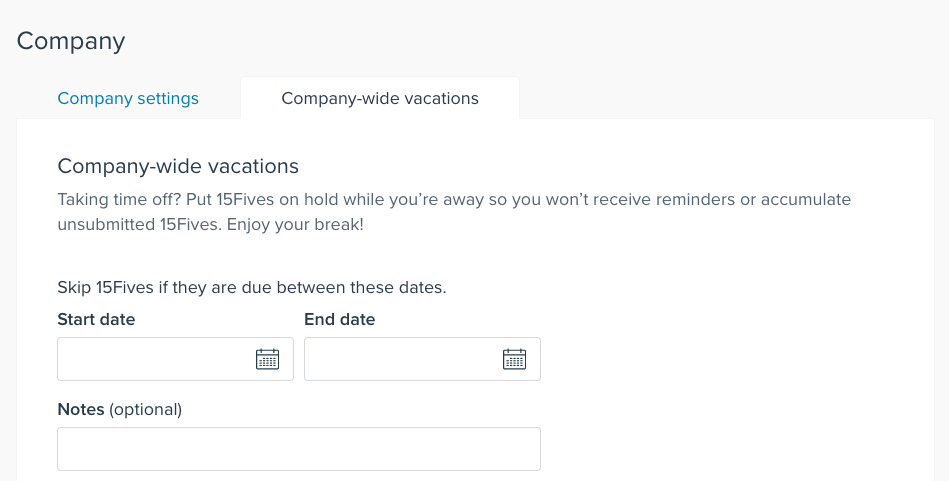 5. Set the start and end date for the company's time off and add a title (optional).

6. Click on 'Add vacation' to save this vacation.

People will see the following screen when they try to access the skipped Check-in: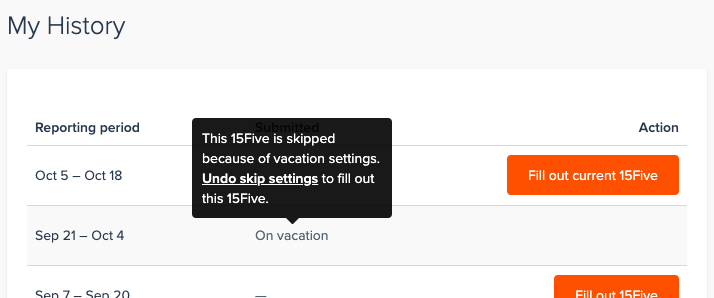 If they would still like to fill out that Check-in for any reason, they can do so by clicking 'Undo skip settings'. After clicking on 'Undo skip settings' the Check-in will reopen.
Note
Any Check-in whose reporting period overlaps with this vacation will be skipped automatically. The report will not be required, will be marked as 'On vacation', and will not count against anyone in the Usage reports.
For example: If a vacation is set for any day during a week, the whole week will turn into a vacation week.