Want to give your whole team a break from submitting Check-ins during the upcoming holiday break? Don't want people to be expected to submit Check-ins during an active review cycle? Use our company-wide vacation setting to excuse your team from filling out Check-ins.
Only account administrators can create company-wide vacations.
Note
The sole purpose of vacations in 15Five is to skip Check-ins, not as a point of reference for your team to see when upcoming days off are. If you set a vacation range that overlaps with two reporting periods, both of those Check-ins will be skipped. Likewise, if you have a company holiday on Monday and put that holiday in as a company-wide vacation, your Check-in for that whole reporting period will be skipped (even if you're in the office for the rest of the week).
---
Set a company-wide vacation
1. Click on the Settings menu at the upper right corner of your 15Five account

2. Select Company settings from the dropdown.

3. Click 'Vacations' in the top navigation bar.

5. Set the start and end date for the company's time off and add a title (optional). Click Add vacation.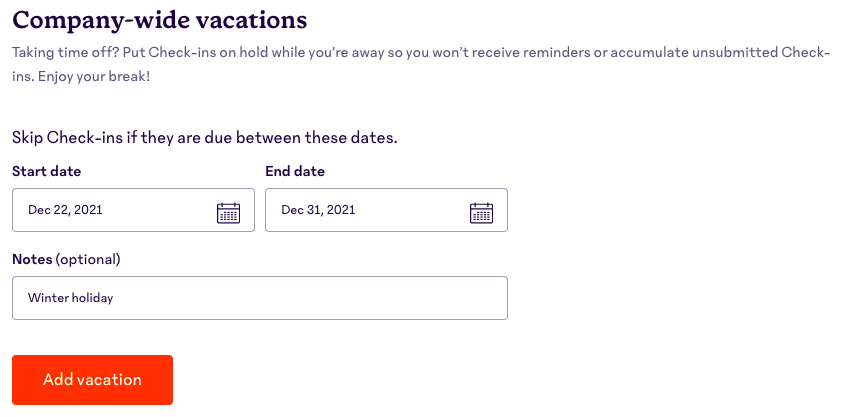 6. People will see the following notification if they try to access a skipped Check-in:


If they would still like to fill out that Check-in for any reason, they can do so by clicking 'Undo skip settings'. After clicking on 'Undo skip settings' the Check-in will reopen.
Check out these additional resources ⬇️:
Success Center article 🧠: Add a vacation for a group (or multiple people)
Success Center article 🧠: Add or remove a vacation | Contains instructions for adding or removing a vacation for a yourself or a single individual.
Success Center article 🧠: BambooHR | Read for information on how to sync BambooHR vacations to 15Five.