Configuring SCIM 2.0 provisioning for 15Five
This guide provides the steps required to configure provisioning for 15Five, and includes the following sections:
Features
Prerequisites
Configuration Steps
Groups
Troubleshooting Tips
Features
Automatic User Provisioning is supported for the 15Five application.
This enables OneLogin to:
Add new users to 15Five
Update select fields in users' profile information in 15Five
Deactivate users in 15Five
The following provisioning features are supported:
Push New Users
New users created through OneLogin will also be created in 15Five.
Push Profile Updates
Updates made to the user's profile through OneLogin will be pushed to 15Five.
Push User Deactivation
Deactivating the user or disabling the user's access to the application through OneLogin will deactivate the user in 15Five.
Import New Users
New users created in the third party application will be downloaded and turned into new AppUser objects, for matching against existing OneLogin users.
Prerequisites
Before you configure provisioning in OneLogin, navigate to 15Five and:
Navigate to the integrations page: https://my.15five.com/integrations/
Click on SCIM 2.0 and enable SCIM in your 15Five account.
Generate an Access Token.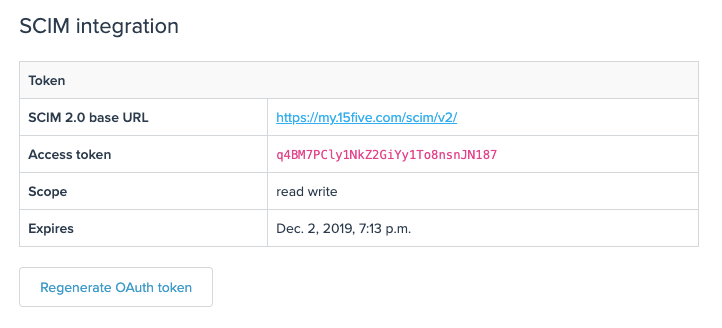 Configuration Steps
Configure your Configuration settings for 15Five in OneLogin as follows:
Under Apps > Add Apps, search for "15Five" and save a new application with the default configuration. 
Within the new 15Five application, click on the "Configuration" tab.
Under Configuration > Application Details > Subdomain:
Type the subdomain associated with your 15Five account. Usually, this subdomain will be "my". If you have a custom subdomain with 15Five, replace "my" in the URL with your specific subdomain.
Under Configuration > API Connection:
Enter the SCIM 2.0 Base Url found on this page. Typically, this URL will be the following: https://my.15five.com/scim/v2/
Enter the SCIM Bearer Token found in 15Five on the page you found the SCIM 2.0 Base URL.
Click the Enable button and check that your credentials were verified successfully. The API Status indicator will change to a green "Enabled" if the credentials were verified successfully.
Under Provisioning > Workflow:
Ensure "Enable provisioning" is enabled.
Ensure "When users are deleted in OneLogin, perform this action in 15Five" is set to "Delete".

Please Note:
In order for updates of users in OneLogin to propagate down to 15Five, those users in 15Five must be known to OneLogin. Thus, after setting up SCIM it's important to:
1. Check that all the users who were in 15Five prior to setting up SCIM are added to the 15Five application in OneLogin. Once added to the 15Five application in OneLogin, users will be matched with their corresponding user in 15Five.
2. Navigate to the "Users" page in the OneLogin application and check that the "Provisioning State" for each user is listed as "provisioned".
Emails
When giving 15Five access to a OneLogin user for the first time, a new user in 15Five will be created. If SSO is enabled for that user's company in 15Five, that user will be sent a welcome email with a link to the SSO page at 15Five. If SSO is not enabled, that user will be sent a link to sign in and set their password.
Groups
Looking to have your 15Five groups managed via OneLogin? 
First, add your group in 15Five at https://my.15five.com/group/list.
Below, we've added a group called Leadership.
Then, within OneLogin, navigate to the 15Five app and then to the Provisioning tab within that app. 

Under Entitlements, click the Refresh link. Clicking this link will import all of the groups available in 15Five into OneLogin. You will now be able to associate a user with a group within OneLogin and have that association propagated to 15Five via SCIM. 
To associate a group with a user, navigate to that user's profile in OneLogin, move the group from the "Available Values" section to the "Selected values" section, and click save. 
The user should now be a member of the group in 15Five. 
Please note that groups within a group type will have a formatted name when pulled into OneLogin. For example, a "Party Planning" group in the  "People Ops" group type within 15Five would appear as "People Ops \ Party Planning" within OneLogin.
Troubleshooting + Support
Manager/Reviewer not syncing?
Make sure that the manager exists within 15Five prior to provisioning any reporters for that manager. 15Five will ignore any manager assignments that include managers not present in 15Five.
Please note, for consistency reasons, manager updates are not performed during active Best-Self Reviews. 
Changing a username?
15Five depends on the uniqueness of a user's email address. Therefore, provisioning will fail if a user's userName is updated but their email address is not. Ensure these two values (userName and email) are the same and retry the provision if has failed.
Users not updated when they should be? 
Sometimes users are not updated in 15Five to reflect the changes that have happened in OneLogin. Such a discrepancy can be due to a number of causes. A first attempt at correcting the issue can be removing and adding back the application from the user within OneLogin. If this does not resolve the issue, please reach out to support to our support team.
Bulk Syncing?
There is no way to sync users in bulk in OneLogin. You must remove and add back each user to the application in OneLogin.
Support
This integration is built and supported by 15Five and our Support Team. Contact the 15Five Support Team at support@15five.com if any issues arise.