To learn more about each of our incredible Support Specialists, see this article. If you are going to be chatting with us, you should at least have a face to put with our names.
🗣To submit product or general feedback to 15Five's Product Team, click here!
15Five Support hours:
Monday- Friday: 6 am to 5 pm PST  
Chat:
Use the orange chat icon in the bottom right of your 15Five page to start talking with one of our stellar Support Specialists.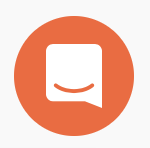 We respond to all incoming chats within 24 hours on weekdays. Our average response time during business hours is under 10 minutes. 
Email:
Phone Support:
We have a small, but mighty, team. Currently we don't have the resources to cover both our live chat and phone support. We are happy to set times during the week to connect with you on live chat, during the normal business hours listed above. Otherwise, we recommend you check out success.15five.com for articles, videos, and best practices. 😊