On the 'High Fives' dashboard, there are various ways to analyze High Five data—including High Fives given by/received by, time, and company value hashtags. In addition to the filters mentioned, there is a panel on the right side that's full of leaderboard stats and trends. Last but not least, if you want to export all High Fives that appear as a result of your filters, you can do that from this dashboard too.
Time-based filters for High Fives
Accessing High Five data is easy! In addition to the data analysis already possible in custom reporting, there are reporting options in the 'High Fives' dashboard! You can now filter High Fives by groups or individuals, choose a time frame for your filter, decide whether you want to see given, received, or all High Fives, and filter by hashtags (aka company values). After selecting a filter(s), the High Fives that match will appear in the feed.

People filters include:
Company-wide
Groups
Individuals
Hierarchies
Smart groups (if enabled)
Time filters include:
All time periods
Last week
Last month
Last 3 months
Last 6 months
Last year
High Five recipient filters include:
All High Fives
High Fives received by
High Fives given by
Hashtag filter includes:
Any company value(s) that have been added by an account administrator on the 'Manage features' page for High Fives.
__________________________________________________________________________
High Five leaderboard
Use the High Five leaderboard on the right of your feed to see who is giving and receiving the most High Fives. Since the leaderboard could seem biased towards people who have been at a company the longest, we include more than one person in each of the leaderboard stats. If you feel the need to disable the leaderboard, check out this article. 15Five's High Five leaderboard includes the Top 5 Most Appreciated and Top 5 High Fivers. These boards will adjust as you change your High Five filters.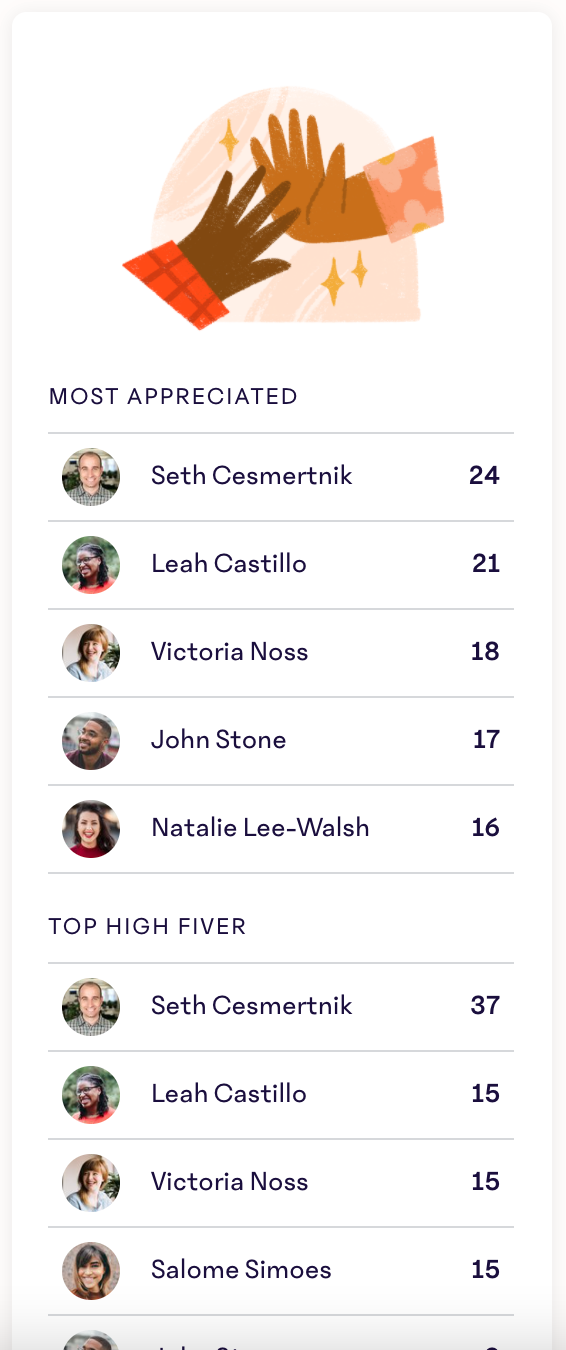 Note
Only public High Fives will appear in the filtered results, the feed, and the leaderboard. Want to know how to give a private High Five? See the bottom of this article.
Science 🔬: High Fives
__________________________________________________________________________
Download High Fives from the dashboard
If you want to download High Fives for yourself, your team, or a group, you can do that from the 'High Fives' dashboard.
Find the Download button at the top right of your 'High Fives' dashboard and choose the CSV or XLSX option.