The 'High Fives' dashboard allows you to report on and analyze high fives given within your organization. Continue reading for an overview of what sections are included on the High Fives dashboard and steps on how to run a report on high fives.
Science 🔬: High Fives
Note
You are only able to see public High Fives— private high fives will remain private to the parties involved in that high five. Want to know how to give a private high five? Check out the 'Give a private high five' section of our 'Give a High Five' Help Center article.
---
Run a report on High Fives
1. Click High Fives in the left-hand navigation of 15Five to open the High Fives Dashboard.


2. Change the filters at the top of the page as desired. Possible filters are:
People: Whose high fives do you want to see? Select company-wide to see high fives given and received by everyone in the company. Or, select a specific group or person to see high fives either given or received by them.
Time period: Choose the period of time you want to see high fives for. 'Last month' is selected by default, but you can filter by any dates you'd like.
High Fives: Do you want to see high fives given or received by the person/group you selected in the "People" filter? Or, would you prefer to see both given and received high fives? Choose the desired option here.
Hashtag: Use the 'Hashtag' filter to pull all high fives that contain a specific company value hashtag. Account admins can edit programmed company values in High Five feature settings.

3. Scroll down to see all high fives that match your filters, or click the Download button at the top right-hand corner of the page to download a CSV or XLSX of the report.

---
Trending Values leaderboard
The Trending Values leaderboard shows which of your team's programmed company values are being used the most in high fives, based on chosen high five filters. This leaderboard can be turned on or off in your company settings.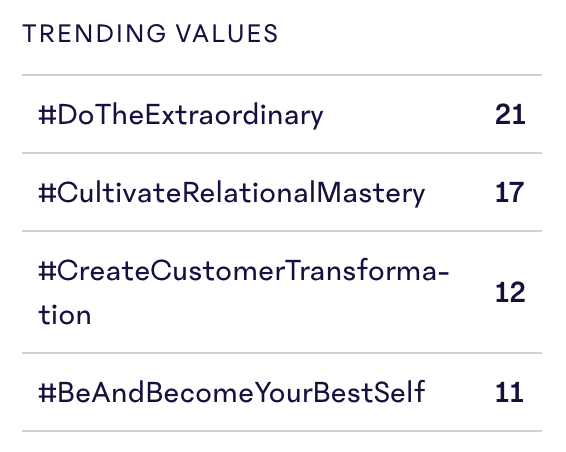 ---
High Five leaderboard
Use the High Five leaderboard on the right of your feed to see who is giving and receiving the most High Fives. 15Five's High Five leaderboard includes the Top 5 Most Appreciated and Top 5 High Fivers, and the boards adjust as you change your High Five filters. This leaderboard can be turned on or off in your company settings.