There is a lot of information on the 'All objectives' page, including filters for owners, types, statuses, etc. The filters help you narrow down the objectives you're searching for, but now you want to export and analyze those objectives. Once the desired objectives are appearing, exporting the objectives is easy. Follow the below steps to export the filtered objectives as a CSV.
Use 'All objectives' page to export as a CSV
1. Click on the 'Objectives' tab in your top navigation bar.

2. Set your filters. For more information on interacting with these filters, see this article. 

3. Ensure the desired objectives are appearing in the Objectives summary section of the page.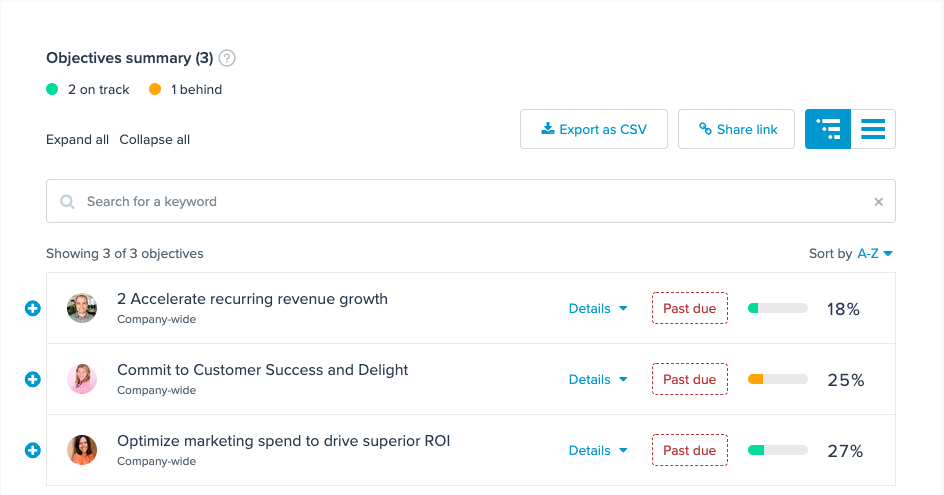 4. Click the 'Export as CSV' button to start the download.

NOTE ✏️: Only the objectives that are showing in app (and match your filters) will be included in the download.
5. Review and analyze your objective data.
Columns included in the download are: Objective Title, Owner First Name, Owner Last Name, Owner Email, Owner Employee ID, Owner Active Groups, Manager First Name, Manager Last Name, Manager Email, Type, Department, Start Date, End Date, Parent Objective Title, Impacts Parent Progress, Privacy Settings, Viewable by Groups, Viewable by User Emails, Status, All Key Results information, All Child Objective information