15Five sends invoice emails automatically. If you would like to adjust who these emails are sent to, you can update your "Bill To" contact on your account.
Note
You must be an account administrator or billing administrator to update the billing contact for your company. If you are an account administrator and do not see the billing tab, please reach out to our Customer Support team at support@15five.com.
---
Update your billing contact
1. Click on the Settings menu at the upper right corner of your 15Five account.

2. Select Company settings from the dropdown menu.

3. Click on the 'Billing' tab.

4. Click on Manage Billing Details— this will sign you into the Billing Portal.

5. Click Settings in the upper right corner.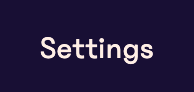 6. Click Account Information.

7. Click the 'Contacts' tab.

8. Make changes to your contacts.
Your Bill To contact is the email that will receive invoices. This is denoted with an envelope icon.
Your Sold To contact and address will affect your tax liability. This is denoted with a tag icon.