If you need to change a participant's direct report(s)/upward reviewer(s) during an active cycle, you can do that from within the specific cycle. For example, you might need an additional person to complete an upward review of the manager for this cycle only. Or maybe someone recently switched managers and you need them to submit an upward review of their new manager. There is a way to do that up until the cycle end date! Check out this article to see what the change means for all people involved.
NOTE ✏️: Any changes made on the 'Edit individual settings' page are specific to the cycle at hand. If a direct report is updated on this page, the change will only be reflected in the review cycle and will not affect 1-on-1s, 15Five check-ins, visibility outside of the cycle, etc.
NOTE ✏️: Only review admin can access the 'Edit individual settings' page. You also can not add upward reviews for employees that are also peer reviewing that same employee.
Change a participant's manager for upward review
1. Click on 'Features' from the left navigation.
2. Click on 'Best-Self Review'.

3. Click on the name of the review cycle you wish to view. (You can also click on the three dots to the right of the cycle name, and then 'View review cycle'.)

4. From the 'Overview' tab, choose to view 'Participants'. Then you can select an additional filter: 'Me', 'My team', 'My hierarchy', and 'Whole company'. Depending on your role, you may be missing some of these filters.
TIP 💡: If you are looking for a specific participant whose upward reviewer(s) needs to be changed, you can use the 'Whole company' filter and search for their name.

5. Choose your desired filter(s) or search and check the results.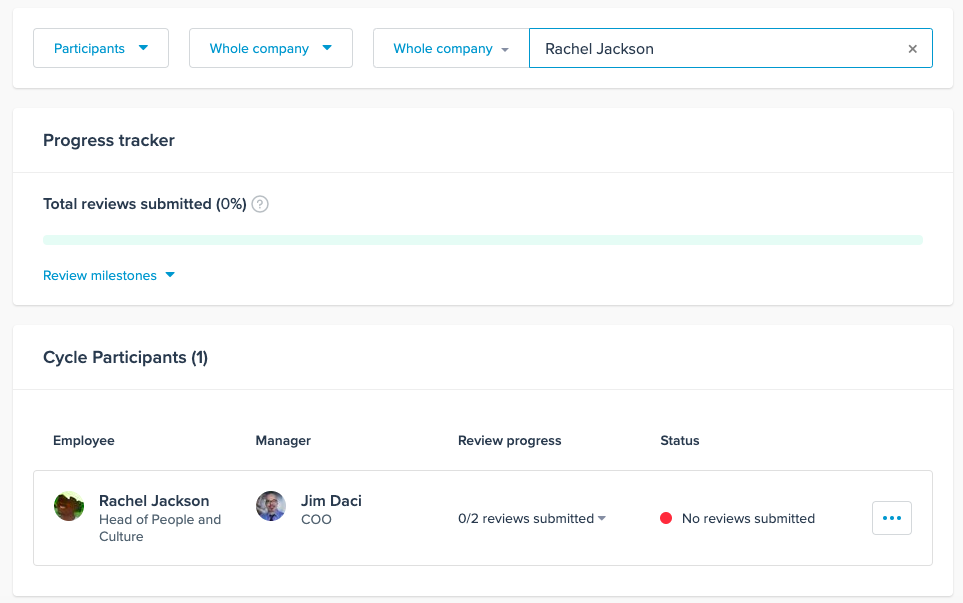 6. After scrolling down to the 'Participants' section, click the '...' next to the employee whose reviewer needs to be updated, and then click 'Edit individual settings'.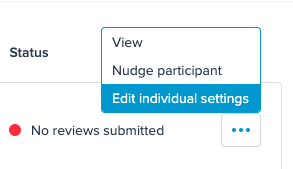 NOTE ✏️: Edit individual settings is only available for active cycles, meaning the end date has not passed.
7. Find the option under 'Who is writing reviews of ________?' that says 'Upward reviews'. Simply put, who is writing an upward review of _______? This is where you will update the people responsible for completing an upward review(s) of the participant in question.

8. Click 'Edit' to the right.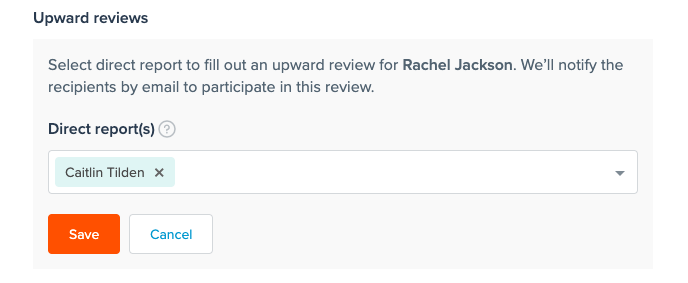 9. Use the drop down menu to select new direct report(s) who should be responsible for writing the upward review. Direct reports cannot be a peer, the person's manager, or people who are excluded from global review settings.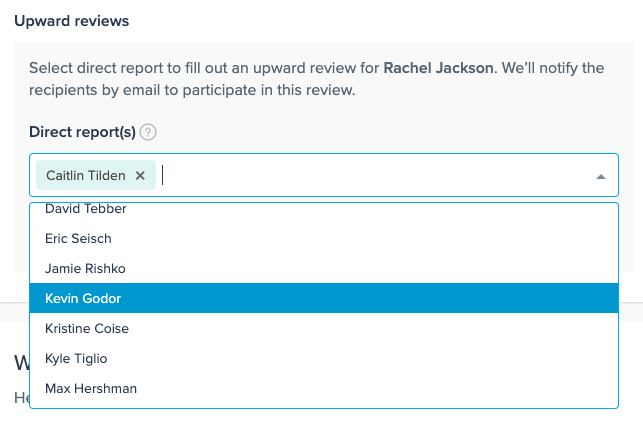 TIP 💡: If you need to remove a direct report, follow these same steps. Instead of adding a direct report, you will click the 'x' to the right of the direct report who needs to be removed.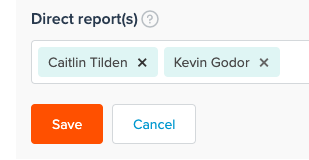 10. After selecting the new direct report(s)/upward reviewer(s) for this cycle, click 'Save'.

11. All set! The new direct report will be asked to complete an upward review of the participant. All other direct reports in 15Five or in other cycles will remain untouched.