Do you want to follow an objective's progress even you don't own the objective or key results yourself? You are working on a project with a few other people and want to be notified when updates are being made? If you had visibility into these objectives and were alerted to changes in the objectives as they are made, it would ensure that these objectives stay top of mind.
Once an account admin has turned on the 'Following Objectives' feature, you can follow any objective that you have permission to view. The objective owner cannot restrict who can follow their objective if the objective is public or if the person wanting to follow it has permission to view the objective.
Note
Reviewers/managers cannot follow their direct reports' objectives because those objectives are already included in the reviewer's newsfeed.
Note
Public objectives can be followed by anyone with Objectives access.
Note
15Five permissions and Specific people/Private objectives can be followed by anyone who has permission to view the objective and has Objectives access.
__________________________________________________________________________
Follow an objective
1. Click on 'Features' from the left navigation.
2. Click on 'Objectives'.

3. You will land on the 'All objectives' page.
4. Find the objective you want to follow using the filters and search option.

5. To the far right of the objective that you found, click 'Follow'.

6. You can also click into the objective itself to follow and to view other objective followers.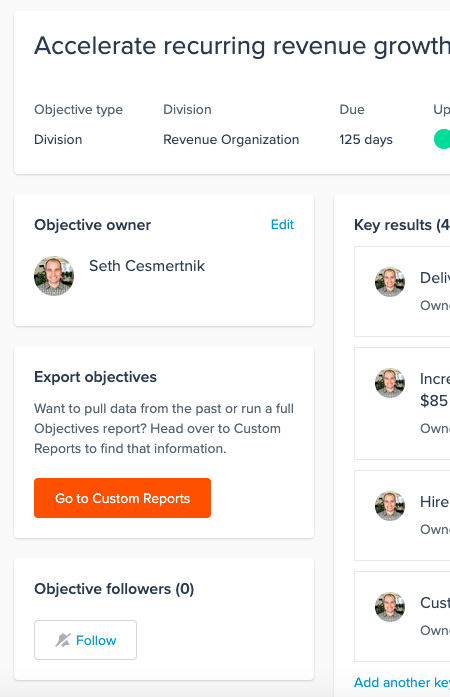 The Objective followers section is on the left-hand side, under the Objective owner section.
Tip
The process to unfollow is the same as outlined here, just clicking 'Follow' again to ensure the bell icon is crossed out.
7. Once you are following an objective(s), you will want to go to your 'Manage notifications' page and update your preferences for 'Following Objectives'.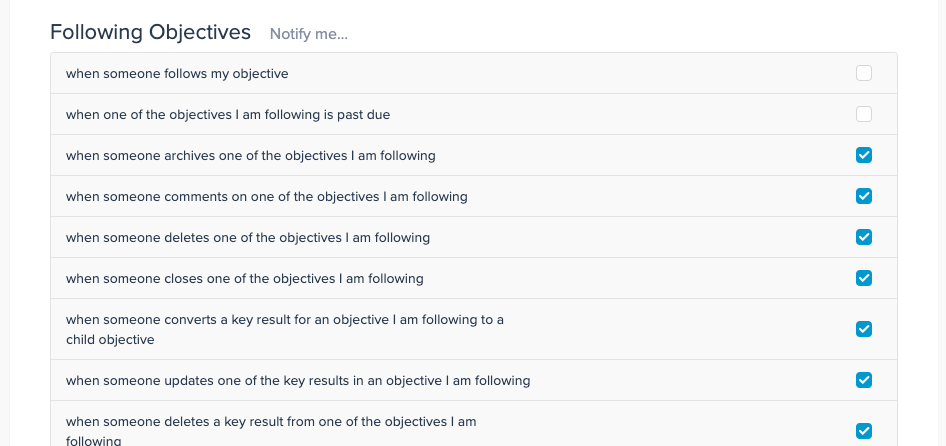 That's all!