With the 15Five + Salesforce integration, you can link your key result(s) to Salesforce reports. Linking key results with Salesforce reports allows key results to be automatically updated in 15Five as progress is made in Salesforce; ultimately, saving you time! Once the Salesforce integration is enabled for your company, there will be a 'Link to' option when creating an objective (see below) or adding key results to an existing objective.
Key results should be concrete, specific, and measurable. They should describe how you will accomplish the objective and measure whether you are on track, behind, or at risk of achieving that objective.
NOTE
People do not need to log into Salesforce (additionally) with their own credentials to get the integration to work. As long as the integration is enabled for your company, the option to link will exist. You must be a reviewer or account administrator to create questions.
---
Link a key result to Salesforce
1. Find the objective that needs a key result linked to Jira OR create a new objective with linked key results from scratch.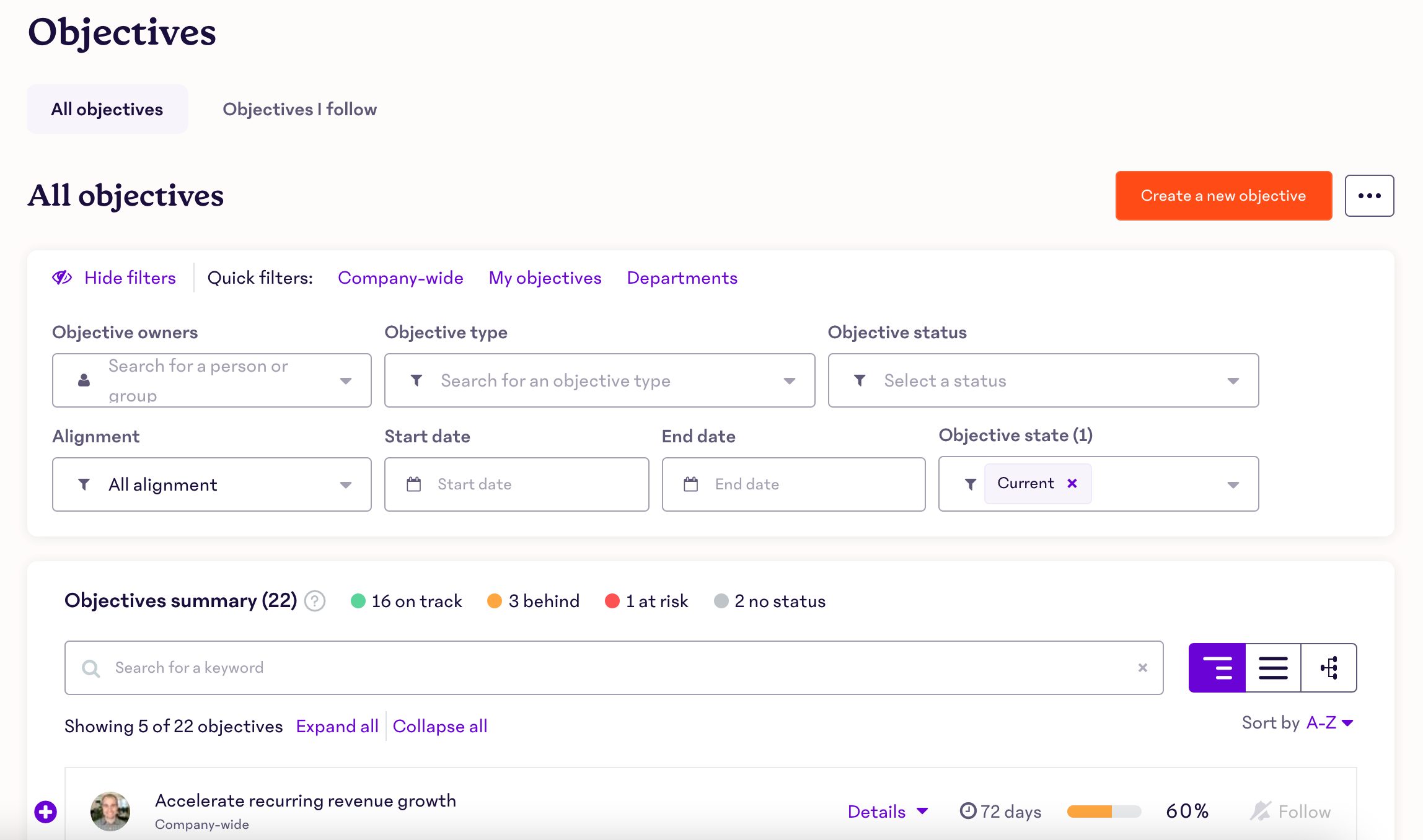 If you are going to edit an existing objective and key result(s), find it and make your way to editing that objective. Once you are editing the desired objective, follow the steps below.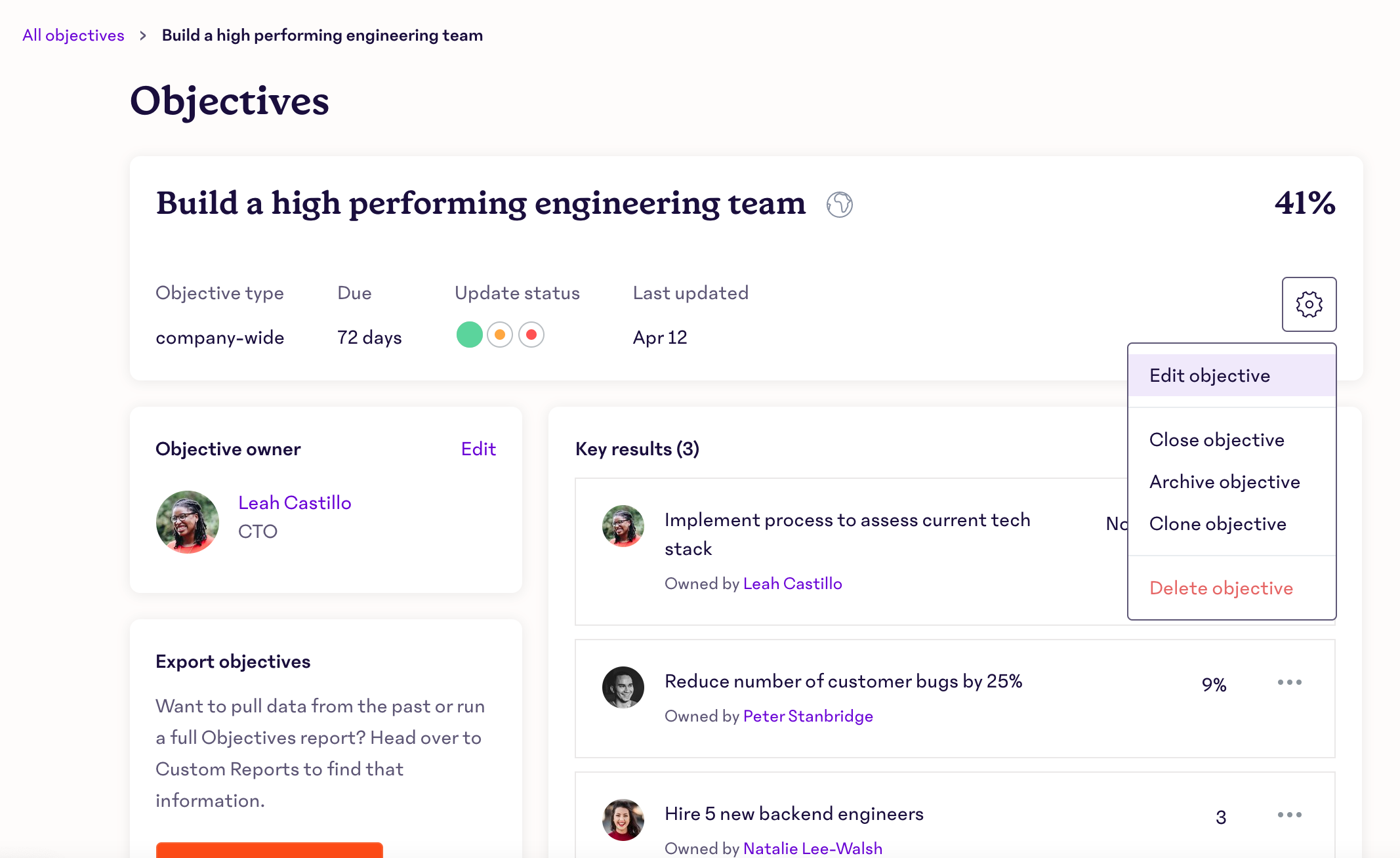 If you are creating a new objective and key result(s), go to your Objectives tab and click Create a new objective. Fill out the fields for your new objective.

2. When you are filling out or editing your key results, you will see a Link to option to the right of your key result field. Click the drop-down and select Salesforce.

3. After clicking 'Salesforce', a drawer will open up on the right of your screen. From there, search for the Salesforce report that should be tracked via the key result and click on it. The report must be public in order to be linked.
TIP
Not familiar with Salesforce reports? This article might help.
4. Select the value you want to use to track the key result. The aggregate value has to be defined in the Salesforce report in order to work with the integration.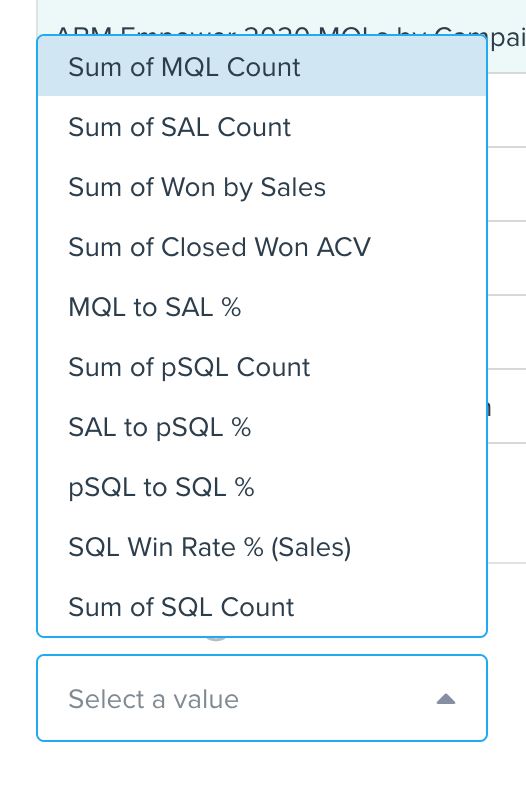 5. Once you have selected the value, click 'Link Salesforce report'.

6. Back to editing or creating the objective. You'll notice that you can select and edit metrics for the key result in 15Five. Metric options for measuring key results that are linked to Salesforce include: Percentage (%), Dollar Amount ($), and Numerical Value (#).

7. Finish creating/editing the objective and let 15Five + Salesforce do the rest.
---
I linked my key results to Salesforce...what happens now?
As updates are made in Salesforce, 15Five will also update. 15Five syncs updates hourly, but manual syncs can also be forced by an account administrator from the Salesforce Integration page in 15Five.
Key result progress is based on the value and metrics you selected.
Editing key results after initial linking
Objectives and key results can be edited anytime after creation. When editing a key result that is linked to Salesforce, there are two options to the right of the key result: Unlink report or Edit.

Existing objectives can be edited to include new, linked key results. Simply edit the objective and create a new, linked key result by clicking Add another key result. Of course, delete any prior key results that are now covered/duplicated.
Converting a key result to a child objective
If the objective owner or key result owner tries to convert a linked key result to a child objective, the below alert will appear. You can still convert- the alert is simply a warning.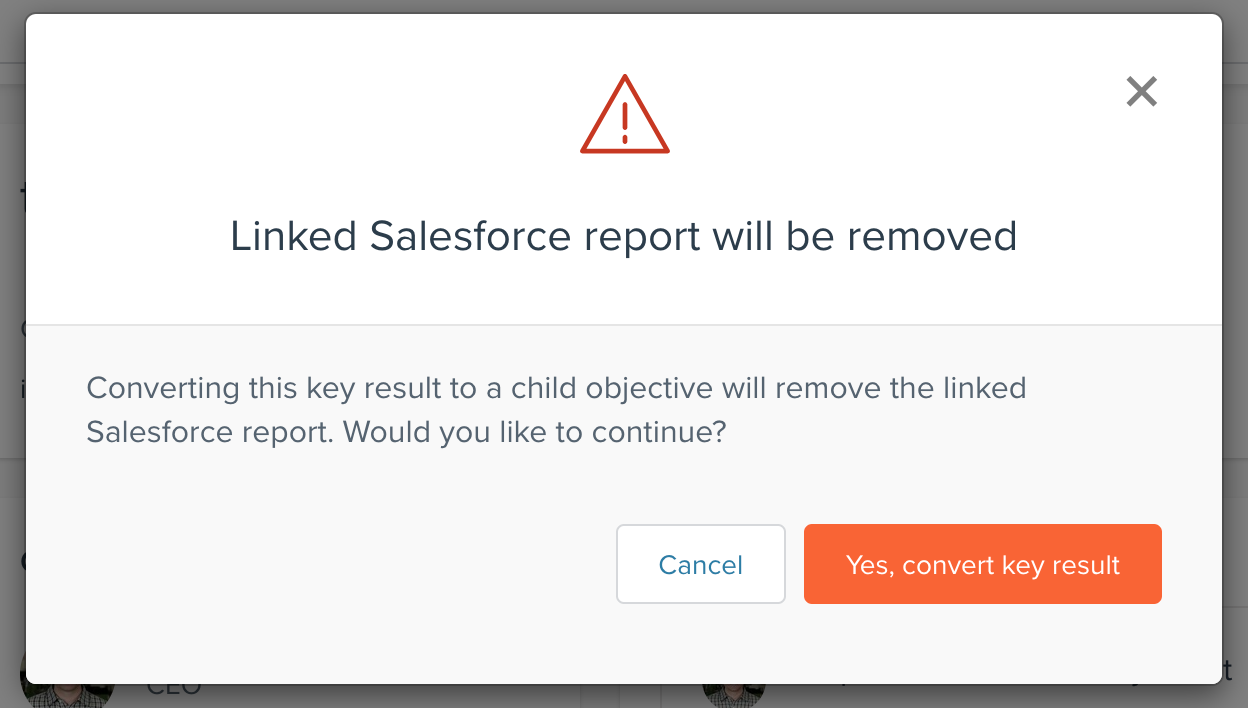 ---
Frequently Asked Questions
To set up the integration, does the person need to be both a 15Five account administrator and a Salesforce administrator?
Yes.

Can we limit the integration to only be on for certain groups?
It is all or nothing. Whether people use it or not is their choice.

Can I update my key result's current value manually through 15Five? Or can I update my current value in 15Five and have it update Salesforce?
When a key result is linked to a Salesforce issue, all updates/progress must be made in Salesforce. *Think person talking to Salesforce and then Salesforce talking to 15Five.*

Can I edit a key result that is linked to Salesforce?
When selecting the edit button, an alert will appear. The alert says, "Any changes made may affect current key result values." That being said, yes. You can edit a key result that is linked.

What happens to the Salesforce link when a key result is converted to a child objective?
Link will be removed when a key result is converted to a child objective. A warning modal will appear before the objective owner converts the key result.

When does 15Five sync with Salesforce?
Every hour at the top of the hour. There is also an option for account administrators to manually sync via the Salesforce Integration page in 15Five.