Company values are the guiding principles and beliefs that shape the culture, decision-making, and behavior of an organization. They are the foundation on which a company's mission and vision are built, and they represent what the organization stands for and what it aspires to be.
Company values can be used as hashtags in High Fives and/or included in question templates for Best-Self Review®. Company values can be added via the 'Company settings' page or the 'Best-Self Review®' settings page. Regardless of where the company values are added, both lists of company values will be maintained in real time— meaning you'll have one set of company values displayed in two places. Call out the company values in your High Fives and reflect on company values in reviews.
---
Manage company values via 'Company settings' page
1. Click on the Settings menu at the upper right corner of your 15Five account.

2. Select Company settings from the dropdown menu.

3. At the bottom of the page, click the arrow under 'Company values' to expand your team's current values.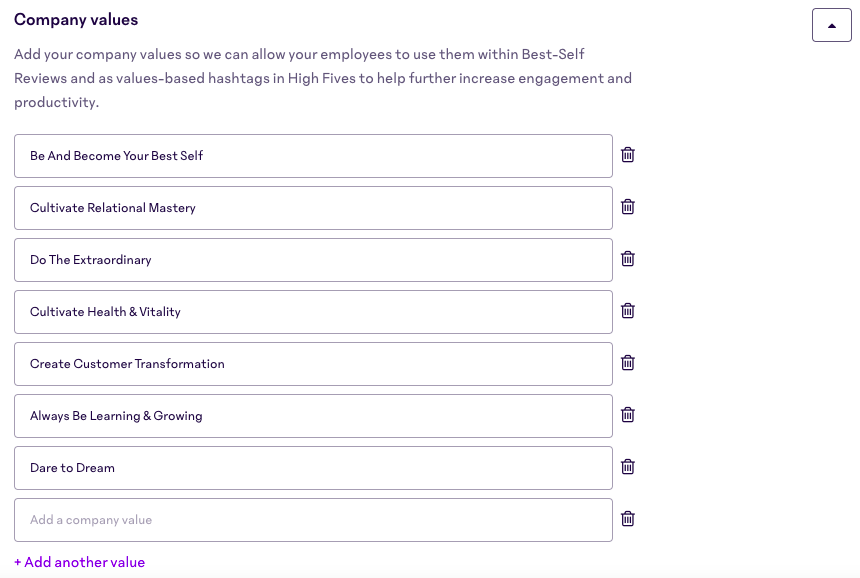 4. Add a new value by clicking +Add another value, delete a value by clicking the trashcan icon next to the value you'd like to delete, or edit an existing value by clicking into the text field and making desired changes. Save your changes.

Note
Altering company values on this page will also update the company values in any active Best-Self Review® cycles in real-time. The opposite it also true: altering company values in Best-Self Review® settings will update this list.
Check out these additional resources ⬇️
Success Center article 🧠: Manage High Fives settings | Read for steps on how to enable company value hashtags in High Fives.
Success Center article 🧠: Create question templates for review cycles | Read for steps on how to include company value questions in a review cycle.