Your organization has purchased 15Five's Manager Accelerator™ training and is ready to get started! This article walks through how to assign the Manager Accelerator training (either online, hybrid, or live) to individuals on your team so they can begin learning with our expert coaches.
In this article, you will learn...
Note
If you'd like to request coaching for yourself or your team, check with the owner of your account, or reach out to your Customer Success Manager. If you're not sure who to contact, you can email us at transform@15five.com and we'll be happy to assist.
---
Actions to take before assigning seats
There are a couple of steps you should take before assigning the Manager Accelerator training to participants.
Make sure that all Manager Accelerator training participants have been added to 15Five.
Send an email to all participants using our Kick Off Email Template. This email will inform participants of their involvement in the Manager Accelerator course and give them important details and context.
---
Assign participants
For people to take part in the Manager Accelerator training, you must first assign the sessions to them in 15Five. This section walks through how to do so.
Click on the settings gear in the top, right-hand corner of your 15Five account.

Select 'People' from the dropdown menu.

You're now on the 'Manage people' page. From here, find the person you want to assign a seat to and click their name to open their account settings.



Scroll down the the "Permissions" section of the individual's settings page, then check the box next to

the online, hybrid, or live option.


Click Save. The currently available seats count will immediately update to reflect the new availability.



If the participant is already active in 15Five, this will trigger an automated email to each manager participant confirming that they have access to Manager Accelerator. If the participant is in a created state, they will be notified when they are invited to 15Five.
---
View assigned participants
Click on the settings gear in the top, right-hand corner of your 15Five account.

Select 'People' from the dropdown menu.

Choose the Filter by button.

You'll see filtering options for 'Manager Accelerator Access (MA)'. Check the box next to either Online, Hybrid, or Live, then click Apply Filters. All individuals who are assigned to that course will appear on the page.
---
Participant experience
Participants that are assigned to a Manager Accelerator Online seat will be able to access their online courses from 15Five.
To navigate to Manager Accelerator Online, participants must log into 15Five and select Training & Coaching from 15Five's main, left-hand navigation bar, then 'Online Courses'.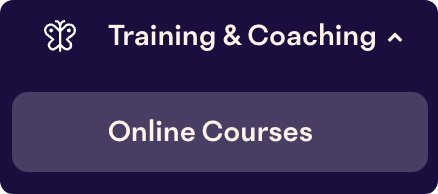 If the participant selects 'Coaching Hub' under Training & Coaching, they'll be taken to the Coaching Hub, where they can see an overview of sessions they've been assigned to and can schedule the session if they're the designated scheduler. Learn more about Coaching Hub in our "Coaching Hub: 101" Help Center article.