👥 Account admins and HR admins can create and manage learning journeys.
We believe learning is most effective when it is done in a group. Creating online learning journeys allows admins to specify a group of Manager Accelerator course participants that will be learning together and set custom due dates for when courses in the journey should be completed, enabling admins to align course content with strategic initiatives in their organization (i.e. quarterly planning, an upcoming review cycle, etc.) as well as your HR outcomes. We then provide participants with in-app guidance on the Online Courses page in 15Five so they can stay on track with their learning journey.
In this article, you will learn...

Note
The ability to create learning journeys is available to customers with a Manager Accelerator Online or Hybrid subscription. Account and HR Admins can create one or more learning journeys for online participants up to the seat count their organization has purchased.
---
Glossary of terms
A Learning Journey is exactly what it sounds like— a journey of learning that a person/people go through. Journeys are made up of tracks.
A Track is a collection of topics whose purpose is to drive a specific goal. We offer recommended tracks (which is a set of courses in an order that we recommend to help drive specific learning outcomes) and the ability for admins to create custom tracks.
A Topic is a course that covers a specific topic. For example: in our "Strengths & Career Vision" topic course, participants learn how to identify, cultivate, and leverage their strengths, values, and passions to ultimately build an aligned vision for their career growth. Topics are combined to create a track.
Now that you're familiar with the Transform lingo, let's dive into creating and utilizing custom tracks.
---
Before you begin
Before you create and assign a learning journey for Manager Accelerator Online or Hybrid, please make sure you've completed the following tasks:
---
Create and assign a learning journey
Click on Training & Coaching in 15Five's main, left-hand navigation and select the Manage Journeys option.

You're now in the Journeys tab. From here, click + New Journey.

Select the subscription type. You can choose between Manager Accelerator Online and Manager Accelerator Hybrid, depending on how many seats you have available. Then, click Continue.

Select a journey name. As you select a name, consider who you want to participate in the journey and what the intent of the journey is. For example— if you want to create a journey specifically intended for new managers in your organization, you could name the journey "New Managers."

Select which track you want participants to take part in. 15Five's recommended track and any custom tracks that your organization has created will appear in this dropdown. When you're done, click Continue.

Set a course timeline. Select the date you want the first topic in your track to be due using the 'Select date' field to its right.
Once you select a due date for the first course in the path, due dates will autofill based on a monthly cadence. However, you can customize these due dates to align with different milestones within your organization (for example, if your company is going through an OKR planning cycle, you may want participants to go through goal-setting courses). When you're done, click Continue.

Assign a Facilitator (Hybrid only). Select the name of the 15Five coach you'd like to oversee the learning journey.

Select which participants you want to include in the journey. In this dropdown, you will only see the names of people who have been assigned seats for Manager Accelerator. Additionally, it's important to note that a person can only be assigned to one (1) learning journey at any given time.
Anyone who is added as a participant will be granted access to the topic order and deadlines when signing in to 15Five. When you're done assigning participants, click Continue.

Select a designated scheduler (Hybrid only). Select the name of the person(s) you want to have the ability to schedule live courses. You can also select "All 15Five Admins."

Add notes to help the coach prepare for the group coaching sessions (Hybrid only).


Confirm the Journey. Finally, you'll be taken to a summary that includes all Journey details. If it's correct, click Create Journey. If not, make any necessary changes before proceeding.

At this point, participants will see the assigned topics and due dates on the Journey page in 15Five.
---
Participant experience
Participants can access their learning journeys by clicking Training and Coaching in 15Five's main, left-hand navigation and selecting 'Online courses' from the dropdown menu.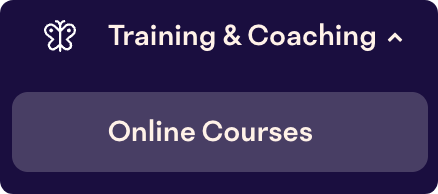 The courses included in a participant's track will appear on the Online Courses page once a participant has been assigned to a learning journey. They'll see the due dates the admin assigned for the learning journey.