If you are a new reviewer in 15Five and need help reviewing your first 15Five report, look no further. You are on your way to giving meaningful feedback and helping your employees grow.
Blog post 🗒: How transparency will help your business succeed
__________________________________________________________________________
What is a "reviewer" in 15Five?
A reviewer is the main person responsible for reading and reviewing 15Five check-ins. This would typically be a manager or supervisor of a team. In 15Five, the term "reviewer" means that the person has employees who report to them. The people that report to reviewers are called reporters or direct reports. For more information on roles in 15Five, see this article.
Every reporter who submits a report is assigned a reviewer. The only time a reporter is not assigned a reviewer is if the reporter is at the top of the hierarchy. A reviewer has the ability to ask questions and invite their own team. You can locate your team's 15Fives by clicking on the 'Features' option in the left navigation, then click to expand the '15Fives' drop-down menu, then click 'Team 15Fives'. From there, you will see prompts to either invite your team, or you will see the team members who are already assigned to you. If you do not see all of your team members present and you are unable to invite the team member because they are already in the system, please reach out to your admins. They can help assign your direct reports to you.
Note
When your team submits their check-ins, you will receive an email notification that their report is ready for you to review and a link that takes you to the awaiting 15Five. You can also view your team's history and review submitted 15Fives from this page.
The effort you put into 15Five, directly correlates with the value you will get out of it. If you want amazing feedback + results and to keep the ideas flowing within your team, remember to interact with each 15Five. The smallest of acknowledgments can go a long way in making your reporters feel heard.
There are several ways to give feedback and interact with a 15Five- just keep reading!
__________________________________________________________________________
Interact with your direct reports' 15Fives
Like an answer
The quickest way to show your Reporters that you acknowledge their feedback or accomplishment is by liking their answers. Just click on the heart to show that you like their response.

Make a comment

If you want more information about a response or if you just want to make a comment on a Reporter's answer you can do that by clicking on the chat bubble by the answer.



Pass-up answers

If you are in between tiers in your company, you can pass-up a Reporter's answer and include it on your own your report. As a best practice make sure you review your team's check-ins prior to submitting your own report. Use the '...' to see this option.

Add to 1-on-1 agenda

You can add answers to a 1-on-1 meeting agenda to go over during your 1-on-1 meeting. Use the '...' to see this option. Rename the item with a title that will appear on your 1-on-1 agenda under the 'Talking points' section.

Add to wins & challenges

It can be easy to forget wins and challenges that come up, you can add answers and goals as wins & challenges and they will show up under this user's profile for reference. What you add under their profile will remain private to you. Use the '...' to see this option.

Flag for follow-up

If their answer requires a Follow-up from you, you can flag the answer for followup. This will show under your 'Team 15Fives' tab and then be listed under Follow-ups. Use the '...' to see this option.

Share by email
If your company has this option enabled, you will be able to share answers via email and customize the email that is sent out.

Check out your direct report's High Fives (all, received, and given)
At the bottom of your direct report's 15Five, you will see all High Fives given and received since the last check-in.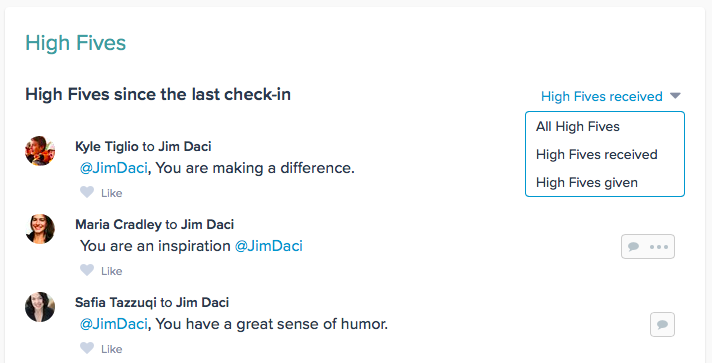 High Five your direct report while reviewing their 15Five
After reviewing a 15Five, you can High Five your direct report directly from the check-in. This option is located at the bottom of the 15Five check-in.

Check out the High Five Best Practices to ensure your feedback is effective!
Help your direct report grow

This is a time for you to give an overall response about the 15Five and add anything else you want to include.

REMEMBER: Click the 'Mark as reviewed' button at the bottom of the 15Five to confirm the report has been reviewed.

Success Center article 🗒: Manage my 15Five email notifications
Blog post 🗒: Five articles that reveal the real value of employee engagement