👥 Direct managers are responsible for reviewing their direct reports' Check-ins.
This article walks you, a manager with direct reports in 15Five, through how to review a submitted Check-in. Reviewing Check-ins is easy and can make all the difference when it comes to your direct reports' engagement. You play a big part in your people's success, and this article will help you give meaningful feedback and take action on your direct reports' Check-ins.
In this article, you will learn...
Note
The effort you put into 15Five directly correlates with the value you will get out of it. If you want amazing feedback and results and to keep the ideas flowing within your team, remember to interact with each Check-in. The smallest of acknowledgments can go a long way in making your direct reports feel heard.

---
Access your team's Check-ins
When your direct report submits a Check-in, you will receive an email notification that the Check-in is ready to review and includes a link that takes you to the Check-in. You can also access unreviewed Check-ins by following the steps below.
Click on Check-ins in 15Five's main, left-hand navigation bar.

Click to open the 'Team's' tab.


You will see a list of your direct reports' Check-ins for the current Check-in period.

Click Start reviewing at the top of the page to open Check-ins submitted by your direct reports for the current Check-in period and begin reviewing.
If there are Check-ins from past Check-in periods that you haven't yet reviewed, click View at the bottom of the page, next to "Unreviewed Check-ins". From here, click Review Submitted Check-ins

to pull up the first Check-in you need to review.

Once you're done reviewing a Check-in, click Mark as reviewed and review next

.
---
Review your direct reports' Check-ins
This section walks through the tools that managers have when reviewing Check-ins. Tools included in this section are...
Check Pulse score contextually
Not only can you view your direct reports' latest Pulse, but you can see how that latest answer compares to their average. If your direct report has an average Pulse of 4.5 and they answered with a 3 on the latest Check-in, it might be worth adding to your 1-on-1 agenda. If your direct report has an average pulse of 3.1, a Check-in with a Pulse answer of 4 might strike up a conversation about wins.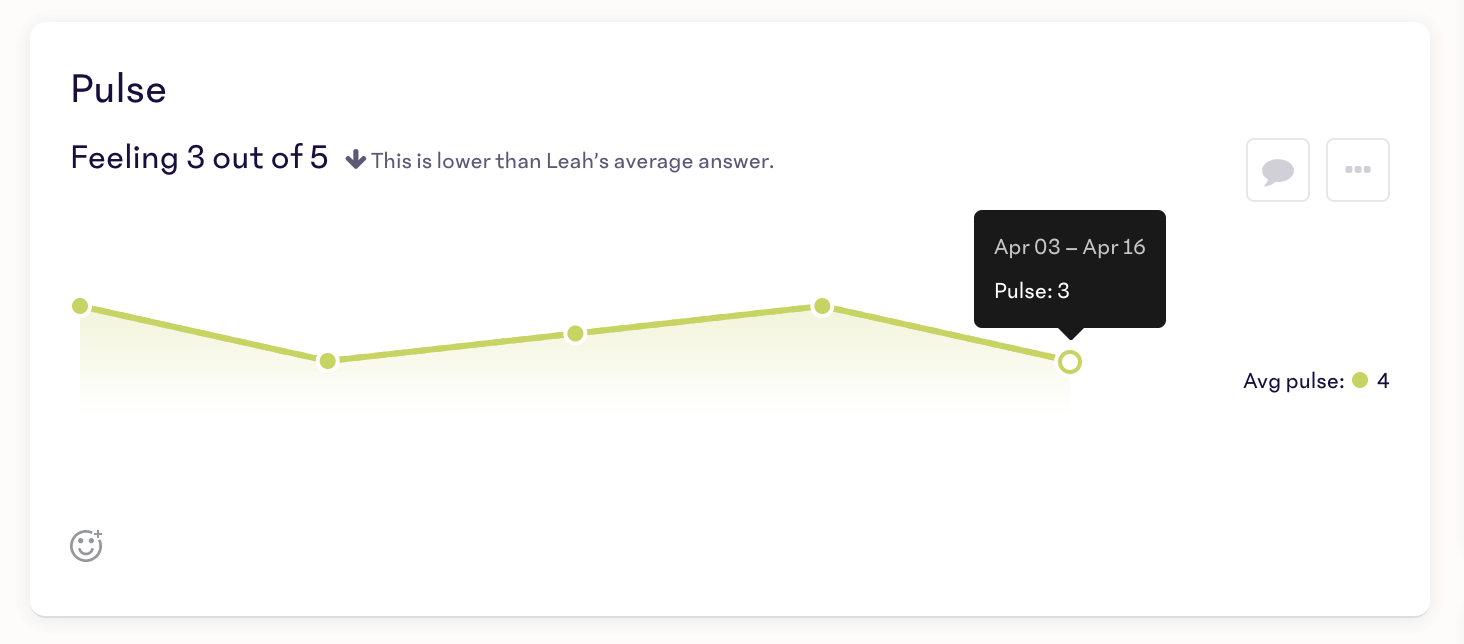 React to an answer
The quickest way to show your direct reports that you acknowledge their feedback or accomplishment is by reacting to their answers. Click on the emoji option to share your feelings.


Keep the conversation going by commenting on answers

If you want more information about an answer or want to make a comment back to your direct report on one of their answers, you can do that by clicking on the chat bubble icon to the right of any answer.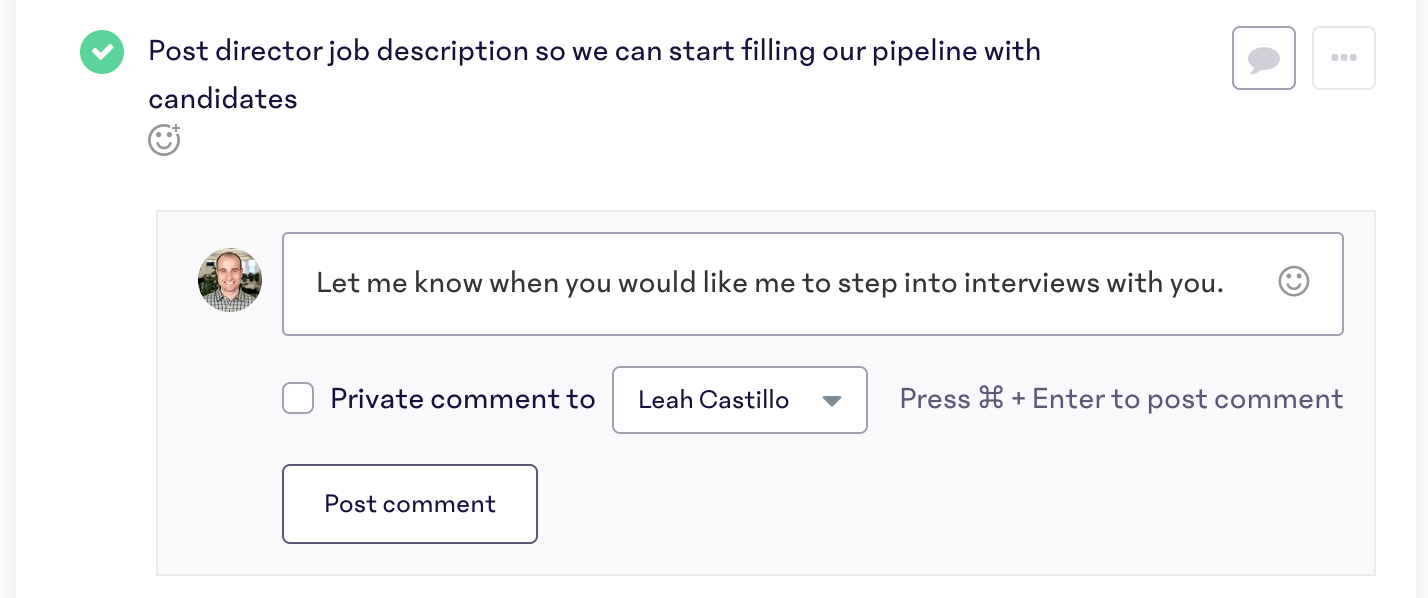 Pass up answers

If you are in between reporting tiers for your company, you can pass-up your direct report's answer and include it on your own Check-in for you to talk about with your manager. As a best practice make sure you review your team's Check-ins prior to submitting your own Check-in. Click the ... to the right of any answer or comment to see this option.


Add to 1-on-1 agenda

You can add answers to a 1-on-1 meeting agenda as a reminder to go over that topic during your 1-on-1. Click the ... to the right of any answer or comment to see this option. Rename the item with a clear title—as that title will appear on your 1-on-1 agenda under the 'Talking points' section.


Add to wins & challenges

It can be easy to forget wins and challenges that come up on Check-ins. To help you remember, add any answer as a win or challenge and it will show up under on the direct report's profile page for you to refer back to. You can also access view pinned wins & challenges when writing reviews about your direct reports. What you add to wins & challenges will remain private to you. Again, click the ... to see this option.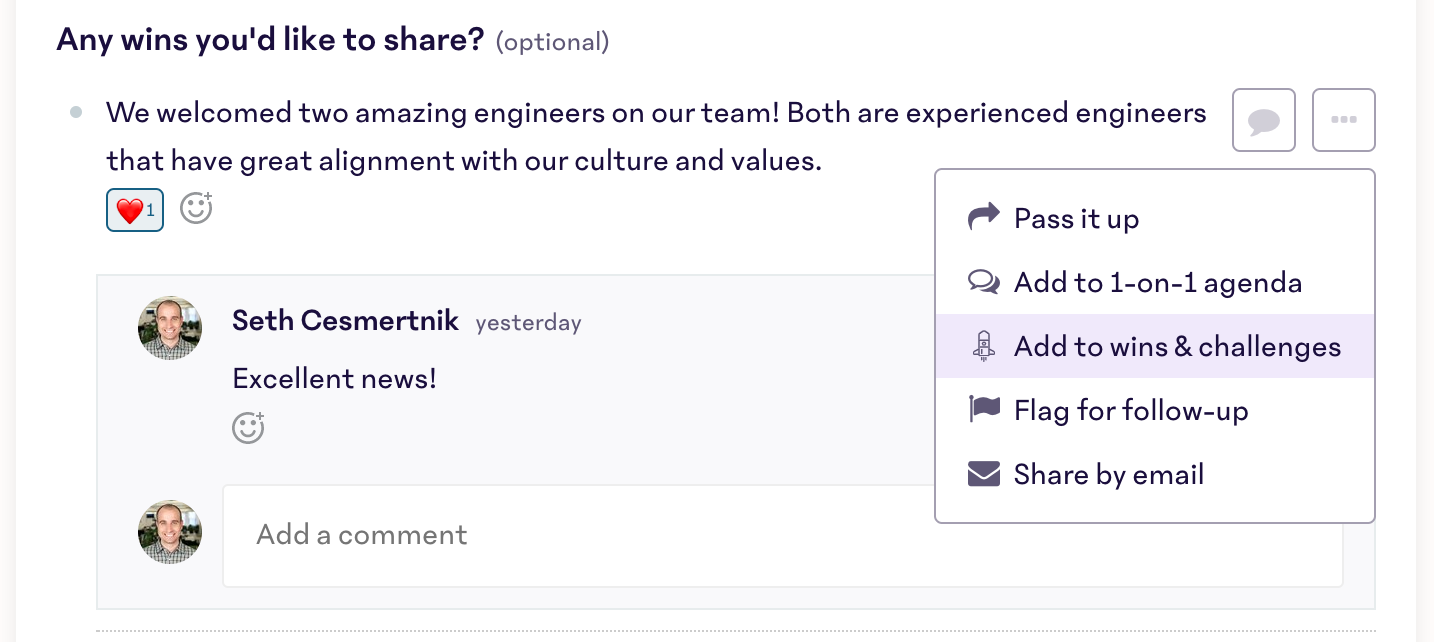 Flag an answer for follow-up

If an answer requires a follow-up from you, follow up action, follow up discussion, etc, you can flag the answer for followup. Followups will be listed under the 'Follow-ups' tab (in-app link) on the Check-ins page. Click the ... to the right of an answer to see this option.


Share by email
If your company has this option enabled, you will be able to share answers via email and customize the email that is sent out. If the recipient of the email does not have visibility into the person's Check-in, they will only see the one answer in an email, and will not be able to view the full Check-in or any comments related to that answer.


Check out your direct report's High Fives (all, received, and given)
At the bottom of your direct report's Check-in, you will see all High Fives given and received since their last Check-in. See any that are worth talking about? People love knowing that their manager noticed recognition they received.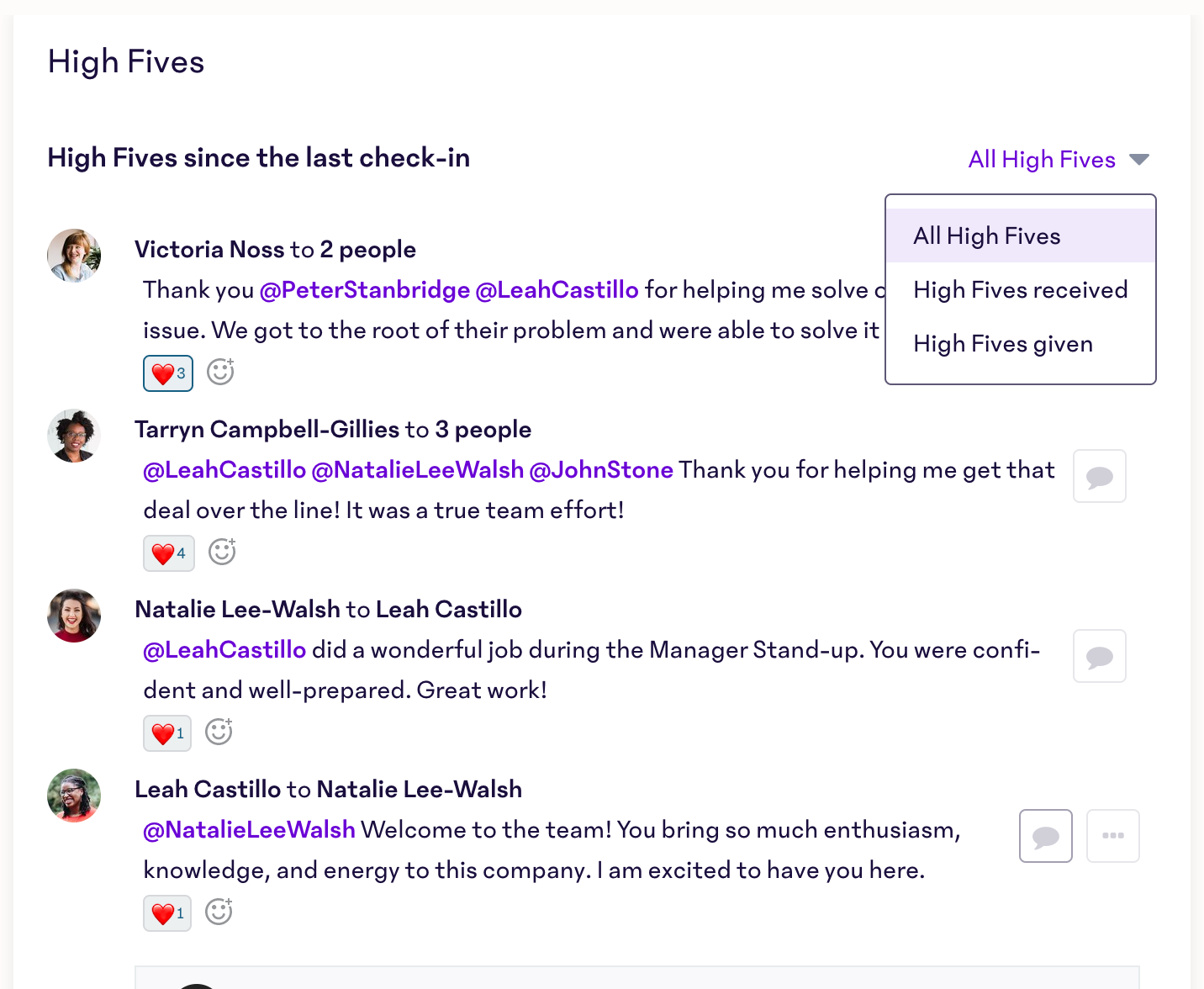 High Five your direct report while reviewing their Check-in
After reviewing a Check-in, you can high five your direct report directly from the Check-in. This option is located at the bottom of the Check-in.


Check out our High Five Best Practices to ensure your feedback is effective!
Help your direct report grow

This is a time for you to give an overall response about the direct report or their specific Check-in. Use this section for miscellaneous comments or to encourage growth.


Tip
When is the last time you checked out the questions that your direct reports were asked? Check out the 'Question preview' page (in-app link) to view upcoming questions for your direct reports.
---
Best practices for interacting with a Check-in
The Check-in is an effective tool for employee engagement and performance tracking, but only if those Check-ins are being reviewed by managers. Consistent reviewing habits show your direct reports that their Check-ins matter and that their voices are being heard. We have seen a strong correlation between low submission rates and the number of Check-ins reviewed; when review rates start to drop, submission rates soon follow.
These tips for reviewing your team's Check-ins will enable you to more easily bring reviewing into your routine, while simultaneously giving you a way to get valuable feedback from your team.
---
Related resources 📖