Use this resource to help walk you through the process from the Namely side: Getting Started with the Namely API.
---
Integrate Namely with 15Five
Note
If you have some employees or groups of employees that you do not want syncing into 15Five, reach out to Support and we can help set up these exclusions before you do your first import.
1. Click on 'Settings' from the left navigation.
2. Then click on 'Features' to expand the feature settings.

3. Last, click on 'Integrations'.


5. Enter your Namely subdomain into 15Five. If you need help finding it, it is the first part of the URL you see when logged into Namely.
For example, if the URL is http://www.yourwebsite.namely.com, the subdomain would be the "yourwebsite" part.
6. Once you have your subdomain, enter it in the setup wizard in 15Five and click 'Authenticate'.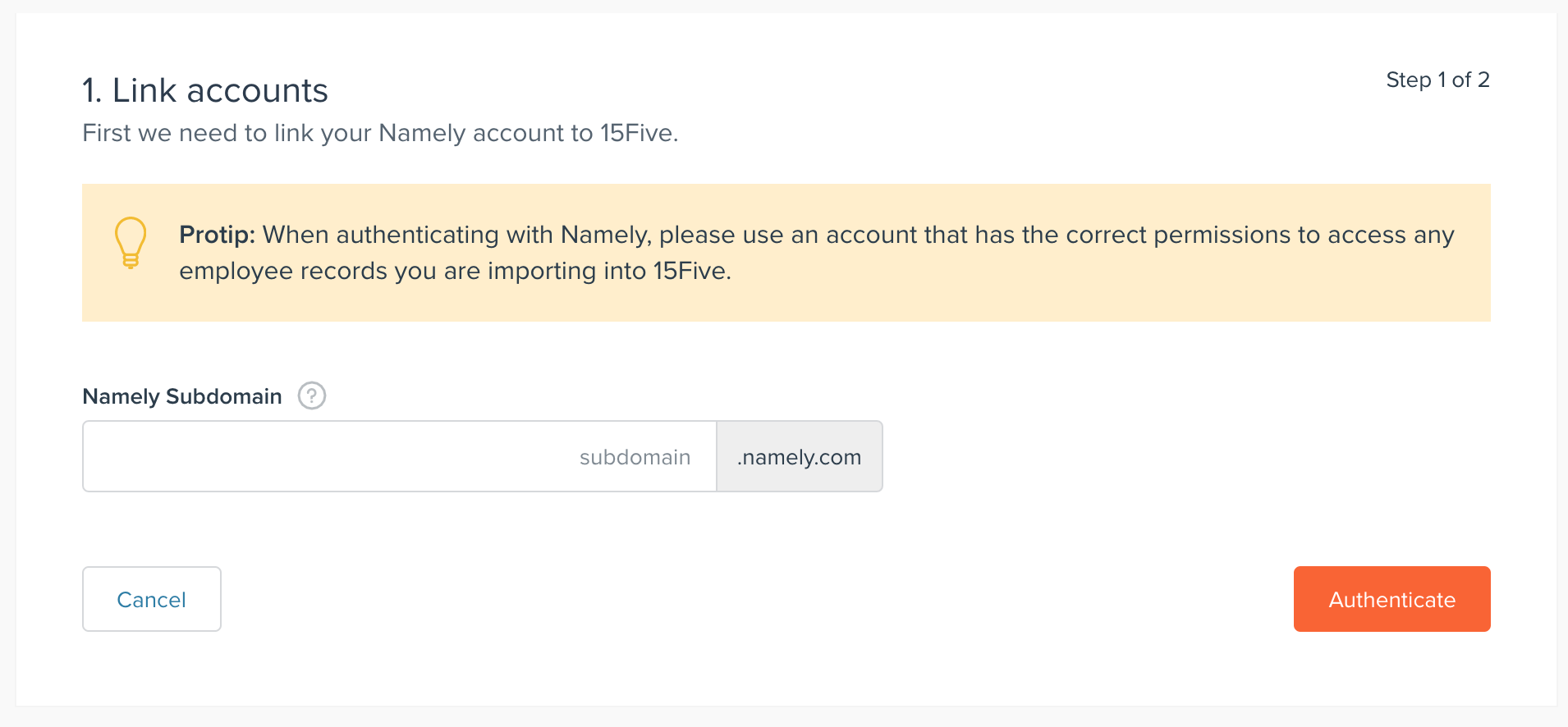 7. Allow 15Five to login with your Namely account.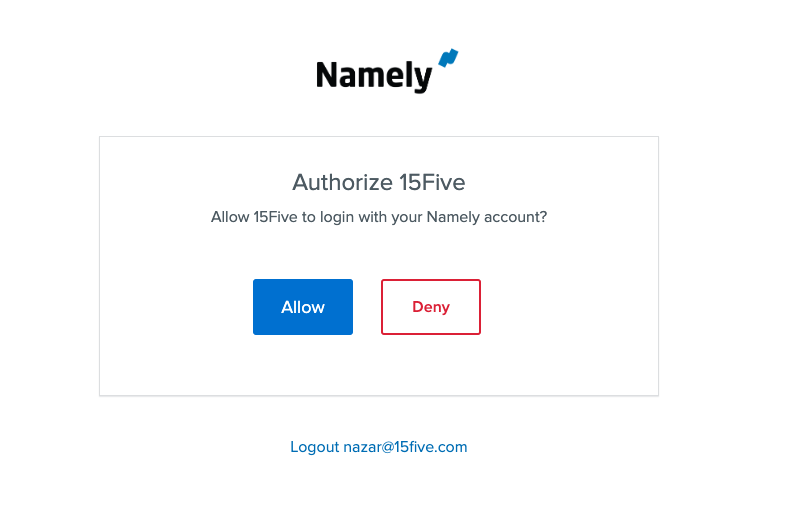 8. The page will reload and ask you to authenticate the integration via Namely's end. If you are not already logged in, you will need to log in. Only people that have the right permissions in Namely will be able to set up the integration with 15Five.
Integration settings are the next piece:
Note
Check these settings before clicking save! If the settings are not set right before you import the first time, it can cause issues with the invite email not being sent.
Sync types: Confirm if you want manual or automatic syncs. Manual syncs will only sync Namely when an admin manually starts the sync in 15Five. Automatic syncs are done every day.

Email Invite: Confirm if you want an email invitation to go out and customize. If you are using SSO, there isn't a need for this invite since they just have to log in using SSO to activate their account with 15Five. However, if you are not using SSO they will need to set up their password and activate their account via this email invitation.

9. Once you are happy with the settings click 'Save'.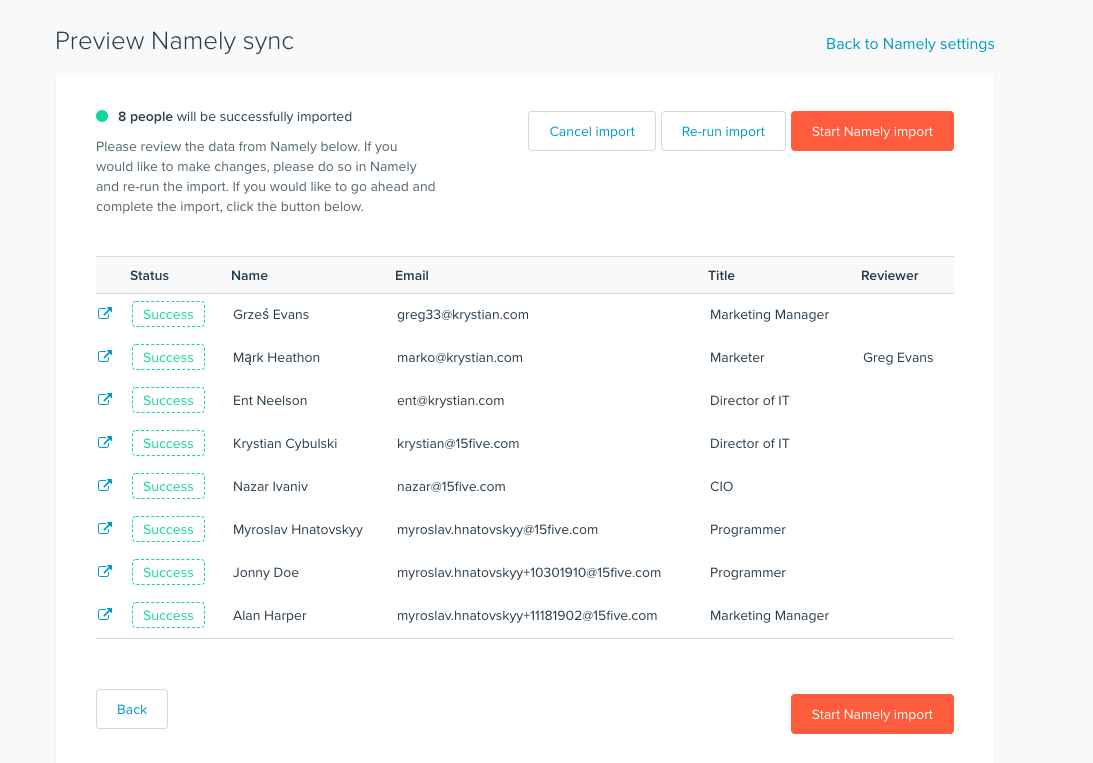 Once clicked, the sync could take some time to run depending on the size of the download. Eventually you will see the information that will be pulled into 15Five. You must approve this sync before it goes through by selecting "Start Namely import."
If you need to make a change in Namely and then re-try, you can make those changes and then click 'Re-run import'. Once the import finishes (if this is a large import this may take several minutes), you will see the below confirmation screen showing how many people were created and/or updated.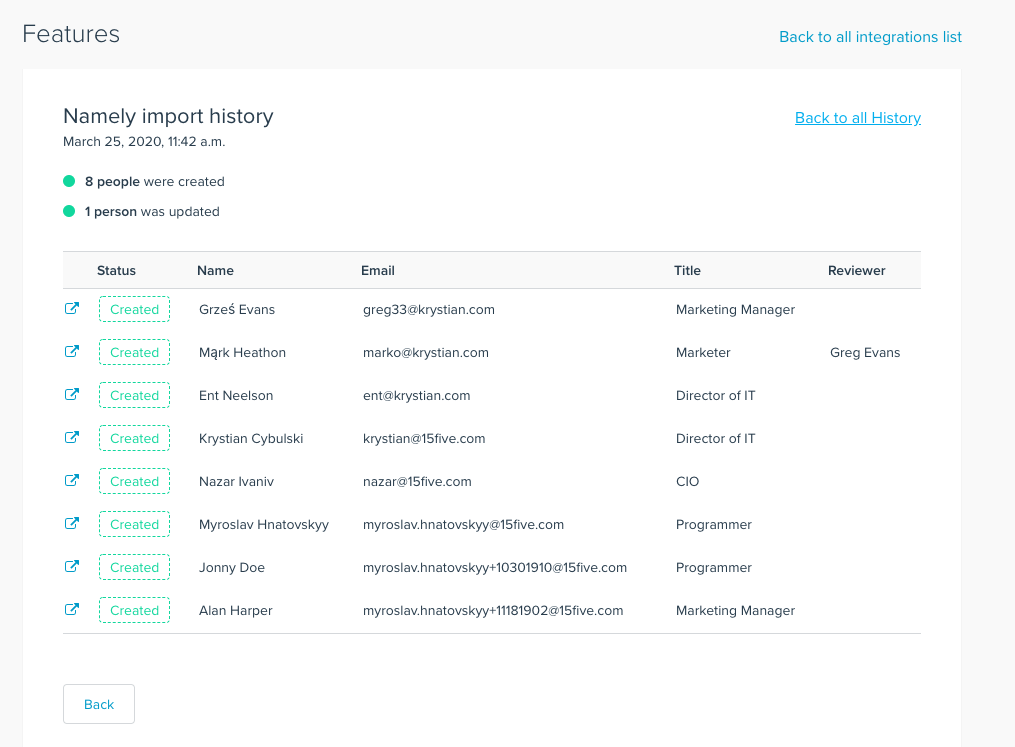 Note
Check for any error messages upon import. You may have to correct email addresses or reviewer settings if there are Reviewer loops.
The automatic Namely syncs kick-off at 22:04 UTC and run one after another. We can not control when an individual company's sync will actually run.
---
Sync data automatically or manually
You can sync your data manually or have 15Five do this for you. If the automatic sync is enabled, changes will sync nightly. Here is a list of fields that we sync with:
first & last names (first not synced if preferred is set)
preferred name if set
title
email
employee id
location field
reviewer (email)
group (department in Namely)
user status
---
Exclusions/Inclusions
Namely, by default, will import all the profiles that the API key can access. It is possible to limit the profiles that get imported from Namely by various criteria.
Inclusive filter options are:

Exclusive filter options are:

excluded_departments
excluded_locations
excluded_emails
To add or remove any of the above filters for your company, please reach out to your Customer Success Manager or our Support Team.
---
Troubleshooting FAQs
Q: I do not see a Namely option on my 'Integrations' page.
A: If you do not see Namely active in your account, please reach out to support@15five.com and we can help.
Q: Can we do a trial run of the Namely sync before turning on the full automatic sync?
A: Yes, we suggest doing a manual sync before turning on the automatic sync option. You will do this through the 'Integrations' page on your 15Five account. Click on 'Configure' and set up the integration. For the first import, leave the automatic sync checkbox unchecked. Leaving this box unchecked allows you to do a manual sync first. There is a preview step before finishing the sync- so don't worry about clicking manual sync as the import will not start right away. After reviewing the import details, you can choose to finish the sync or cancel if things are incorrect. After the first manual sync, feel free to check the automatic sync box for future syncs.
Q: Why didn't anyone get invited to 15Five? I just added invited them through my HRIS system.
A: If the 'Email invitation' checkbox is not checked on the Namely integration page, no invites will be sent out to people invited through Namely.
Q: Which people in Namely are included in the sync?
A: By default, all full-time employees in Namely will be included in the sync unless otherwise specified by filters set by Support, your Implementation Specialist, or your Customer Success Manager. It is possible to filter employees by location, division, and/or email. If you want to exclude or only include certain groups please reach out for assistance before you attempt an import.

Q: When does 15Five sync with Namely when automatic sync is enabled?
A: The automatic Namely syncs kick-off at 22:04 UTC and will sync for all customers one by one. We can not control when an individual company's sync will actually run. There is an email sent to all account admins after a Namely sync. The email will summarize the new accounts created, accounts updated, and accounts deactivated.

Q: Can we sync our vacations from Namely to 15Five?
A: Syncing vacations is not currently available with Namely.
Q: Do we sync preferred name in Namely?
A: Yes. If preferred name is set in Namely, it will sync to the firstName field in 15Five.
Q: Do we sync start dates with Namely?
A: Not at this time. However, filters to help manage this.
Q: Why does the sync show the entire roster of employees and not just the updates? Will there be duplicate accounts created?
A: No, as long as the email addresses match the ones that are in 15Five already a new profile will not be created. The reason you may see those users is that in a full sync we scan their entire roster for updates and those are made once the sync is completed.