From the Reporting tab in 15Five, you can see 15Five Reporter Engagement, 15Five Reviewer Engagement, and 1-on-1 Engagement reports. Additionally, filters are available for the company, per group(s), or for an individual. The ability to download these activity reports in a CSV file is also available.
NOTE ✏️ : Only Administrators and Reviewers can see Usage Dashboards.
To pull a usage report
1. Click on the 'Reporting' tab. 

2. Click on 'Usage'. 

3. Select the criteria you would like to see a report on. 

4. Click 'Download' to see fields that you can exclude or include in your download. 

5. The fields will pop up in an alert window, like this. Choose the fields that you prefer. 
6. Click 'Download CSV'.

Video 🎥: Reporting Tab Walkthrough
Here are some usage dashboard tips to help drive engagement:
Get usage for the year or last 3 months to see who is reporting and who is reviewing reports.
See how manager's participation impacts and influences team report submission.
Keep on top of engagement to see your top submitters and to catch anyone that may be dropping off on their submissions.
Export data and see streaks so you can leverage this information to get more engagement. Reach out to the groups or individuals with the highest number of streaks to understand the value they get out of 15Five then share that with the teams who are not using 15Five.
Sort by "last submitted on" and then contact team members who haven't submitted in over a month. See team members who have never submitted to help get them to use the tool.
Want to check on reporter participation?
You can see each reporter's name, last login, last submission date, and the overall submission rate.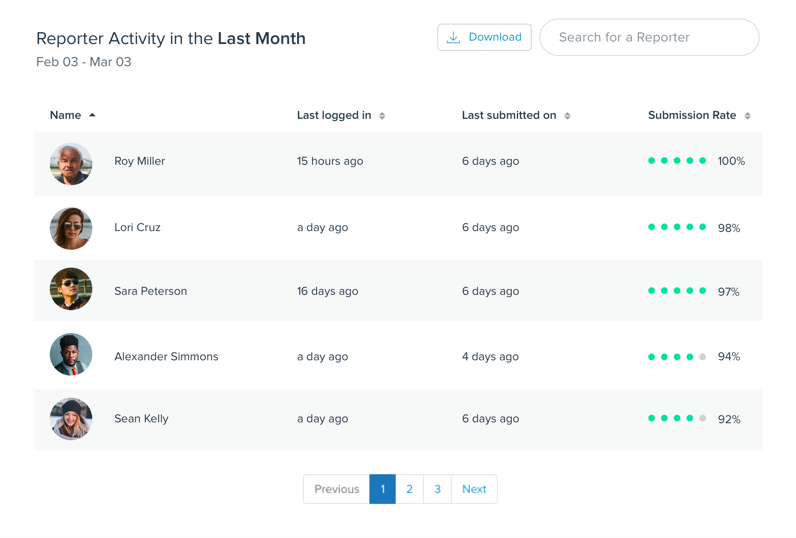 Want to check on reviewer participation?
You can see each reviewer's number of direct reports, number of reports unreviewed, and the review rate. Do your reviewers need help engaging with their employee's 15Fives? Send them this article on how to engage with their employee's 15Five reports.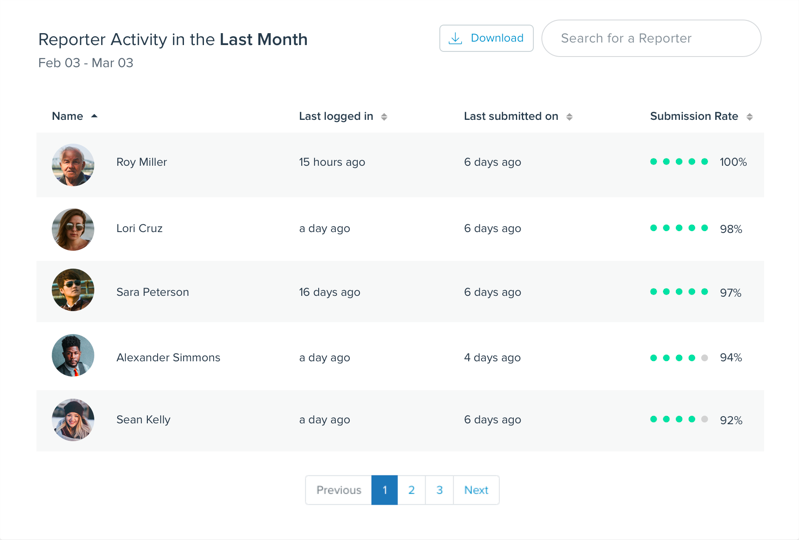 Want to check on 1-on-1 usage?
The 1-on-1 usage dashboard will give you a total # of 1-on-1s that have been held over the given period of time. Note that in order for the meeting to be considered as "held", the reviewer must hold AND end the meeting. 1-on-1s that were not ended properly will not count as a completed 1-on-1. Do your managers need help with 1-on-1s? Send them this article on using the 1-on-1 agenda.
You can also check the graph to review usage for a certain reporting period during the last 1, 3, etc months. In the pictured case, the reporting period is weekly. Therefore, we can see the # of 1-on-1s held on a week to week basis.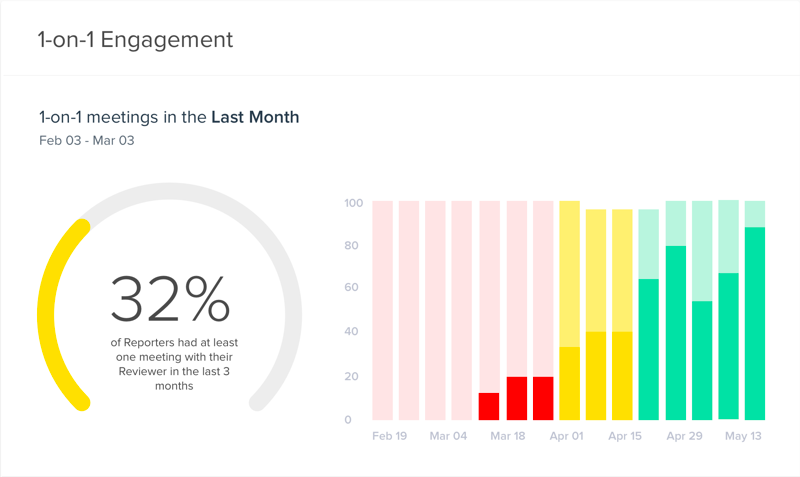 The 1-on-1 Activity shows each reviewer and reporter's stats- listing out how many 1-on-1s have been held between the two, and when the last meeting occurred. You can sort by # of meetings or last held for convenience.