There may be times when you want to leave a private comment for your manager on your own Check-in. You can use the lock icon to ensure no one sees this content; other than you and your manager. Another way to use this functionality is when viewing a someone else's Check-in. You can comment on their Check-in and make your comment private to you and one other person only. If you want to know what other items in 15Five can be made private, check out this article.
Make an answer or comment private to yourself and your reviewer
As you're completing your Check-in, you may leave answers that you only want your manager to see—not your followers or your manager's manager. If you ever want to leave a private comment for your manager, follow the steps below.
1. First answer the Check-in question.
2. Click on the lock icon to the right of the answer to make it private to only you and your reviewer.
3. When the lock appears, the answer has been locked.
Note
If you accidentally make an answer private, just click on the lock icon again and it will unlock the answer.
__________________________________________________________________________
Leave a private comment on someone else's Check-in
1. Click on Check-ins from the left navigation.

2. Click on the 'Everyone's Check-ins' tab.

3. A list of all individuals whose Check-ins you are able to view will appear. The individuals will be listed in chronological order based on the latest submission dates.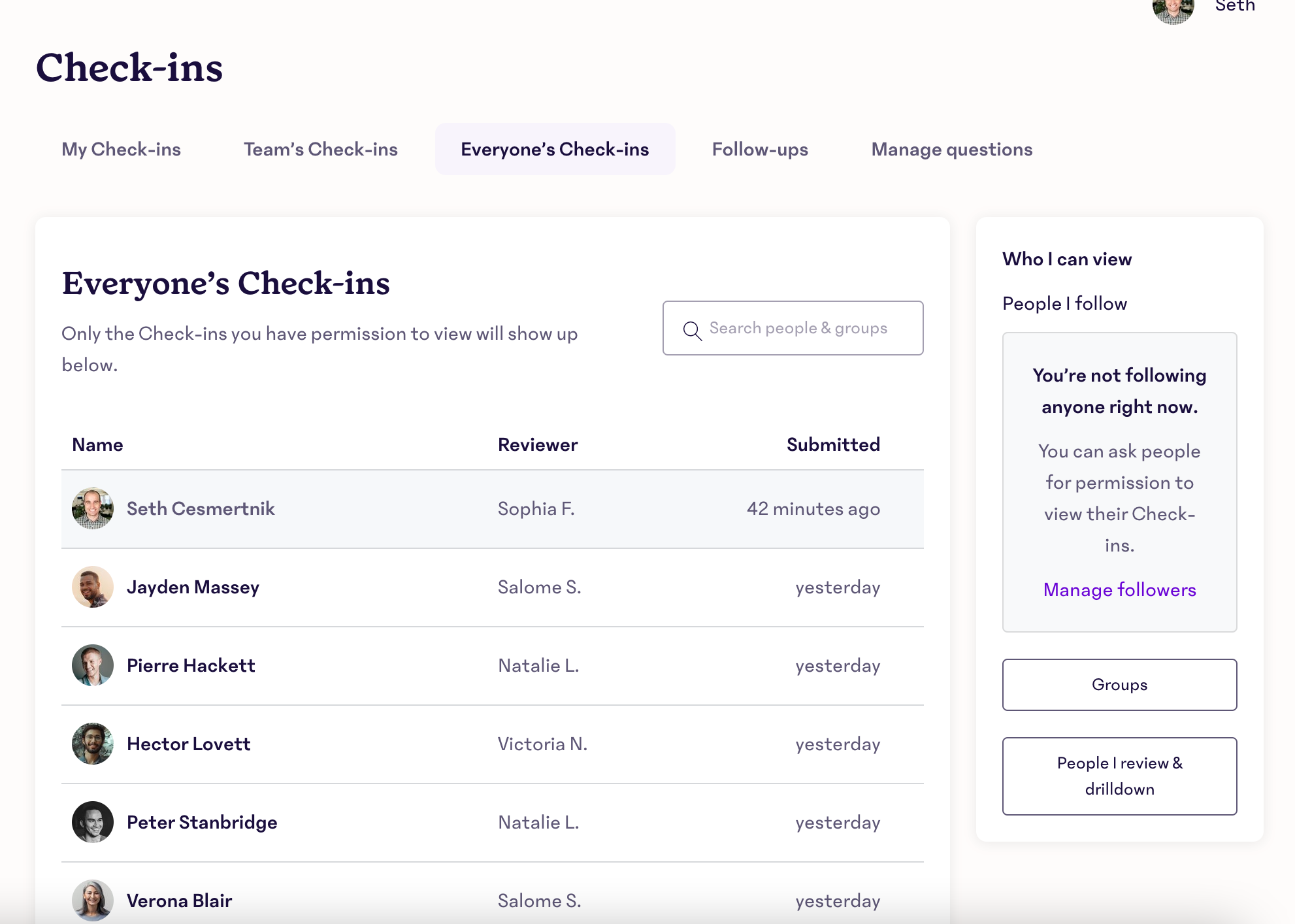 Success Center article 🗒: How to follow a teammate's Check-ins
4. Find the person whose Check-in you want to view and leave a private comment on. Click on their name.
5. While viewing the Check-in, leave your comment.
6. Check the box to the left of "Private comment to..." to make the answer private. You can make the answer private to the person whose Check-in you're viewing, their manager, or anyone above them in the hierarchy.
7. Click Post comment.
8. Your comment will then look something like this.
__________________________________________________________________________
Visibility of private comments
Can I choose multiple people to see my private comment? Not at this time. You can only have one recipient for each private comment.
If I don't make a comment private, who can see it? What is a public comment?
If you don't specifically mark a comment as private, that comment will be "public"- meaning that anyone who can see the Check-in can see the comment.